Best Nail Gun for Fencing: 9 Top Choices For Garden Lover
Are you thinking about putting up a fence around your property?
Sure you can make do with a hammer, but then even a small job like a fence around a yard garden can take a very long time. It can take forever if you wish to fence around your huge farm.
But the job becomes a lot easier and will take a lot shorter with the best nail gun for fencing. Often your best option is a framing nailer as it's designed to attach large pieces of wood to each other.
In A Hurry? Check Our Picks as Best Nail Guns For Fencing in 2021
Those who don't have enough time to read all the reviews this is our no. 1 choice when it comes to serve the purpose of nailing all types of fences.
Product
Best Nail Gun For Trim


Bestseller and Editor's Choice


Best Cordless Nailer For Fencing


Best Pneumatic Fence Stapler


Name
Metabo HPT NR90AES1 Pneumatic Framing Nailer
NuMax SFR2190 21 Degree Framing Nailer
BOSTITCH F21PL Framing Nailer
Freeman PFS105 Pneumatic Fencing Stapler
With a powerful nailer, you can work with hardwoods with no trouble as you put in thicker and longer nails.
Some specialized framing nailers are called fencing nailers, and they're often meant for heavy finishing work. You can use this to secure detailed fence pieces such as the slats for your fence.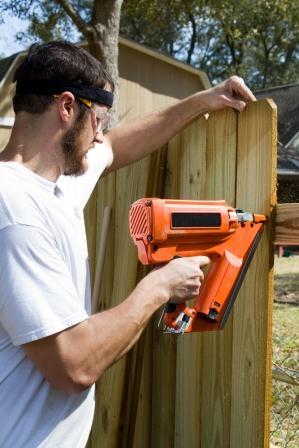 Here are some of the best fencing nail guns you should consider for your fencing project:
9 Best Nail Guns for Fencing Reviews for 2021
1. NuMax SFR2190 Review (Editor's Choice)
This uses 21º plastic collated full-head framing nails, though it can work with any nail from 20º – 22º. You can fit in nails from 2 to 3½ inches, and the magazine can fit in 55 nails at a time.
This has an anti-dry fire feature, so it won't fire when your magazine is getting low on ammo.

This nailer is 20.75 inches from top to bottom and measures 15 inches side to side. It weighs about 8.5 pounds, so you better make sure you're able to handle the weight. This comes with an ergonomic grip, along with an interchangeable trigger for bump-fire or for single fire.
It also features finger depth adjustment. There's a no-mar tip to protect the work surface, but you can take it off to expose the no-slip teeth that grip better on the wood. It has a magnesium body with an anti-dust cap to protect the insides while the 360° adjustable air exhaust keeps the exhaust out of your face.
This comes with a 1-year limited warranty, with a 30-day warranty for the wearable parts. You can use this for framing and for wood fencing, and also for installing subfloors roof decking, and sheathing.
2. BOSTITCH F21PL Review- Best Cordless Nail Gun For Fencing
This is what you want to use if you're planning to use HurriQuake disaster-resistant nails for your fencing. This nailer can use 21-degree framing nails (2.0-3.5 inch) or 60 metal connector nails (1.5-2.5 inch) and the magazine can hold 60 nails.

This cordless nail gun also features the quick-change nosepieces for these nails. In addition, it has a special feature that allows you to push a button to set the nail depth.
This nailer boasts of having the best power-to-weight ratio in its class. The 16-inch layout indicator on the magazine also lets you know the right distance between studs. It weighs 8.1 pounds, and for some that can be a bit tiring to hold up for long stretches of time.
But this has an adjustable rafter hook, so you can hang the nail gun on joists and rafters when you're resting. This is meant for framing, sheathing, subflooring, and bracing projects.
This is the best nail gun for paling fence. It's a handy tool, and it comes with a 7-year warranty. So, this is the best battery nail gun for fencing.
3. Freeman PFS105 Pneumatic Fencing Stapler – Best Pneumatic Fence Stapler
This high-quality fencing stapler can be used to secure snow control fencing, cattle fencing, pet enclosures, vineyard trellising, electrified single wire with insulation, and other applications. Freeman PFS105 stapler is designed to use 10.5 gauge wire staples for gaining best result.

This fencing stapler has a belt hook and non-slip comfort grip along with a T-handle for additional control. For easy jam clearing, it has a quick-release nose. For its tool-free depth adjust feature and wire alignment notch, you can place each staple accurately and consistently.
Check : 9 Best staple guns for picture framing
This nailer is suitable for DIY projects as well as professional use for its lightweight and easy to use feature.
4. Freeman PCN65 Review – Best Coil Nailer for Fencing
This is able to use 15-degree plastic collated nails from 1¼ to 2½ inches, along with wire collated nails from 1¾ to 2½ inches. Since you're using coil nails, you can use load in more nails.
This one lets you load 400 fasteners, and the transparent bucket lets you check how many you have left. This has a die-cast magnesium body and an aluminum cylinder, which makes it strong and lightweight.
It also features high-quality rubber O-rings and a dust cap. You can expect this to work for a long while, as it comes with a 7-year warranty.
Sale

It's quite comfortable to use, as it features a lightweight and ergonomic grip. You can adjust the firing depth easily, and you have a safety trigger lock to prevent accidental firing. It also has an adjustable hook you can hang over fencing.
So, this is the best nail gun for fence building. You can use this for fencing, installing siding, assembling wood boxes, roof and wall sheathing, and cedar shingles.
5. Metabo HPT NR90AES1 Nailer Review: Best Nailer for Trim
Sale

This is formerly known as Hitachi NR90AES1 which was a good one. But Currently, Hitachi renamed them to Metabo. So, Hitachi NR90AES1 becomes Metabo HPT NR90AES1 but all the features of this tool remain the same. This is the best nail gun for trim.
6. Paslode – 501000 Review
This works with 2″ to 3½" 30-degree clipped and full-head paper tape nails with .113″ – .131″ diameters in engineered lumber. What this means is that this is a tool you can use for jobs like trussing, sheathing, decking, and sub-assembly blocking. The magazine can also hold up to 84 nails.
Sale

This is quite powerful, as it operates at 80-120 psi. It weighs 8.4 pounds, and its 13.3-inch height means it you can fit it easily between 16″ joists, rafters, and on-center studs. It also has a rafter hook so you can hang it up when you're resting. You can pick between manual or sequential operation, and this lets you put in up to 12 nails per second.
The nose is shaped like a barrel for easy line of sight. The durable work contact element adjusts on the tool for depth adjustment, and the contact element grips the wood securely during toenailing.
The design is quite ergonomic, and the handle is comfortable with its soft grip. The center of gravity is near the trigger so it's nicely balanced and it offers very low recoil.
7. Freeman PFR2190 Review- Best Nail Gun For Fence Pickets
This uses 21º plastic collated full-head framing nails, from 2 to 3½ inches long, and this can fit in 55 fasteners in the magazine. Aside from fencing, you can also use this for framing, wall and roof sheathing, siding installation, and wood box assembly.

This is quite a sturdy nail gun, and it comes with a 7-year warranty. It has all the convenient features you can expect, such as depth adjustment, 360-degree air exhaust adjustment, and a dust cap. You can pick your trigger for bump-fire or for a single fire.
The no-mar tip protects the work surface, and you can take it off to use the no-slip teeth for a more secure grip on the wood. This also has an anti-dry fire feature, so it won't fire when you're running low on nails in the magazine.
8. Paslode – 905600 Review
This is a cordless framing nailer that runs on a 7V Li-ion battery along with a fuel cell. It doesn't need a compressor at all. You can put in 9,000 nails per charge and 1,000 nails per fuel cell.
You get a lot of power, and in fact, you might want to dial back on the power somewhat.

This is designed to really drive its nails flush on hardwoods. Just make sure you also use Paslode nails for best results. It only weighs 7.2 pounds, so it's lighter than a lot of top-grade framing nailers.
It's also compact enough to fit between 16-inch studs and joints. You can use this out in the cold as well, as it's designed for temperatures down to just 14 degrees F.
9. Valu-Air CN55R Review
This uses 15-degree wire collated coil nails from 1 inch to 2¼ inches in length, and it can shoot at 3 nails a second. You're able to pick between bump-fire and sequential firing as well.

It's a very lightweight nailer, as it uses aluminum for the body. It only weighs 5.5 pounds, so this might want you to want to use if you can't handle the weight of a heavier framing nailer.
This is also the best coil nail gun for fencing like Freeman PCN65. It's also comfy to hold with the over-molded rubber grip.
How Fencing Is Different From Other Nailing Works
Not all DIY projects that require you to drive nails are quite the same. That's why there's a wide range of nailers available in the market.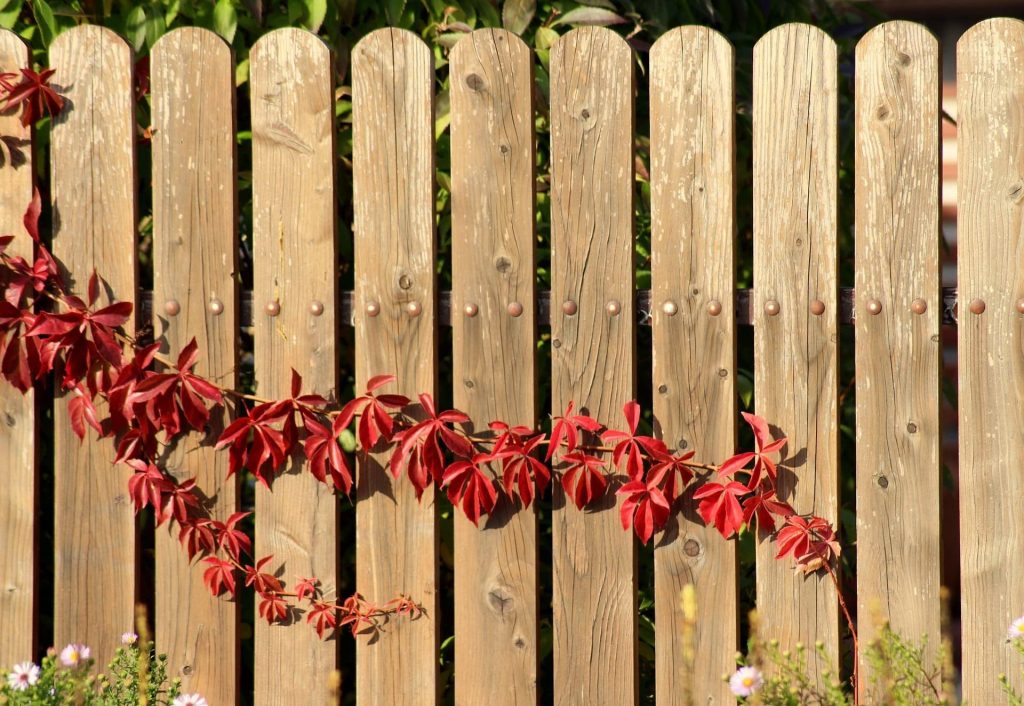 If you're building a wooden fence, you might notice that it's somewhat like framing a building. The job needs very precise measurements. If you want your fence to last for a long while, you will need to make sure your foundation is sturdy.
Many of the steps for this nailing task are very repetitive, and at the same time, you have to be able to place your hardware precisely. Your nail gun must be able to provide you with the consistent performance you need. Use a hammer for fencing and it will take you an eternity to finish the job.
You may not have space and the best angle to drive in the nails properly. But a nail gun can do it better for you. It'll also get the job done faster, and that's great. It's better to finish quickly and get back inside the house, rather than out in the hot sun for hours.
Let's know some of the work specific nailers that we have already reviewed.
Things to Look Before Buying a Nail Guns for Fencing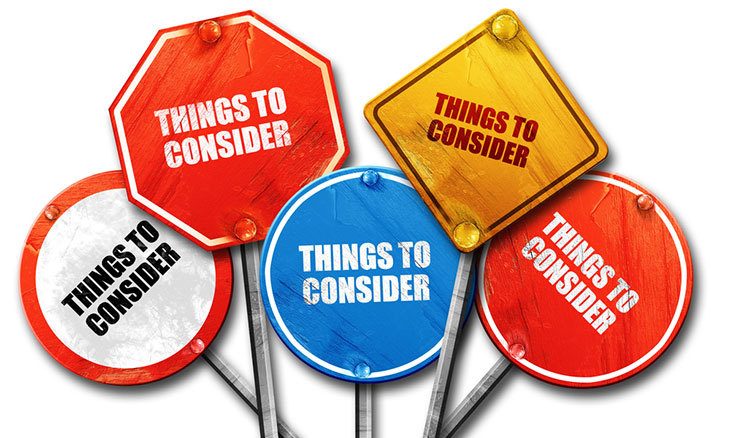 Like any responsible consumer, you should check out the price of a nailer to see if you can afford it.
But there are other factors you need to consider as well. Some of them are –
Versatility
What kinds of projects can your new nail gun help with? It can save you a lot of trouble if your nail gun can also work for other DIY projects like hanging siding and installing roof decking.
Nails
You need the right nails for the job if you're building a fence, and your nail gun must be able to accommodate the nail you want to use. Often, even a highly regarded nail gun can fail if you put in a nail that it wasn't designed to use. You'll want to take note of how many nails the nail gun can hold as well.
Often it depends on what kind of nails it's meant to use. With thicker and longer nails, you may be limited to just 50 or so nails at a time. But with smaller nails in the load, you may be able to hold 300 nails or more.
Performance
What you want is a consistent performance with your nails, so you can finish quickly with the job well done. What you don't want is a nail gun that gives you problems like double firing or jamming. Some features help you with quality and accuracy.
Obviously, you want a nail gun that lets you adjust the firing depth, and this adjustment should be easy to make. It should also be easy to switch from bump-fire for quick firing to single fire for more accurate placement.
A no-mar tip helps if you want to protect the fence material from dents and dings, while you can also use no-slip teeth on the tip so that the tip securely grips the wood as you fire the nail gun.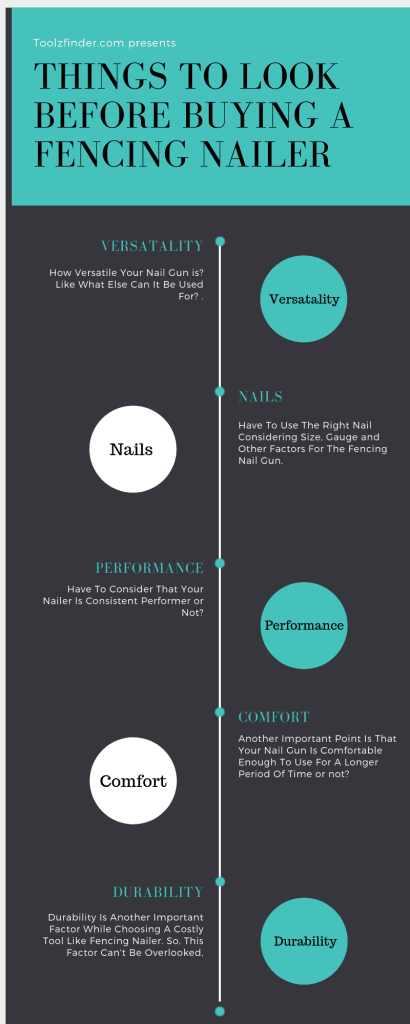 Comfort
It's great if the nail gun has an ergonomic design so that it feels great in your hand when you're using it. It's much better than a weird shape that just feels off when you're holding it. Weight is also a crucial factor. The heavier your nail gun is, the more likely you are to get fatigued in just a short amount of time.
If you get tired before finishing the project, the quality of the work can suffer during the latter stages. In addition, it can get very dangerous if you're truly tired and you have a nail gun in your hand. It's also nice if the air exhaust is adjustable, so you can get the exhaust air out of your face.
Durability
How long will the nail gun work reliably? The problem with overly cheap nail guns is that they won't work as long, so the more expensive nail guns may actually turn out to be the better bargains in the end if they work for a very long time. The nail gun may also have features that can make it more durable.
It can have an air filter to keep the insides of the nail gun clean. Some nail guns also won't fire when you're running low on nails to prevent any internal damage caused by dry firing.
You may want to read customer reviews to check out how often customers complain about nail guns failing after only a short while. These reviews can also detail how the customer service of the manufacturer responds to their complaints. You can also check how long the warranty service is, as a longer warranty is often a sign of a well-made product.
Safety Tips for Using a Nailer for Fence Building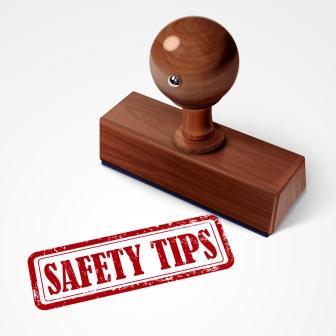 Always wear eye protection. The goggles can keep your eyes safe in case of any problems.
Put down the nail gun for a while when you get tired. Your fatigue can lead to low-quality work, plus it can get dangerous as you're less able to hold the nail gun properly.
Keep the nailers away from children.
Don't act like a child yourself and use this as a toy.
Never aim it at another person. Use only the dominant hand for the nailer.
Don't press the trigger when you're carrying the nailer or when you're changing position.
Warn others that you're using the nailer so they can keep away from you.
Final Thoughts
If you're tackling a fencing job, a hammer simply won't do. You have to get the best nailer for fencing. You'll get the best results in a much shorter amount of time.
And if you are still confused about which one should you pick, our simple suggestion is to go for NuMax SFR2190. This is a nailer which is best for almost all kinds of nailing works.