Best Palm Nailer Reviews: Small But Durable Choices
The beauty of having so many nail guns to choose from is that you can always find something that will perfectly suit your needs. Not all of them may be an essential or a must-have for all woodworkers and carpenters but all of them will prove to be very handy at some point.
This is the case for palm nailers. This relatively new power tool has been ignored by many enthusiasts and professionals in the trade only to be surprised by how handy it is to have.
If you're one of these folks who are just finding out about best palm nailers reviews and are interested in getting to know them better, this guide is for you. We'll give you a rundown of the best models available right now and just about everything you need to know about the said tool below.
9 Best Palm Nailers Reviews
What are the top palm nailers today? Here are nine products that you can check out:
1. BOSTITCH PN50 Mini Impact Nailer
To start off our list, we chose a product that really packs a punch, the Bostitch PN50 Mini Impact Nailer. Its durability, power, and friendly price are its main draws, making it a very attractive option.
Sale

BOSTITCH Palm Nailer, Mini Impact (PN50)
Rubber grip designed to insulate and reduce vibration
Weighs only 1 lb.
360° swivel air fitting for maximum accessibility
Front exhaust directs air away from users palm
With its versatility, you may be tempted to use your mini impact nailer all the time. With the PN50's 7-year warranty, it might just be able to guarantee top-notch quality. This is possibly one the longest warranty coverages for a palm nailer, so this really says a lot.
When it comes to performance, it's also very notable. Its operating pressure is 70 to 120 psi which is a lot already for its size. It can also handle nails up to 4 inches long, guaranteeing that it's quite a performer.
It's also designed for ease of handling so you can further ensure proper use. It's compact, weighs about a pound, and has a swivel hose. It also has a rubber grip to reduce vibration and insulate the surface that you'll hold. With these, it's more comfortable to work with and won't tire you out easily.
To top all of these, the PN50 is also very affordable. With all of the things it can offer, it's practically a steal.
2. Milwaukee M12 Cordless Palm Nailer Kit
If you're more interested in a battery-powered tool, then you should look at the Milwaukee M12 Cordless Palm Nailer Kit. This is probably the most popular out of all cordless palm nailers in the market for its great performance and portability.

As its name notes, this product is portable. It comes with a rechargeable 12V battery pack so you don't have to fuss about a hose and an air compressor while you work. It's very handy and convenient as you can easily lug it around with you.
Adding to its convenient features is its LED light. This will allow you to easily see the spots where you need to drive the nails.
Another notable thing about this product is its shape. It doesn't look like the other nailers on this list as it doesn't resemble a top. It's relatively flat and way bigger than the palm of your hand but has an ergonomically shaped area that makes it easier to hold on to.
The only downside to this product is its overall power. It can only work with nails that are 1.5" to 2" and you have to closely monitor its battery's power level. The latter can be easily solved by getting a backup battery pack, however.
3. BOSTITCH PN100K Impact Nailer
The Bostitch PN100K Impact Nailer can be the best pick if you need a very powerful palm nailer. It can outperform quite a few products listed here and is definitely up for professional jobs.

As its name might suggest, the PN100K is pretty much a step up of the PN50. With its interchangeable noses that allows it to work with a wider range of nail sizes. It can certainly handle up to 5-inch nails, so it can take on heavier tasks.
Durability is also something this product can offer. While it doesn't have a warranty coverage as long as the PN50's, it's easy to tell that it's built to last. Its magnetic nose, for one, is made with hardened steel making it ready for very heavy tasks and great wear and tear.
4. Freeman PMPN Mini-Palm Nailer
Another reliable affordable option is the Freeman PMPN Mini-Palm Nailer. This tiny tool can handle a wide range of jobs with ease, making it a good pick for those who are after a small unit.
Sale

Capable of handling 2" to 4" nails, you can already accomplish a lot of tasks with this tool. It's also ergonomically designed and equipped with a rubber grip to ensure comfortable handling.
Another notable feature it has is its internal air filter. This helps keep debris out of the tool, making it easy to maintain and letting you rest assured that it won't create a mess on your surface.
Adding to your lightweight options is the Senco PC1195 Mini Palm Nailer. This product also only weighs a pound so if you plan to work with this tool for long periods, it can promise not to tire you out easily.
5. Senco PC1195 Mini Palm Nailer
Designed to handle 2" to 3.5" nails, the PC1195 can already handle different woodworking and carpentry tasks. It's also rather powerful with its 60 to 110 psi operating range, further guaranteeing that it can take on different jobs.

Senco PC1195 Mini Palm Nailer
50% lighter than traditional hand nailers for more...
Magnetic nose holds nail in place for safe, accurate...
Saves hours over hand nailing, keeping you moving to the...
Nail point can be easily placed within a recess for safe,...
Click here to read the reviews of some other nailers by Senco.
For DIYers who aren't going to do a lot of nailing, the 3Plus HMPN50SP Mini Palm Nailer might already do the trick.
6. 3PLUS HMPN50SP Mini Palm Nailer
This very affordable product is very small that it can be comfortably handled by just about anyone. It's also very friendly-priced that it can be a nice pick for crafters.

3PLUS HMPN50SP Mini Palm Nailer
Lightweight die-casting aluminum body
Magnetic nose holds nail in place for safe, accurate...
Drives most common nails up to 3-1/2'' long
Front exhaust directs air away from users palm
Despite its price, though, it's quite reliable. It can handle nails up to 4" in length so you can be guaranteed that it will suit a lot of projects.
If your project requires driving very long nails, then check out the Senco PC0781 Pneumatic Palm Nailer. This product can drive nails up to 8 inches in length so it can certainly fit most projects' requirements.
7. Senco PC0781 Pneumatic Palm Nailer
It's easy to tell that the PC0781 is a heavy duty tool. With a 50 to 125 psi operating pressure, you don't have to worry about its capabilities. It even has a rubber padded surface and a leather strap so if you'll use it for long periods, you can handle it comfortably.

Note, however, that it's 2.5 lbs heavy. So if you're after a palm nailer with some heft, this might just be your perfect match.
8. PORTER-CABLE PN350 Mini Impact Palm Nailer
Another tool you can check out for its versatility is the Porter-Cable PN350 Mini Impact Palm Nailer. It may not look that different from the other products listed above but it's probably the most versatile and functional of the lot.
Sale

PORTER-CABLE PN350 Mini Impact Palm Nailer
Lightweight design for control and balance
Multi-blow function drives any length of framing or metal...
Front exhaust directs air away from user's palm
Magnetic nose with recessed nail slot
Why? It uses a multi-blow system so you don't need to swap out the nose to be able to use different types of nails. With this, you can use different types and sizes of nails without a hitch.
Check some other nailers by Porter-Cable.
Like the Senco PC0781, though, it weighs 2.5 lbs. So if you want something lighter, you might want to check out the other options on this list.
9. Grip-Rite Roofing Mini Palm Air Nailer
While palm nailers seem to be handy options for roofing installations, not all of them are up to the task. The Grip-Rite Roofing Mini Palm Air Nailer, however, can be the best pick for the job.
Palm nailers aren't meant for roofing because they don't always have the power to get the job done effectively. This is why Grip-Rite made their own roofing nailer in the palm nailer design to address this demand.
At 1.1 lb, it can handle nails from 1.5" to 3.5". It uses 60 to 110 psi to create smooth drives with its multi-blow firing mode. It can also drive through shingles and other roofing materials, unlike other palm nailers.
Buying Guide
After browsing through some of the finest examples of palm nailers in the market today, you might still be clueless about how to choose the right one for you. So to help you get to know these tools better, here are the basic tidbits about it that can help you confidently take a pick from our selection above.
What is a palm nailer?
First off, let's define a palm nailer first. In simplest of terms, this is a type of nail gun that is designed to be cradled on your palm, as its name suggests. It doesn't look like a regular nail gun or flooring nail gun as it doesn't have a handle. It's rounded in shape with a pointed face which makes it resemble a top instead of a nail gun instead.
There are three notable things about the palm nailer:
It's small. It's meant to fit inside the palm of your hand so it's very portable and easy to maneuver.
It's either air-powered or battery powered. You can choose which one proves to be a more suitable option for you.
It can handle a wide range of nail types and sizes. As it doesn't come with a magazine, you're not limited to just a few types of nails. As long as the nail head fits the magnetic tip that drives the nails into your chosen surface, you're good to go.
When do you need a palm nailer?
There are several occasions where you'll find a palm nailer handy. Here are a few examples of them:
When working in a tight spot.
Sometimes, your nail gun just won't fit in between the gaps of the beams you need to fasten together. In such cases, using a hammer can also prove to be very difficult. This is where pam nailers shine.
Typically, palm hangers are used when installing joist hangers, corners, and just about any tight areas.
When you need accuracy in nailing down pieces together.
Unlike when manually hammering down a nail to put two pieces of wood and other materials together, palm nailers are very accurate when driving a nail through your material of choice. Since it is still a nail gun and a power tool, it offers accuracy that repeated strikes won't be able to guarantee.
So if you can't afford your nail sliding off or bending out of shape, a palm nailer would be a great choice for you.
Not for jobs that require powerful nail guns.
Despite its versatility, however, you can't use this tool in place of a more powerful one. While it can drive large and lengthy nails down, it might not offer the best results for framing and roofing.
How does a palm nailer work?
Palm nailers may seem very unique but they're still pretty much a regular nail gun. They work the same way, too: they drive nails into the wood using compressed air or electricity.
Like other nail guns, you will also need to give it a physical push to get the job done. However, the effort you'll exert with this tool is far less rigorous than what you need to exert when using a manual hammer. This is why it's still a more convenient and handy tool to have when woodworking or doing carpentry tasks.
How to Use a Palm Nailer
Using a palm nailer is very easy. While some tools may require specific steps in their use, here are the general instructions in using a palm nailer:
Before the initial use of your palm nailer, make sure to read the manual first. This booklet will tell you everything you need to know about your unit and will let you know if there are specific steps that you need to follow to operate it.
Prep your unit. Hook it up to your air compressor or load up its battery pack.
Place the tool in the palm of your hand with the nose facing out.
If your unit comes with a hand strap, attach it to your hand. Make sure that it's snug, comfortable, and secure in the palm of your hand.
Choose the nail you'll use. Have some of them on hand. Because this tool doesn't come with a magazine, you'll need to manually feed it the nails to accomplish your task.
Place the pinhead of the nail on the tip of your palm nailer. It's magnetic so it should hold nicely.
Position the palm nailer on the spot where you'll fasten your pieces together.
Once the nail is positioned at the right spot, push down the nailer to drive the nail into the wood. The nail's head won't completely go into the surface but you can easily finish that with manual hammering later on.
Features to Look at When Choosing a Palm Nail Gun
What are the things that you should look for in a palm nail gun? Here are a few points that you should consider to find the most suitable model for your needs: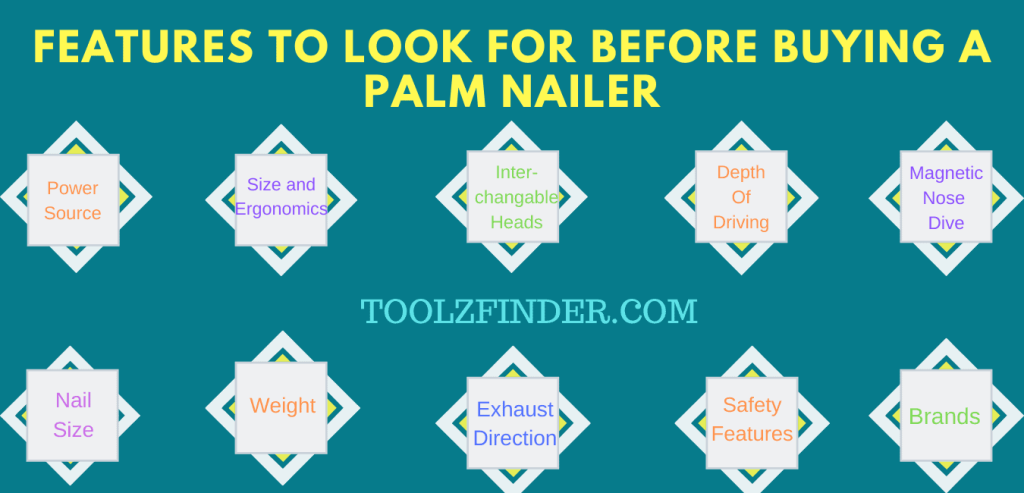 Power source
As mentioned above, palm nailers are most commonly available in air-powered and battery-powered varieties. Both are designed to have enough driving force to fasten pieces of materials together. However, they still have certain differences that might affect your decision.
For example, air-powered palm nailers will require to be hooked up to an air compressor. You'll also need to adjust the PSI settings in order to get the results you're after. In terms of handling, it's a bit trickier to work with as you're hooked up to a bulky compressor. It can also limit your movements unless the hose has a swivel attachment.
Having to adjust the PSI can also prove to be tricky for some users. It means tweaking the air compressor's settings every now and then which some might find bothersome.
Battery-powered units, on the other hand, are more portable since they're not hooked to anything. However, they can be a bit heavier than air-powered ones. Their power might also fluctuate, depending on the quality of the battery.
Size and Ergonomics
While palm nailers are meant to fit the palm of your hand, they still tend to come in different shapes and sizes. They're all generally small but some are smaller than the others. This is why you still need to consider the size and ergonomics of the palm nailer you'll get.
learn more about nail guns for fencing.
The most important thing to consider is that the unit should fit your hand. If you have a small hand, go for the mini palm nailers as they're really small. Don't opt for something that's too big for you as you might find them difficult to use.
The shape is also important because you need to be able to hold on to it. They need to provide you something to grasp so you can control the tool while it's in use.
Interchangeable Heads
If you work with different kinds of materials and nails, you might also want to look for a product with interchangeable heads. While most palm nailers come with a tip that will already accommodate a wide range of nails, they can still be pretty limited.
By being able to swap out this part, you can be able to use heads that will let you work with larger nails or more delicate materials. They can also let you alter the drive angle, making your tool a lot more versatile.
If you intend on using this tool for more basic tasks, however, you can do without this feature.
Depth of Driving
To ensure the quality performance of your palm nailer, you should also very particular with its depth of drive. This refers to its ability to drive the nail into your material with ease and effectiveness.
How do you determine a palm nailer's depth of drive?
Look for something with high maximum air pressure. This number guarantees that the tool is powerful enough to really drive the nail into your material without a hitch. The best ones won't even require you to finish the job with a hammer, making them even more efficient and handy options.
Magnetic Nose Dive
As mentioned above, most palm nailers come with magnetic noses. They come in handy because they securely hold on to the nail, allowing you to use the tool with just one hand. This makes it easier to use in hard to reach and tight areas since you don't need to squeeze in and risk an injury.
Nail Size
Again, as mentioned above, most palm nailers are highly versatile in terms of the nail sizes that they can use. However, some are still pretty limited, depending on the size of their nose. So if you're planning to do a lot with your unit, make sure to look for something that can accommodate a wide range of nails.
Check out the differences between
Weight
One of the charms of nail guns is that they tend to be less tiring to use. To make sure that your palm nailer falls into this category, make sure to go for something lightweight. Since these tools are meant to be used single-handedly, you'll need something that won't tire out your hands and arms in order to complete big projects without feeling too much fatigue after.
Exhaust Direction
If you intend to get a pneumatic palm nailer, you should also be very particular with the direction of its exhaust. Most folks prefer that it's located in front so the debris, oil, and exhaust won't go to the nail.
Safety Features
According to the CDC, nail guns are the most common causes of injuries among residential carpenters. In fact, in 2001 to 2005, 37,500 nail gun-related injuries were recorded. This is why it's crucial to use these tools properly and to look for products that come with reliable safety features.
Different models may come with various safety features. One of the most common and useful examples, however, is the trigger lock.
Brand
When shopping for power tools, the brand says a lot about its quality and performance. While it's not a foolproof measure, it can still be a good technique to find a reliable product.
Check out the review of Ryobi nail guns which is a popular brand.
Common Palm Nailers Problems
Despite their promising features, however, some folks still have a few issues with palm nailers. Here are two of the most commonly raised concerns about this tool:
Not enough driving power.
We've mentioned this before but it bears repeating that not all palm nailers are powerful enough to be versatile. Some just really can't provide enough driving force to do a clean job in nailing down stuff.
As said before, a good solution for this issue is to choose a high-quality product that can handle high air pressure or powered by a high-quality battery. These can ensure top-notch depth of drive and performance.
Can hurt your hands.
While palm nailers will free you from exhaustion after completing a big task, a bad product can still hurt you in other ways. One of the most common examples of this is that it can make your hand feel painful after use. What with the vibration these units tend to create and the fact that you have to hold it in a manner that your hand muscles might not be used with, some folks hands tend to feel like they've been run over by a semi over and over again.
How do you avoid this? We recommend using anti-vibration gloves, for one. You can also just opt for products with a more comfortable grip instead.
Safety Guideline of Using a Palm Nailer
As mentioned above, nail guns are quite dangerous and may put your well-being in danger. However, with its convenience, they're hard to avoid entirely. Since you can also practice its safe use, you don't have to avoid them at all.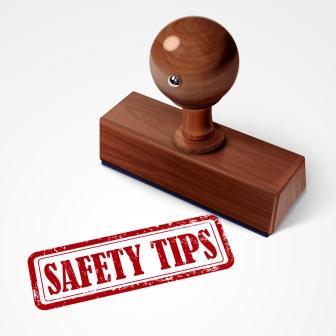 How do you stay safe when using a palm nailer? Here are a few tips:
Read the manual before use. The information contained on these leaflets will tell you more about the proper use of your palm nailer.
Do not bypass the safety features of your unit. They're there for a reason so don't tweak or bypass them at all costs.
Wear safety gear, especially glasses with side shields, a hard hat, and ear protection.
Observe proper nail gun safety measures.
Conclusion
Palm nailers will surely change the way how you accomplish tasks as a woodworker or a carpenter. It's a very handy device if you choose the best palm nailer.
So make sure to give it a shot. With our product recommendations above, you can already take the leap and try out the wonders this tool has to offer.