Best 15 Gauge Finish Nailers For DIYs & Pros
If you are a woodwork enthusiast, you definitely know how important your nail machine can be. A finish nailer is something in your tool kit that can outperform all your arsenals due to its variety of use and extended level of applications.
As per its name, a finish nailer can give the users the perfectly smooth finish and finest trimming while doing the wood-crafting projects. Among different varieties of Finish Nailer, the most versatile one is for sure the 15-gauge machines. They are the most trusted companion to professional woodworkers, carpenters, and also to casual DIYers.

But at first, you need to pick the right one that can suit best the nature of the project. Here we're to help you find the best 15 gauge finish nailer after some detailed & comprehensive analysis. 
7 Best 15 gauge finish nailers For You
1. Metabo NT65MA4 HPT Finish Nailer (Editor's Choice)
If your priority is a clean working surface while conducting your nailing projects, then you must go for Metabo NT65MA4 15-gauge angled Finish Nailer due to its integrated air duster feature. You can get yourself rid of all dust and debris while preparing for gluing or nailing tasks with NT65MA4 simply by pressing a button. It also provides a tool-free jam releasing technique to allow the users faster nail extraction.
This pneumatic nailer comes with an aluminum-built body, thus yielding a lightweight design of only 4.2 pounds, which makes the machine perfectly fit in your hand and ensures great maneuverability. The body grip also ensures a secure holding capacity. NT65MA4 is capable of driving 1¼ to 2½-inch nails and ensures better woodworking projects like a crown and base moldings, cabinetry, door jams or stair nailing, outer trimming, etc. It supports both actuation and flushes nailing, easily alterable just by a single flip on the switch.
Tool-free depth of drive adjustment settings allows the device well capable of flushing nails through different materials. This user-friendly machine also provides features like fully adjustable 360-degree air exhaust, elastomer rubberized grip, Damage and injury protective No-Mar tip, etc.
Pros:
Angled magazines to easily fit into tighter corners.
The simple rear-loading facility of the magazine.
Arrangement of pre-assembled air fitting.
Cons:
No belt hooks being attached. 
Absence of any Dry-fire locking mechanism. 
2. Makita AF635 15 Gauge, 2-1/2″ Angled Finish Nailer (Editor's 2nd Choice
Within its compact size, Makita AF635 Angled Finish Nailer is capable of providing the customers an array of useful features along with powerful driving performance. The Magnesium made body weighing only 4 pounds along with Aluminum magazine presents a solid, durable yet flexible construction. Efficient machine design ensures leading power and performance.
AF635has a powerful motor with a driving capacity of angled finish nails ranging from 1¼ to 2½-inch sizes. More precisive and countersink flush nailing is ensured due to the tool-free depth of drive adjustment mechanism. Its narrow nose design gives a clear line of sight and accurate nail placement.
More user control over nailing options is guaranteed with this machine due to its easy 2-mode selector option. Multi-directional exhaust ports will protect the operator by directing exhaust air away from him, whereas rubber bumpers will defend the machine and working surface. Features like an air duster to keep the surface cleaner and an ergonomic rubberized grip to add more comfort make this machine a perfect one to purchase.
Pros:
Nail locking feature to prevent dry-contact firing.
Flexible machine to handle and maneuver.
Cons:
Requires reloading before finishing last 6-7 nails.
3. 3PLUS HDA1564SP 15 Gauge Angled Finish Nailer
A highly recommended 15-gauge nailer that can produce an excellent finish to your variety of woodworks is 3PLUS HDA156SP Angled Finish Nailer. This is an amazing machine, specially designed for softwood projects like pine wood. It comfortably fits into your hand and perfectly suits any smaller household projects.
The machine features a tool-less depth adjustment mechanism that helps the operator with enhanced control over his project. It also allows flushing nails into different material surfaces. A fully adjustable 360-degree exhaust portal directs the air away to keep you safe. The no-mar tip also protects anyone from all potential hazards.
You can choose either a single shot or bumper firing mechanism by an interchangeable trigger. The lightweight body of this item makes it a total worthy one for overhead operations and covering tougher angles around your house.
Pros:
Lightweight body for comfortable operation.
Overall easy adjustments.
Cons:
Occurs jamming off and on.
Not an ideal option for hardwood, even with the driving power of 100 PSI.
4. BOSTITCH N62FNK2 Finish Nailer
One of the most durable and solid designs being available in the nailer industry is BOSTITCH N62FNK2 Finish Nailer. Due to its Magnesium construction, the nailer presents an unbelievably lightweight of only 3.8 pounds. You can literally use the machine for any daylong project. It's a perfect tool for overhead woodcraft tasks like crown molding mounting, installment of cabinets, shutters hanging, etc.
There are 16 inches sized on-center gauge that flips out easily and swiftly and thus help in the installation of baseboard projects. The adjustable trigger comes with safety lockout attributes. You can choose between single and multiple driving modes of fasteners.
The oil-free mechanism of this tool makes it quite easier for maintenance. The rear trim design will make your line of sight even clearer, whereas the auto depth adjustment facility makes easy and precise placement of fasteners. Working in dark spaces or inside closets is possible with N62FNK2 due to the presence of LED work light.
Pros:
Excellent blowing capacity of the machine.
Oil-less and maintenance-free operation.
A fitter tool for working in tighter spaces.
Cons:
Angle Nails Setting isn't quite possible.
5. DEWALT, DCN650B 15GA Angled Finish Nailer
Another reliable nail machine to provide excellent performance for different parts of your nailing projects is DEWALT DCN650B Angled Finish Nailer. This machine is driven by an exclusive DEWALT 20V MAX Lithium-Ion battery-powered brushless motor and allows a continuous run to complete your project without any frequent interruption. No dependency on gas, hose, or compressor makes the tool an all-around one. This is the best 15 gauge cordless finish nailer.
DCN650B is capable of blowing 15-gauge angled finish fasteners lengthening from 1.25 to 2.5 inches perfectly into the wooden surface of different depths. Thus, it's an ideal tool for baseboard or hardwood floor installation, crown molding fastening, and other small or large ventures.
The micro nose being present in this machine helps in a better line of sight and thus also helps in providing more accuracy of nail placement. Moreover, the multi-functional LED light illuminates the working surface and delivers improved tool diagnostics. There's also an easily selectable trigger for altering between sequential and contact actuation firing schemes. You can choose any of them as per your nailing task requirement just by a flip of a switch.
Pros:
Battery run machine. No dependency on fuel or oil keeps the task clean and spoil-free.
No requirement of hose, gas or air.
Compatible with only a 20V battery.
Cordless tool.
Cons:
A little bit of noisy operation.
Pricier tool than others.
6. BOSTITCH BTFP72156 Finish Nailer 
BOSTITCH BTFP72156 Finish Nailer introduces Smart Point Technology in the nailer industry. It comes with a smaller nose design and does confirm the easy replacement of nails into it. There's no need to compress the contact trip in order to actuate this machine.
BOSTITCH BTFP72156 also offers a denser nail collation and withdraws the requirement of refilling the magazines now and then. The operator can blow nails uninterruptedly. Moreover, the gun magazine has the capacity of carrying 100 nails in its DA style magazine, whereas FN style carries 130 nails. 
Precise and easy countersinking of nails can be done with this machine's depth of divining control mechanism without interrupting your workflow. Tool, less jam release technique, ensures easy jam release and makes your operation even easier than ever.
Pros:
Selectable trigger for swift switching of firing mode.
Integrated air duster keeps the working area clean.
Oil-free operation.
Cons:
It causes some misfires sometimes.
7. Senco 4G0001N FinishPro 42XP 15-Gauge nailer
A great value for money nail machine that can be useful to diversify DIY projects is Senco 4G0001N FinishPro 42XP Nailer. It is operatable within a pressure range of 70 to 120 PSI and quite capable of driving 2.5 inches length within solid surfaces without any such hassle. You can use this machine for furniture making, base molding, door or window casing, crown molding, trimming projects, paneling, caskets making, chair rail building, etc.
Magnesium constructed body presents a trivial weight of 4.7 pounds. It also makes the tool sustain all wear and tears, even a scratch. You can operate the machine easily and quite freely. No worries regarding maintenance hassles due to its anti-lube construction. The rugged internal engine offers an intensive level of durability.
The EZ Clear latch presents the operator with a total disruption-free nailing experience. It prevents nail jamming. It also provides a facility like preventing misfires or double nailing while conducting the project. Never lube technology eliminates the requirement of using any lubricant in this machine. 
Pros:
Lightweight construction helps in smooth finishing.
Great tool for both home DIYers and professional carpenters.
Comes with a 5-year warranty.
Cons:
What is a 15-gauge finish nailer, and how is it different from others?
As we know, the higher the "Gauge" value, the less dense the nail width of the Nailers is. So, among the most popular finish nailers, 15-gauge Nailers come with a relatively wider diameter than other ones.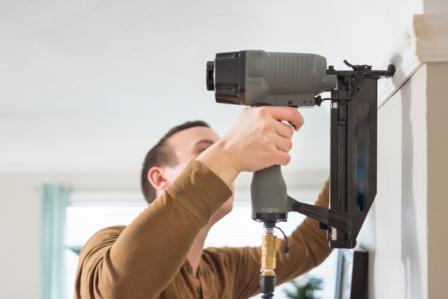 They are also a bit heavier than 16, 18, or 23-gauge nailers and also possess better holding power as well due to their heavier round head. 15-gauge machines are more suitable to grab nails of 2½ inches length and up to 3 to 4 inches thicker. Thus, they are capable of blowing apart or splitting small molding very easily.
Other machines like 16-gauges are more suited for delicate projects where you'd need less holding power. On the contrary, 15-gauge machines are designed with a larger piston and produce an extra bulk. They are built with an angled base, whereas 16-gauge comes with a straight shape.
The angle base of 15-gauge also helps them reaching tougher angles and spots than other gauges. They are also less vulnerable to any damage or bending; rather, they tend to stay intact due to their wider nail option.
You may always need to upgrade your arsenal to 15-gauge machines while doing your carpentry jobs with thicker woods. 16 or 18 might not be capable of cutting through them. 15-gauge nailers leave behind a deeper hole on the surface.
Read: Learn the details differences between 15 gauge and 16 gauge finish nailer.
Types of 15-gauge finish nailers and their uses
15-gauge finish nailers are really popular among carpentry professionals and DIYers. These angled finishing nailers either take with DA style or FN style. Both of these types feature almost all features of 15-gauge machines and also work ideally for finishing projects. Yet, there remain some distinctions between these two types, especially regarding the head shape, nose design, and collation angle variation. Similarly, their uses also slightly vary from each other.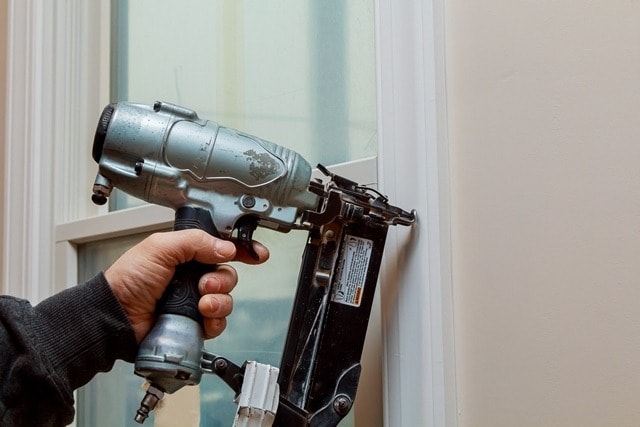 DA type nail machine was first developed by Senco. On the contrary, BOSTITCH first introduced the FN standard machines. The basic difference between the DA and FN style nailers is the shape of their nail heads. DA type machines use a round-headed nail, whereas FN style tools come with a rectangle-shaped head. The collation angle provided by DA finish nailers is 34 degrees. On the contrary, in the case of the FN standard, the angle is 25 degrees.
Your requirement for the right machine depends on the finishing and fine trimming of your woodcraft tasks. The steeper collation angle is better for accessing all, the tighter corners of your project. If you want to trim the slightly rougher spots and surfaces, then a 34-degree angled DA style nailer would be the perfect choice for you. But, if your main focus is to have fewer reloads, then FN style would be an ideal option for you.
When do you need a 15ga finish nailer?
15g Finish Nailers are designed for some specific wood-crafting projects due to their excellent heft and power. Projects that can be operated perfectly with these nailers are as follows:
Door Trimming: The finest trimming of any wooden furniture, especially installing doors or windows, can be perfectly done using a 15-gauge machine.
Overhead Molding: Almost all 15-gauge nailers are lighter in weight and ideal for overhead DIY molding projects.
Base Molding: Round-headed nails of these machines produce extra power. Thus, 15-gauge nailers present an excellent base molding performance.
Hanging Casings: Projects like hanging larger casings can be conveniently completed using a 15-gauge tool.
Angle Nailing: Due to the extra bulk in design and angled magazine, 15 gauge can reach the narrower spots and best suited for angle nailing purpose.
Things to look before buying a 15 gauge finish nailer for you
Different 15-gauge nailers come with different features, different attributes. You need to pick one among these distinctive machines considering your requirement and type of your task. There are some crucial things that you need to check before buying any 15-gauge nail machines. Here they are:
Construction Design: For adding more comfort and convenience to your woodwork, the design of the nailer should be like this so that it can perfectly fit into your fist and you can carry it around for an extended period to complete your task.
Depth Adjustment: In order to ensure the fine-tuning and precise driving of nails, your nailer machine needs to have the feature of tool-free pressure or driving depth adjustment feature.
Easily Switchable Dual Firing Mode: You might need single fire mode sometimes, also the bump firing in other times depending on the nature of the project. If these modes can be easily changeable with a single press of the switch, it will make the finishing task even easier for you.
Exhaust: While operating, you would need to get rid of all the dust and debris around your workplace. Nailer's good exhaust system would do that for you.
Angled or Straight Design: Straight finish nailer is a good choice if you want to complete any simple and basic woodworking project. But for enjoying more precise framing and to cover tougher angles, Angled nailers would be a better choice for you.
Dry Fire Lockout Feature: To ensure better safety, your nailer should be able to prevent itself from firing when the magazine is empty. Otherwise, any damage to wood or hazard taking place in the surroundings may occur. To prevent such accidents, pick a machine with a dry fire lockable feature.
Magazine Window: Another protective feature is the window magazine to stop empty firing and allow you to have a new clip just when it's necessary.
Warranty: It's the basics of picking any product. The longer the warranty period, the better surety it can provide. Doesn't it?
Conclusion
A complete Finish Nailer can be such a useful tool for your nailing projects as you can beat the fatigue issues caused due to continuous handling and doing overhead jobs/staff with a nail machine. But, picking up the right Finish Nailer is always a challenge.
So, here we are aiming to get yourself out from today's position. We have already covered some popular brands of 15 gauge Finish Nailers, their comparative analysis, pros & cons discussion, and also discuss the factors to consider before purchasing a finish nailer for your indoor DIY projects.
We sincerely hope that you won't face any dilemma anymore. Happy Woodworking!!!