11 Best Nail Guns For Hardie Siding and Trim
A nail gun is a very common tool for your household activities and DIY projects. Even you may have used different types of nailers on many occasions. But, when it comes to finding out the best nail gun for Hardie siding and trim projects; it becomes a tricky one, isn't it?
Hardie plank siding has become a very popular trend lately as it gives an aesthetic look to your residence. But this task requires some special treatments.
In a Hurry? Check the 11 top products at a glance
As the starter, you can't use a regular nail gun for the Hardie siding project. Siding nailers are very much alike framing ones, but with some obvious distinct features and specially designed for a siding project.
You need to pick the best nail gun for Hardie trim for a successful siding operation. Some recommendations with a complete buying guide will come as handier, right? So, here it comes.
Best Nail Gun for Hardie Trim and Siding: 11 Top Choices
BOSTITCH N66C Review (Editor's Choice)

One of the best nail guns for Hardie plank is Bostitch N66C nail gun. It's only 4.9 pounds with dimensions of 11.25×3.25×12 inches. Thanks to its die-cast aluminum housing construction. This lightweight compact construction makes BOSTITCH N66C a perfect nail gun for wielding all day long, especially suitable for single-handed operations. It's durable enough to withstand daylong rigors on repeated occasions.
Despite the lightweight, this pneumatic nail gun is strong enough to operate with the right pressure ranging from 70 to 120 PSI. It offers 515 in/lbs driving power which can easily drive nails sizing from 1¼ to 2½ inches. You can use any sort of air compressor in this machine without any issues. There's an adjustable exhaust that can direct the exhaust air away from the user with its convenient tool free mechanism. Moreover, N66C coil siding nail guns also present an adjustable depth guide setting mechanism to set nails at desired and convenient depths.
The coil magazine of this gun can hold up to 300 siding nails to save your time of reloading. The simple design of magazine with easy twist and lock mechanism can easily accommodate both wire weld and plastic-coated nails of different sizes. N66C can drive both types of nails into wide range of siding materials, even the tough ones like cement, fencing, clapboard, or light steels. The soft rubber foot feature of the machine also.
Things we like
Lightweight
7 years of warranty
Dual compatibility of standard single fire and bump-style contact fire.
Variety uses of nails
Things Need to be Improved
Manual changing of fire mechanism.
No option of air filtering.
Why Should You Buy this?
This is the best coil nailer for hardie siding. An ideal nailer for a variety of works including wood or fiber cement siding, timber framing, strapping, decking, fencing, etc. A must pick one for your projects.
NuMax SFR2190 Review: (Editor's Budget Choice)

This 21º pneumatic framing nailer is a complete allrounder yet budget-friendly. You can do almost any nailing task with this one. So, NuMax SFR2190 framing nailer is our editorial budget pick.
Metabo NT65M2S Review (Budget Choice)
Sale

Another great nail gun for your Hardie trim and siding project is Metabo NT65N2S. It's cheaper than almost all other guns but ensures the best features to make your job done.
Its tool-less depth of drive mechanism allows the user to adjust the perfect depth of siding and finishes the job in a professional way. The machine also accepts 16-gauge fasteners having a wide range of sizes from 1" to 2½". On top of that, its tool-less easy-to-clear nose feature makes the nail extraction simple and totally effort-free in case of any nail jam.
NT65M2S angles upward with 360-degree adjustable exhaust port so that it can direct the compressor hose away from the user and workplace. The machine is also equipped with Hitachi's signature integrated air duster button that'll keep you and work surface safe from all the dust and debris.
Both bump fire and sequential fire modes are applicable in this hand gun. There's an ergonomically designed easy flip actuation button that makes trouble-free transition between the dual firing options. To keep the work surface free from any damage, the machine also offers a no-mar tip as well.
Things we like
Only 3.7 pounds of weight, very well-balanced design to increase maneuverability.
Non-slip elastic grip trigger for added comfort and more security.
One of cheapest nail guns ever.
Things Need to be Improved
Lower magazine capacity of 100 nails.
No additional hook with the gun.
Why Should You Buy this?
Metabo NT65M2S is the best value for money nail gun for installing molding, cabinetry, chair rail, and other fine finishing. An ideal machine for any siding project.
MAX USA CORP. CN565S3 Review

A top tier professional pneumatic siding nail gun being available in the market is Max USA Corp. CN565S3. It presents a cleaner finish than other guns as the slim guide contact arm helps reduction of bending and no mar contact tip eliminates the appearance of driver marks on materials and around the gun's nail head.
Total maintenance free & self-cleaning end cap filter puts off all foreign particles from the internal part of the gun, thus making them last longer. The protective carrying case also ensures the outer security. A complete 360-degree easy twist adjustable deflector drives the exhaust air away from the user as well.
Easy load magazine allows rapid loading of nails, whereas the depth adjustment dial makes the nails driving or depth controlling mechanism totally effortless.
Switching between contact single fire and bump fire is out of hassle while using CN565S3 due to its anti-double fire mechanism. No tool adjustment is required; thus, it ensures protection while double firing.
Things we like
Heavy-duty rafter hooks.
Higher magazine capacity of 400 nails.
Dual compatibility of plastic sheet collated and wire welded nails.
Things Need to be Improved
No jam clearing mechanism.
No separate trigger for sequential and bump mode.
Why Should You Buy this?
It's a pretty solid-structured and well-protective nail machine for siding work, along with other purposes like furring, fencing, strapping, or external trimming.
HBT HBCN65P Review
Sale

Another nail gun in the industry which is quite popular for its user-friendliness is HBT HBCN65P. It has a very lightweight and comfortable construction along with promising durability due to its magnesium housing.
This machine is capable of driving both plastic sheet and wire collated coil siding nails of varied size from 1¼ to 2½ inches. Both contact and sequential firing mode are applicable, only by flipping a switch.
The exposed nose guide feature of the gun when opening its magazine guarantees better maintenance and convenient jam release mechanism. Tool-free depth adjustment setting allows convenient driving by achieving desired depth quickly. Adjustable 360-degree exhaust directs airflow away from the user and keeps them secured.
Things we like
Sturdy and durable design to withstand repeated rigors.
Soft rubber foot for better siding.
360-degree swivel air plug to minimize hose twisting.
Things Need to be Improved
No hook being attached.
A bit rigid grip.
Why Should You Buy this?
HBT HBCN65P is an easy and simple operating machine to provide the best service. It's perfect for wide range of siding materials, and a must pick option.
Metabo NV65AH2 Review

Metabo NV65AH2 nail gun is an ideal blend of power, convenience and precision. It's capable of driving wire welded and plastic sheet collated siding nails from 1½" to 2½" at a faster rate of 3 per second. It's only 4.8 pounds having a compact design, which makes the machine perfect for more maneuvers.
Tool free depth of drive adjustment ensures optimal depth of nail driving in case of diverse applications. With a simple flip, you can choose between contact and sequential nailing by its selective actuation switch. The magazine is easy and fast reloadable due to its tilt-bottom and side-load design.
Easily adjustable air exhaust directs away from the air in any direction. There's no risk of accidental marks on the material due to its no mar nose cap attachment. Plastic shield adds additional protection.
Things we like
Protective and well-secured design.
Faster reloading of magazine.
Lightweight and compact construction.
Things Need to be Improved
No swivel air inlet.
No belt hook.
Why Should You Buy this?
Metabo NV65AH2 proves itself as an excellent buy due to its ease of use, improved safety, and all useful features. It's a very reliable option to buy.
Freeman PCN65 Review
Sale

An ideal choice for diversified siding applications like cement siding, wall sheathing, fiber concrete siding, and most importantly Hardie trim and siding is Freeman PCN65. Lightweight, but rugged magnesium construction along with anodized aluminum cylinder confirm the gun's extended life span.
With its dual compatibility of operating both plastic and wire collated coil siding nails make the gun even more useful. Side loading feature presents easy and fast loading, while contact actuation fire trigger helps in the precise firing of the nails. Tool free depth adjustment presents the perfect finish.
Fully adjustable air exhaust prevents air from hitting the user or work surface area. The anti-dust cap keeps the debris away. Comfort grip reduces fatigue with added control, no mar safety tip protects the surface from damage.
Things we like
Lightweight and durable magnesium construction.
Anti-dust cap/air filtering mechanism.
No oil leakage problem.
Freeman's 7 years limited warranty.
Things Need to be Improved
Miss-feed problem during low coil run.
Double firing and jamming problem.
Why Should You Buy this?
A top tier quality product within outstanding value makes Freeman's tools more suitable than other brands. PCN65 isn't any exception and a very well recommended option to purchase.
Metabo NV75A5 Review

Metabo NV75A5 presents the power of a framer and also the precision of siding work. It has the ability to drive 15-degree plastic sheet collated nails and also 16-degree wire coil sliding nails ranging wide variety of sizes from 1¾ inch to 3 inches.
Tool-free adjustable depth of drive mechanism brings perfect finishing touch in siding. Selective actuation switch makes quick shifting from sequential to contact nailing, or vice versa; just via a simple flipping of switch.
The side-load tilt bottom features of nail magazine make the reloading process faster like flash. This gun's 'See Thru' magazine also gives an easy visual of the remaining fasteners, thus prevents dry firing accidents.
Plastic shield, 360-degree adjustable air exhaust, no mar nose cap, aluminum made rafter hook, tough claw tip improves added flexibility of the machine.
Things we like
"See through" nail magazine.
Presence of rafter hook.
Well-protected design in all aspects.
Things Need to be Improved
No jam clearing mechanism.
No dust or debris filtering.
Why Should You Buy this?
Metabo NV75A5's very pretty solid body and heavily protective features ensure guaranteed long-lasting performance. It's one of the most reliable ones out there.
BOSTITCH F21PL Framing Nailer: Best for Narrow and Compact Spaces

Freeman P4FNCB Pneumatic Finishing Stapler

NEU MASTER NTC0023 Rechargeable Nail Gun: Best Cordless/Portable Nail Gun for Hardie Siding
Buying Guide for Best Nail Gun for Hardie Siding
What is Hardie board siding?
Hardy board siding, also known as cement board siding has been very popular in the USA lately. Just like all other fiber cement siding, Hardie fiber contains silica sand, cellulose wooden fibers, cement and water. This fiber is engineering considering the impact of climate and offers better longevity.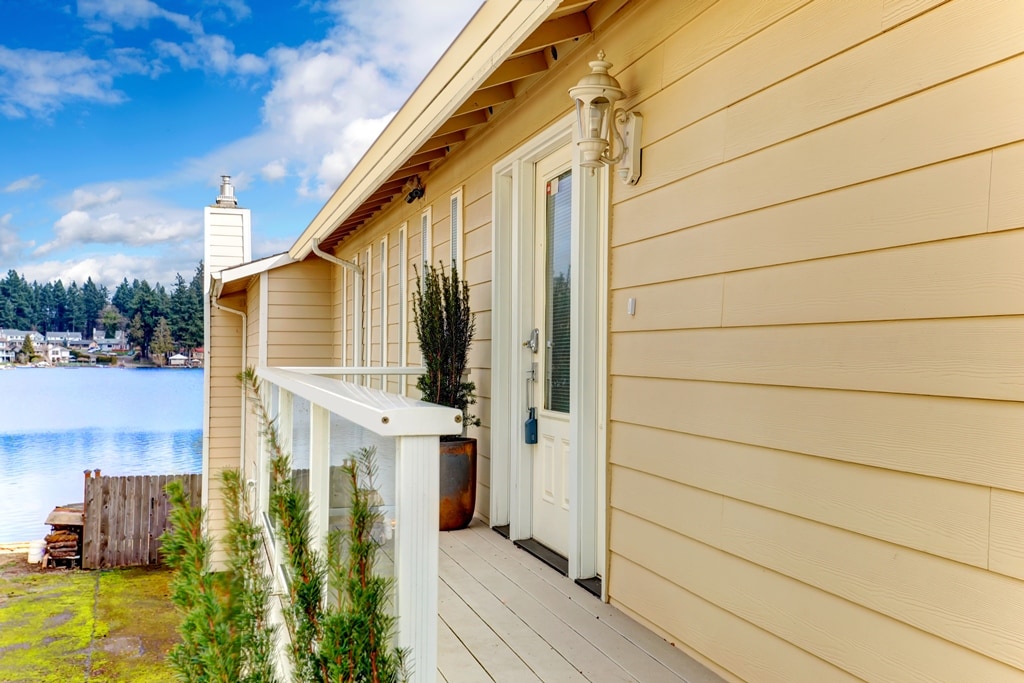 Pros
Durability & Longevity: The most sought-after benefit of Hardie siding is its added durability and longevity. It can withstand water, fire, heavy storm, climate change, insect and past over 30-50 years of transferable warranty.
Long Lasting Appearance: Unlike wood siding, this doesn't require repainting over and over again. It remains vibrant for years!
Versatility: This provides a vast variety of colors, designs, textures, construction patterns, styles. Irrespective of being any, it remains aesthetic!
Environment Friendly: Hardie board siding is the greenest siding brand being available in the industry.
Cons
Difficult Installation: The installation process of the Hardie board consumes much time than the others and also more difficult to make more labor cost.
Regular Maintenance: Hardie siding needs some maintenance, still much lower than its closest competitor, Vinyl. Cleaning and periodic repainting after years can make it stay for long.
Features to consider
Durability: The very first thing you need to consider while purchasing your nail gun for Hardie trim is durability. Nail guns are expensive tools. So, whenever you're going to pick one, you need to be sure that it'll stay long; at least several years. It's always safer to go for a reputed band than any lesser known ones. Brands like Metabo HPT or BOSTITCH are popular for their product quality and durability. Aluminum or galvanized steel are durable materials. It's wiser to avoid nail guns with many plastic parts as they tend to be more shaky materials than metals.
Portability: Hardie trimming or siding is a rigorous job. You need to pick up your nail gun for a long period of time, sometimes it may take a long day as well. If the tools don't provide better portability, it'll cause you fatigue. Nail guns with aluminum or magnesium housing are lightweight, but durable tools. They ensure the best portability for an extensive project like Hardie siding.
Design: In DYI projects, it's always of utmost importance to choose a user-friendly machine for the job. You need to make sure that the device is pretty lightweight in construction. Otherwise, you're going to have a very tough time. Again, you need to work in corners in this project. So, your device needs to be compact in size to reach there easily.
Depth Adjustment: DIY projects are tricky. If you make slight wrong measurement, you might end up with a failed one. For determining the perfect depth of nail driving, you need to have a nail gun with tool-less adjustable depth drive setting.
Nail Size and Type: Nail guns are designed considering many projects in mind like framing, furring, trimming, siding, fencing, strapping, etc. Nail types and sizes for different tasks are different. In case of Hardie siding and trimming, the best recommended nail size is 2-inches. Both wires welded and plastic sheet collated nails suit this project. You need to choose a nail gun that supports this nail size and type.
Safety Features: Firing a nail gun or driving nails can be dangerous. Your nail gun should have proper safety features like a safety lock for preventing accidental firing, no mar safety tip for preventing damages on your working surfaces, selective actuation switch, plastic shield, etc.
Bump Mode: Single fire or sequential firing is risk free. But sometimes you'll need to fire nails on a continuous basis, and in that case bump mode or contact firing will come as handy to save your time and make your job done. Your nail gun should come with this feature.
How to Install Hardie Board with a Nailer?
Hardie board is harder and more brittle than a normal wooden surface. So, while going for any Hardie trimming project, it's necessary to predrill holes near the edges. Using a pneumatic coil siding nail gun is a much better idea than going for hand nailing. There are some basics to install Hardie plank siding with a nail gun to make your task easier.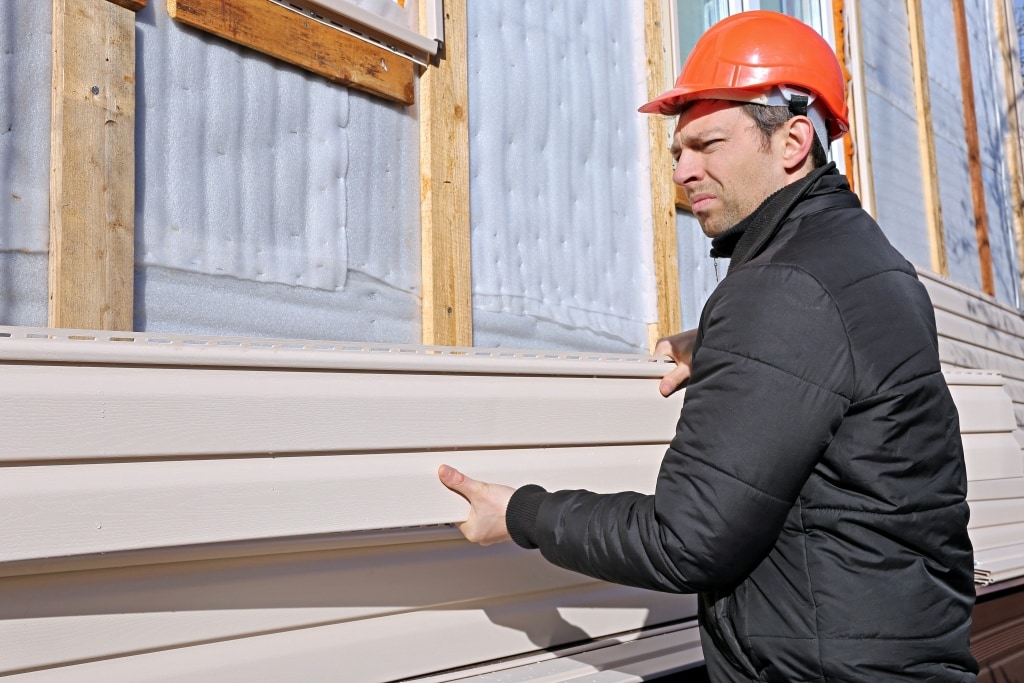 Attach flat tabs at the back of the Hardie trim before installing. Use a pneumatic staple gun to drive for staples.
After attaching the taps on the back, you can start attaching the Hardie trim to the side of your building.
Using 6d or 8d stainless or galvanized siding nails is best recommended for this.
Drive each nail into about 1 inch down from the top edge, at approximately 16 inches apart.
You need to choose nails a minimum of 2 inches long so that a minimum of 1¼ inch can be driven into the surface.
Use a finish nail gun for trimming and preassembling the corners of the project.
Don't drive the nail gun at an angle to staple siding nails into the Hardie block.
You can snug up the fastener heads against the siding instead of making them driven into the surface.
A 15-gauge trimming nail gun is best for Hardie trimming.
Verdict
Hardie siding projects require more precision and power than any typical DIY tasks. Picking up the best nail gun for Hardie siding & trim can make your job almost done. Before going for one, make double sure that the nailer is lightweight, preferably below 5 pounds to guarantee better maneuverability while trimming the tough edges.
Going for the industry's prominent brands always works. Almost all siding nail guns offer the basic siding operation features. Only a few models present unique innovative ideas. Analyze them thoroughly according to your project planning. Learn your project first before picking the machine. You won't regret it then. Have a happy hardie siding time!
Some Common Questions (FAQ)
Can I use a framing nailer for Hardie siding?
Answer: Normally experts recommend using specialized siding nailers for Hardie siding projects, but you may also use a framing nailer instead of that as well. If the nails being used in the framing nailer are long enough to firmly attach the Hardie plank to the external wood covering, then you can use that for your project.
What kind of Nailer do you use for Hardie siding?
Answer: Hardie boars are made of harder fiber cement. Considering that, the proper type of nail gun for the installation process is a pneumatic nail machine with adjustable pressure controlling mechanism. An ideal pneumatic nail gun should be of 70 to 120 PSI air pressure capability for these projects.
Can I use a roofing nailer for Hardie siding?
Answer: The main problem of roofing nailer is roofing nails are too thick, relatively shorter with wrong head design. Again, roofing nailers usually don't come with adjustable depth of drive settings, and it limits their applications. Considering these, roofing nailer isn't recommended for your siding task. You can still use a roofing nailer with 1¾-inch galvanized nails if you can make it "blind nail" so that the nail heads can't be visible at all.
What size nails do you use for Hardie siding?
Answer: 6d or 8d sized stainless or galvanized steel corrosion-resistant nails are best for siding. The optimal sizes of nails should be from 1¾" to 2¾" so that a minimum of 1¼-inch length can be penetrated into the siding.
Is Hardie board better than vinyl siding?
Answer: Yes, Hardie boards are sturdier and less vulnerable against climate effect than vinyl siding. They require less maintenance over time as well.
How long does Hardie board last?
Answer: Hardie boards have better withstanding ability and easily last longer up to 30-50 years.