Cleats vs Staples: What is Better for Flooring?
Cleats and staples are both really important tools for craftsmanship. These two are pneumatic tools. To decorate your floor or for your floor's simple installment, it is not always possible to bring professional craftsmen because of increasing labor rates. In that case, you would have to choose the best quality materials at an affordable price and install the floor by yourself. 
To do that, you must know the difference between cleats and staples and which one to use in flooring and why. In this article, the answers to these questions will be given.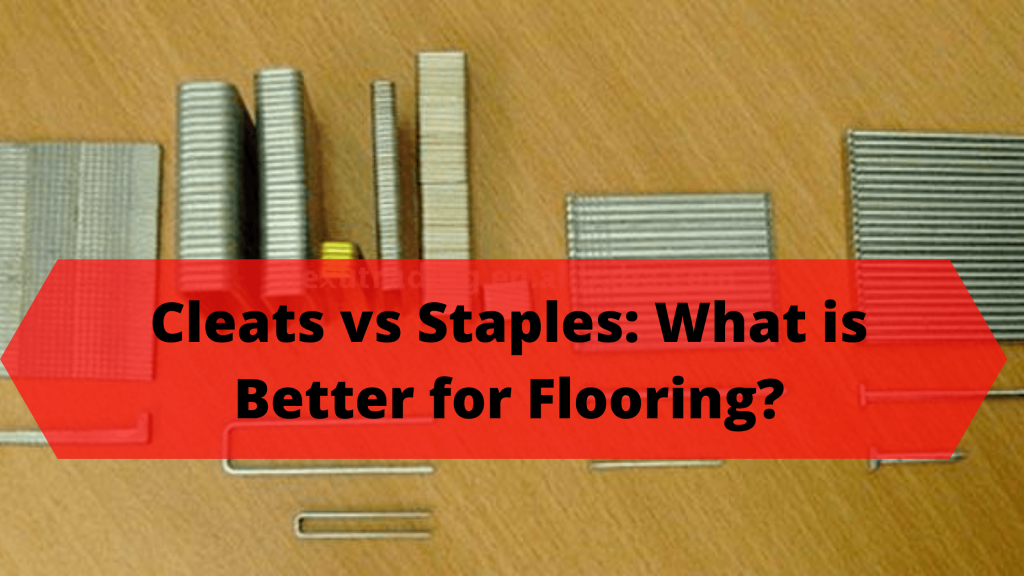 Cleats
Cleats have been used in many types of craftsmanship work for years. Cleat nails are made of steel. L- or T-shaped heads are mostly sold cleat nails. It takes approximately 8 hours to finish 300 square feet of flooring with cleat nails. Cleats offer flexibility with ribs that hold the nail and boards in place. This helps the board to stay secured during weather or temperature changes. Cleat nails are perfect for Tigerwood, Cumaru, or Amendoim, etc. type of hardwood flooring. 
There are mainly 3 types of cleats. They are-
E-cleat nails
T-cleat nails
L-cleat nails
Some other types of cleat nails are- 16 gauge, 18 gauge, and 20-gauge, etc.
Pros of Cleat nails
Allows flexibility
Ensures security
Provides the cleat with a superior grip
Fastens the floor to the subfloor securely
More natural expansion and contraction
The smooth residue of the nail
Helps the floor to fluctuate with temperature
Floor changes according to the temperature
Perfect for the environment which is high in humidity
Have a tighter fit than staples
Prevents the floor from splitting
Cons of Cleat nails
Not recommended for domestic household uses 
Time-consuming 
Increasing the risk of squeaks 
While making the flexible floor cleats can make it look longer than the floor is
Cleats are not always found available 
Cleat nails cost 50% more than staples
Cleat nails can not be used in less than 3/4″ thick
Staples
People who are dye fans are most likely interested in staples for getting their work done. Staples are used to secure the hardwood flooring to a plywood subfloor. Besides, using staples to get floor installation done, you will need less time than cleat nails. You are expected to finish the work in 8 hours a day. And in 8 hours, 500 square feet of flooring with staples can be done. 
Pros
Found at a reasonable price
Can be easily rented on a day-to-day rate
Have two-pronged construction
Professionals and specialists suggest staples over cleats
Is approved by engineered floorings
Staples have a thinner profile than cleats
Built with a more advanced structure than cleat nails
Less time consuming
the less complicated manufacturing process
Cons
Can not fit as tightly as cleat nails
Slightly risky for gaps and warping
Not fit enough for humid environments
Does not work well with harder wood types
Can sometimes result in marred surfaces
Can often create cracks and splits around the fastener
Flooring Cleats vs Staples: What is better for Flooring?
Using cleats for hardwood floor installation is a very mainstream technique for installing the floor. If you want to work manually, cleat nails are just the right choice for you. Although, the most important thing to remember before deciding- cleat or staples, which is better for your job should be based on the thickness of your flooring. If your floor is thick, then cleat nails will be better for you. And if your hardwood floor is more than the limit, then I would suggest you not use staples. 
You have to notice every factor in detail before choosing between cleat nails and staples. Also, the type of floor you will be working on should be remembered while choosing between the pneumatic tools. Cleats make a better appropriate fitting with thicker, harder types of hardwood flooring. Another thing to remember is the time you have. If you are in an urgent situation, you should go for staples, and if you have enough time in your hand, you can use cleat nails as cleat nails work a bit slower than staples. The financial condition is another thing to check before deciding which tool to use as one is slightly more expensive than the other. But whatever you choose, do not use- cleat nails and staples both the same hardwood flooring installment tools.
Conclusion
Even hardwood flooring installers disagree on the topic of which is better between cleat nails and staples while installing a hardwood floor. It is actually hard to compare these two tools as both of them serve almost the same purpose. So, in too much doubt, it is better to hire a professional.