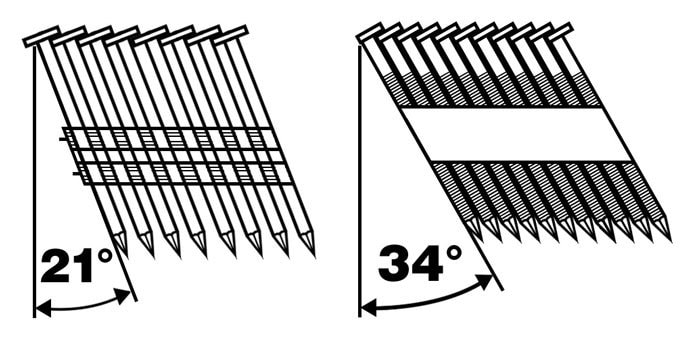 Angle and Degree Differences of Different Framing Nailers
When it comes to framing nailers, you have different types of framing nailers to choose from.
These tools can be different from each other in various ways, such as in the power source they use, or whether they use a round or straight magazine.
The angles of these nailers can be different as well.
What Actually the Degree and Angle of a Framing Nailer?
Let's first get something clear. The degree and angle of the framing nailer don't refer to how the nail is driven slanted into the surface. There's no slant here—the nail goes in straight as it should.
Instead, the angle mentioned here refers to the angle of the nail magazine in relation to the head. This determines the kind of collation the nail must use for it to work with the framing nailer.
Types of Angles Available for a Framing Nail Gun along with its application
17° framing nailer
This angle can include the ones with 15 degrees of angle. What sets these nailers apart is that they all use wire-coil collation. In other words, you have 2 thin wire strips holding the nails together at a 17-degree angle. The collation is circular and the nails tend to have a full round head.
This is good news for many since a full round head is often the preferred type for building code. The collation also isn't affected by moisture, unlike paper collation.
With this, you won't have trouble accessing tight corners that you often encounter in framing applications. You can do wall studs and floor joists without too much difficulty.
Many framing nailers of this type can hold plenty of nails, so you won't have to interrupt the work for reloading. You can easily find nailers that can hold 200 to 300 nails.
These fasteners can add to the weight, though, so jobs can become a bit more strenuous. Also, in general you can only buy the nails you need in sets of 3,000 nails.
21° framing nailer
These can go from 20 to 22 degrees. This also uses a round head nail, except this time you have a plastic strip for collation. The great angle lets you work more easily in tight corners.
Sale
Bestseller No. 1

Metabo HPT NR90AES1 21 Degree Pneumatic Framing Nailer, The Preferred Pro Brand of...
Same tools. New name. Hitachi power tools has renamed to Metabo HPT
The preferred Pro brand of Pneumatic nailers. *Based on the 2014, 2015, 2016,...
Fasteners: accepts 2" Up to 3-1/2" Plastic collated framing Nails
Lightweight: at only 7. 5 lbs and well-balanced allowing for ease of...
Applications: Great for flooring and framing, truss build-up, window build-up,...
Bestseller No. 2

NuMax SFR2190 Pneumatic 21 Degree 3-1/2" Full Round Head Framing Nailer Ergonomic and...
Nailed It: This 21 degree pneumatic framing nailer features a lightweight and...
Versatile and Powerful: The framing nailer features depth adjustment and a no...
The Right Tool for the Job: We're committed to providing outstanding value, top...
Quality and Durability: We manufacture tools with the most durable materials...
Tough and Dependable: We make an array of durable construction tools and...
On the other hand, you're generally limited to about 60 to 70 nails. The plastic strip also breaks apart when you fire the nails, so you'll need eyewear for protection. Afterwards, you'll have to deal with the plastic debris scattered in the work area.
28° framing nailer
This has wire strip collation, and you can use both clipped-head or the round offset head nails. This is actually quite compact as the nails are held very closely together. You can also get up to 100 nails per load.

The main problem here is that offset head and clipped head nails may not be permitted by the building code. So, check first.
30° to 34° framing nailer
Both these angles are generally grouped together because they're very similar to each other. The great angle allows for better access to tight angles. Full-round offset or clipped-head nails are used, so again you have to check the building code.
Sale

DEWALT DCN692B 20V Max Cordless 30° Paper Collated Framing Nailer
Brushless motor and engine design provides the power to drive 3 1/2" nails
Sequential or bump operating modes
Dual speed optimizes the motor for different nail lengths
33 magazine holds up to 55 paper collated nails
Maximum initial battery voltage (measured without a workload) is 20 volts;...
Sale

This uses paper strip collation, which leaves less of a mess than plastic and most magazines hold 2 strips of nails. On the other hand, with moisture in the picture you can have failure issues.
What is the best angle for a framing nailer?
This actually depends a lot on personal experience and preference. Some people have used 30-degree framing nailers all their lives. However, in other places you can find woodworkers who have only used 21-degree framing nailers, and they haven't even seen a 30-degree framing nailer.
But now that you have learned about them all, you can try them all out for yourself. Now we may be more comfortable with the 30-degree version, but then that may just be us.
Still, we like how easy it is to use one of these things. They're compact and lightweight, and that sure is better to use a bulky and heavy framing nailer.
That's our preference. That may not be yours. Debating the matter will be futile—it's like debating the best color. Each one of us has our favorite. If you're working with a team, you may find that everyone there may be using a particular angle for their framing nailers.
If that's the case, you may want to just go with the flow so the work goes more smoothly. Remember what they say: the nail that sticks out gets hammered!
Conclusion
At least now you know that some angles for framing nailers can be better for some tasks than for others. Just remember that the angle mentioned here has nothing to do with the size of the nail you can use. You can use nails from 2¾ to 3¼, regardless of the degree for the framing nailer. Just make sure that the nailer uses nails that are permitted by the building code.