Best Roofing Nailer Reviews: Most Extensive Buying Guide
If you're a professional roofer, there's no debate about your absolute need for a roofing nailer. But even homeowners may need one if they wish to put in their own roof themselves.
Now it may not seem sensible at first to buy such a specialized tool when you only do a roofing job every few years. But the money you spend may well be worth it.
The job goes so much faster and easier, and you get better results as well. Using a hammer can be tedious and dangerous, and you may be wishing for a coil roofing nailer after the umpteenth time you hit your thumb with the hammer.
10 Best Roofing Nailer Reviews
1. BOSTITCH RN46-1 Review (Best Coil Roofing Nailer)
Plenty of roofers really prefer this nailer, as it has a lot going for it. It's powerful, and you can drive in up to 100 nails a minute. It has a 120-nail magazine capacity, and when you run out the zero-nail lockout feature keeps the nailer from firing on empty.
Reloading is easy as well when the magazine runs out. It has a special single-action side canister that allows for quick reloading. All you need to do is to slide it open and you can put in your new coil of nails.
Sale

BOSTITCH Coil Roofing Nailer, 1-3/4-Inch to 1-3/4-Inch (RN46)
The sliding nail gun has lightweight aluminum housing for...
Zero nail lockout feature of the siding nailer eliminates...
Nosepiece of the coil siding nailer features carbide inserts...
Aggressive wear guards and skid pads protect the tool from...
This uses contact tip automatic firing, which makes big jobs just a bit easier. It bounces along the surface, and when the tip hits the material you fire the nail. This can be hard on other nailers, but the design of the RN46-1 includes a carbide insert in the nose to make this durable enough for this style.
You also have 5 different preset depth of drive adjustments to choose from. Just pick one and so you can get on driving the nails like you're supposed to. You won't waste time getting the right depth of drive. Then you also have the adjustable shingle guide for fast shingle spacing.
The durability is also not in doubt, as this comes with a 7-year warranty. It helps that it's made of aircraft-grade aluminum, which is why it's only 5.8 pounds. It has skid pads and guards against abrasion. All these features make it as best coil roofing nailer.
It's not quite perfect though. It may not come with a case, and you don't get an air hose connector either. These are certainly minor drawbacks compared to the advantages you'll enjoy.
2. WEN 61783 Review (Best Roofing Nailer for the Money)
This is considerably more affordable, but lots of people say it's a great investment. In fact, it may be cheaper to buy this than to rent a roofing nailer for a job. Even if it only lasts for a job or two, you've gotten your money's worth.

Despite its relative affordability, a glance at its features shows that it's very similar to more affordable models. It fires 11-gauge nail from ¾ of an inch to 1¾ inches like other roofing nailers. The capacity also goes up to 120 nails, so you won't really need to reload that often. The operating pressure goes from 70 to 120 PSI.
It's comfortable enough to hold due to the rubber grip, and that rubber keeps it from sliding when you have to set the nailer down. There's an adjustable shingle guide as well.
It even has a blow-mold plastic carrying case, which is glaringly missing from some of the more expensive models (like the BOSTITCH RN46-1). In fact, you also get 3 hex wrenches and oil. The warranty lasts for a year.
Okay, so durability isn't its strong suit, and you can't use this every day and expect it to last for many years. But it's great for small jobs, or for a single hob for which you don't want to spend a ton of money for a roofing nailer. Buy this when you need it for a roofing job, and you'll get the same results at lower cost than a rented nailing gun.
3. AeroPro CN45N Review (Best Professional Roofing Nailer)
Obviously, you can't go with a non-specialized nailing gun if you're a professional roofer. You need one that can give you the results you need even while it lasts for a long while. You also don't need something that beginners find easy to use—at your skill level, probably all of these are easy to use for you.

This one has the usual specs, such as 70-120 PSI and loading 120 nails measuring ¾ to 1¾ inches. The body is made of cast aluminum, and this really helps when it comes to durability and ease of use.
But it's not just lightweight. This comes with a moving cylinder engine with low recoil, so you're better able to control the nail gun even when you're firing nails rapidly. The adjustable depth of drive is also both tool-free and gives you great depth accuracy. You also have single action reloading so you won't need to waste time getting back to work.
You also have a selective actuation switch, so you can go with a sequential or bump firing. If you're a professional, bump firing may not be as dangerous for you. This fires the nail when you just get in contact with your work surface.
However, if you're a newbie (or you just want to be really safe), you can stay with the safer sequential mode that requires you to bump the nose and then pull the trigger.
4. 3PLUS HCN45SP Review (Value for Money)
This is even more affordable than the WEN 61783, as the price may not even go into the 3 digits. But when it comes to quality, you can't really say that it's cheap. After all, it can ¾-inch to 1¾-inch full head coil roofing nails, and you can have 120 of those in each magazine.

You also get tool-free adjustable depth of drive, and you just turn a knob to make your adjustment. The air exhaust can be maneuvered (without tools either) 360 degrees to keep it out of your face. There's also an adjustable shingle guide for consistent shingle spacing.
This can last a while too, as you have a carbide insert in the nose. This carbide insert is also great for those tight corners. This nose assembly can be removed easily, for easier cleaning. This also features skid pads, so you can set this down on the roof and it won't just slide off.
On the downside, you may get some jamming every now and then. You should really oil this before every time you use it.
5. Freeman PCN450 Review (2nd Generation 15° Roofing Nailer)
If you're looking for a versatile nailer that you can also use for roofing, then this may be what you're looking for. Admittedly, it's not really specialized for roofing. But you can use it for that purpose in a pinch. This can work for cedar and asphalt shingles along with roof and wall sheathing.

But that's not all. You can also trot this out for jobs with the fencing, assembling a wood crate, installing siding, and for flooring underlayment.
This works with 15-degree wire-collated roofing nails, measuring from ¾ to 1¾ inches. You can also adjust the depth of drive. The loading of the nails is quick and easy from the side. The transparent cover even tells you how many nails are left.
The adjustable exhaust keeps the air out of your face. The trigger can be locked, and it won't fire unless the nose is in contact with your work material. The grip is ergonomic, there's an adjustable belt hook, and there's a preinstalled dust cap.
This is quite lightweight yet strong as well, as it uses magnesium for the body. It also has an anodized aluminum cylinder along with a 1-piece drive blade for greater durability.
All these are great, but keep in mind that this is not really a specialized roofing nailer. This is instead a very versatile nailing gun, which you can use for roofing instead of renting a roofing nailing gun.
6. Max CN445R3 Review: The Superroofer
The "super" in the name isn't a joke, as this certainly isn't cheap. But then again, it's made of cast aluminum that lets you work with it even when there's a bit of rain and it's also strong yet lightweight. Of course, the usual features are here such as 120-nail capacity and compatibility with nails measuring ¾ to 1¾ inches. There's also a dial for depth adjustment.
Sale

You do get plenty of unique features for your money. There's a nose magnet here that holds the nails in place so you don't jam. You can fire more rapidly, which may be an option for you if you really are a pro. You can prevent accidental firing, though, with the trigger lock. This also prevents dry firing when you run out.
There's even a swivel plug that keeps the air hose from entangling. Also, the nose is self-cleaning with a filter that keeps outside debris out. When you remove the air hose, it discards the debris.
7. DeWalt DW45RN Review
The DeWalt brand does seem to get into lists like this all the time, doesn't it? That's because of the overall brand reputation of DeWalt in the power tool industry, and the DW45RN is a good example of consistent DeWalt excellence. Not only Dewalt made nail guns very well but also DeWalt Planers are the top choice in the market.

DEWALT DW45RN 15 degree Coil Roofing Nailer
High speed valve technology drives at a rate of up to 10...
Ergonomic design is lighter than leading competitive coil...
Robust engine and feed system for durability and long life.
Steel skid plates with rubber inserts protect the tool and...
This can drive in up to 10 nails per minute. Depth adjustments are easy, as you have a dial and numbered detents to work with. Sideloading is also quick and easy. The engine seals and the feed system have all been made to last a lifetime. The antiskid plates also keep the nailer from sliding off the roof when you have to put it down.
All in all, it's a durable, well-made coil roofing nailer with an exceptionally quick firing rate and easy depth adjustment and reloading.
8. Makita AN453 Coil Roofing Nailer Review
This is another premium roofing nailer with lots of features that make it easy to use. You can easily adjust the depth of drive here, and you have a shingle guide as well. There's also the easy loading adjustable canister system that makes putting in new nails a hassle-free procedure.

Makita AN453 1-3/4" Roofing Coil Nailer
Aluminum housing for longer tool life
Tool-less depth adjustment engineered for more precise...
Tool-less shingle guide designed for easy adjustments and...
Built-in magnet ensures last nail is driven
This is comfortable to use, as it's lightweight at just 5.2 pounds and you have a rubberized handle. This will also last a long while, with its oversized steel wear plates and large carbide inserts on the nose. All in all, it may be expensive but you sure get a terrific roofing nailing gun.
9. PORTER-CABLE RN175B Review
This renowned for how easy it is to use. That's because of lots of features, such as holding 120 nails, an ergonomic handle, it's lightweight and compact body, an exhaust diffuser to keep crap away from your face.

PORTER-CABLE RN175B Roofing Nailer
The product is Coil Roofing Nailer
Easy to use
The product is manufactured in China
Compact body design is 5-percent lighter for improved...
You can pick between single-sequential or contact mode here as well. Loading is easy as well with 2 doors.
It's also very durable, with carbide inserts and solid wear guards. The warranty is for 3 years, and you can get free service for a year.
10. BOSTITCH BRN175A Review

BOSTITCH Roofing Nailer, Coil, 15-Degree (BRN175A)
Upgraded engine and feed system of the sliding nail gun...
Dual-door magazine of the siding nailer can be closed...
The coil siding nailer has an oversized tool-free depth...
Carbide nose inserts help to protect the nose from wear
How Roofing Nailer is Separate from Other Nailers
Just because you get any type of nailer and use it for roofing doesn't mean that what you actually have is a roofing nailer. That's not how it works. A roofing nailer is actually a type of nailer that's quite different from other types of nailers. It really is a specialized tool.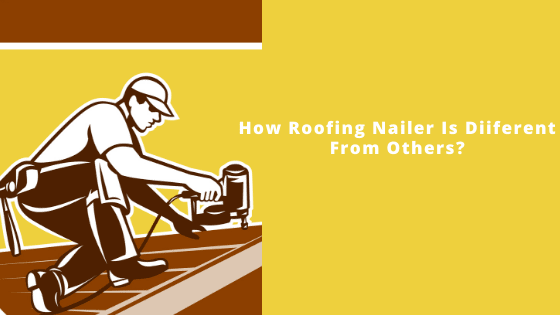 The design of the roofing nailer is meant to make it extremely effective for the type of nails often used for most types of roofing materials. These are the nails that work best for fiberglass and asphalt shingles, insulation board, and waterproof tar paper.
More specifically, it's designed to coil roofing nails. This gives you more nails to work with at one go. You won't have to refill the load too frequently since that's even harder to do when you have to climb up and down the roof.
In addition, these nailers can drive in these nails very quickly. After all, you want to get the job done quickly and these tools can certainly help.
Finally, the design also offers better ergonomics for special circumstances. When you're on the roof, it can be very awkward sometimes to maintain your hold on the nailer. But with a roofing nailer, you can get a more comfortable and secure hold.
20 Things to Look Before Buying a Roofing Nailer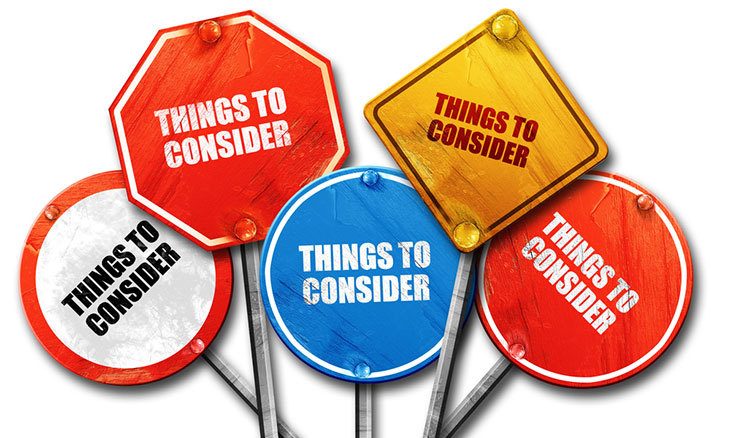 1. Size and Type of Roof
The type of roof you have can determine what roofing nailer you need to get. Now if you have common materials for your roof, most roofing nailers will work. But you may get fewer options to choose from if you have uncommon materials to work with.
The size of your roof also matters. If it's small, then you won't mind if the roofing nailer is a bit uncomfortable and heavy in your hand.
However, you'll be singing a different tune if you have a larger roof. In addition, you may wish to focus more on features that will speed up the work if you have a large roof.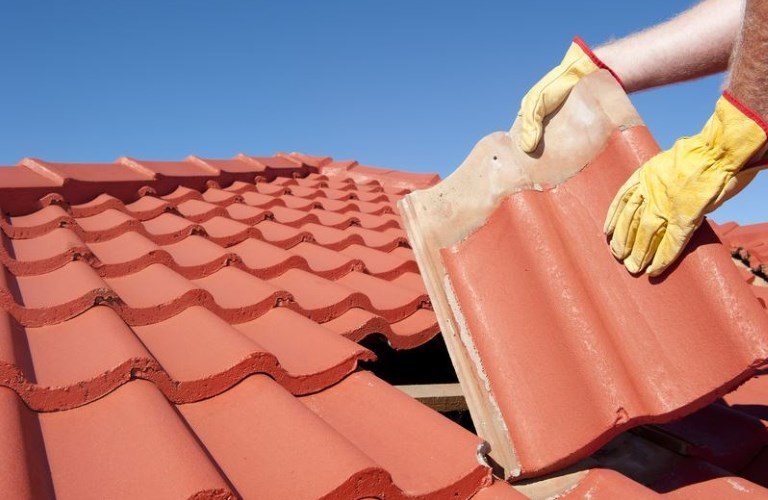 2. Durability
How long will it last? Of course, you should take care of it well and use it properly, but for the most part it shouldn't just break down easily.
Take note of customer reviews to get a clearer picture of how customers are using it in the long run. The length of the warranty is also a good indicator of how long the manufacturer will expect the roofing nailer to last.
3. Pneumatic or Cordless?
"Pneumatic" means it is air-driven, so you need an air compressor with the needed hoses. These nailers are often more affordable, lightweight, and can fire the moment you pull the trigger.
"Cordless" means it's powered by batteries and gas canisters. You're not burdened by a hose, and a single charge can give you up to 400 shots (depending on the model).
The lack of a hose makes the work a lot easier, plus you won't have to deal with the compressor noise in the background. People around you will certainly want you to use a cordless nailer so you don't make too much noise.
4. Material
What's it made of? Most of these nailers use a combination of aluminum and steel, with aluminum providing strength without too much weight. Just make sure that your roofing nailer can work in the outdoors, with some resistance to the elements.
5. Size and Weight
You'll want a roofing nailer to be easier to control, for both safety and efficiency. This means you want something that's not bulky or heavy. It should feel comfortable in your hands, even after some time on the roof pounding nails in.
That's why you need try out a nailer first before you buy it. If you want to buy online, visit a local store and hold an actual model of the unit to see if it feels right for you.
6. Nail Capacity
You really don't want to go up and down the roof too frequently just to reload for more nails. So obviously, you'll want a larger nail capacity for your nail gun. You will also want a nailer that can work with different sizes of nails.
7. Construction
Just how solid is the roofing nailer? Experienced roofers can actually tell simply by holding the nailer and getting a feel for it. The most solid nailers may be lightweight, but you certainly get a sense that you're holding one tough tool in your hand.
Still, you may want to look for empirical data to back up your Jedi feelings. It's great if it has plates for protection from abrasion, and filters to protect the motor from debris and dust.
8. Versatility
Exactly what can you use the roofing nailer for? The most versatile roofing nailers aren't completely limited to just roofing jobs. You may find that some models can work for siding if you add a few attachments.
You should also check what kind of materials you can use your roofing nailer on. The most versatile of these nailers can be used for aluminum and vinyl siding, along with waterproof tar paper and fiberglass and asphalt shingles.
Versatility may also include whether or not you can use this during the cold winter months, or even when it's raining a bit.
9. Ease of Loading
Some roofing nailers may seem great, but if they're not easy to reload then you may want to reconsider. You want to make it easy for yourself when it comes to loading nails into the nail gun, so you don't waste time. If it's too much of a hassle, it can get very frustrating.
So, look for nailers that offer this advantage. Some offer 1-step reloading that really cuts down on the time and frustration.
10. Source of Power
You have 3 basic options:
You can have an air compressor with an electrical cord, which can give you problems when it comes to mobility. But it's affordable, lightweight, and efficient.
You can use batteries, which eliminates the hoses and cords. It's quiet and easy to use, and a single charge can let you drive in 400 nails. However, it may not have the power needed for some types of nails or materials.
Gas-powered. This will give you the power you need, but it can get very noisy.
11. Waterproof Feature
It's possible that while you're on the roof you may need to work even while there's a very light rain shower coming down. Your nailer should be able to work in such conditions, especially if you're sure you can keep a safe footing on the roof.
You don't really need full waterproofing, however. If the rain is falling hard, just stop working. Even if your nailer can take it, you may slip and fall from the rain.
12. Trigger Type
The safest trigger type is the full sequential trigger. You need to press the nose (safety contact tip) on your working material, and then you have to squeeze the trigger each time.
Both of these steps must be done before you can fire a nail. This is really what you need if you're not experienced at this work or if you're working with awkward settings (like on a roof).
Others prefer the contact trigger. You also have to do the 2 steps needed in the full sequential trigger. But you can do these steps in any order. In addition, after the first shot you can just continue pressing on the trigger and it'll fire continuously.
The single sequential trigger also needs the 2 steps for the first shot. You then can fire more nails without having to press the nose again.
Then there's the single actuation trigger. With this, you can just "bump trigger" your very first shot. Finally, there's the contact method, which is the most dangerous of all. This lets you fire lots of nails once you activate the bumper.
It's best if you get the full sequential trigger if you're working on your roof. Make sure you can press the trigger freely and get a longer trigger press. A short trigger is a lot more dangerous, as it can fire at the slightest touch.
13. Grip
This should be comfortable and secure in your hand. A rubber grip with an ergonomic design is a great choice.
14. Nail Size and Depth
Different roofing materials will require different nail sizes and depths. So, it should be able to handle the size you need, plus it should be easy for you to adjust the depth accurately.
Some may require manual adjustment, but that takes time even though you get an accurate depth. Others may offer a dial that's certainly east to turn, but you better make sure you get the accuracy you need for your depth.
15. Nailing Speed
The nailing speed is one of the defining characteristics of a good roofing nailer. It's best to at least get a rate of 1 nail per second for your firing rate. Of course, a faster rate is even better.
16. Firing Mode
Roofing nailers should be able to offer a single action rate of fire, and a bump/contact fully automatic fire rate. The bump/contact offers more speed because it fires the nails as long as you depress the trigger (instead of firing the trigger each time) but it's a bit more dangerous as well.
It should be easy enough for you to switch from one mode to another if you do have an option.
17. Nose Dive Shape
This should be flush and flat. A bigger size is a good thing, as this will give you greater stability and control with better results. A non-skid option is also a good idea to give you a better grip on the slippery materials involved.
18. Directional Exhaust
It's not true that you need to endure air and debris hitting your face when you use your roofing nailer. This feature gets these things out of your face, and it makes the job a lot less unpleasant.
19. Jam Clearing
Even the best roofing nail guns will jam every now and then. It's great if you have a roofing gun that allows for this eventuality so that you have a simple way of clearing the jam. This gets you back to work faster, and it can really reduce the frustration.
20. Case for Protection
Having a case for your roofing nailer is always nice. A good can protect your tool from damage and dirt and you have a handy storage place for your tool.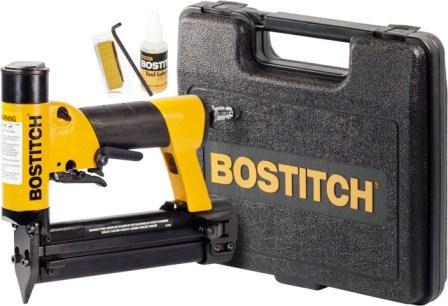 Safety Instructions of Using a Roofing Nailer
You may already be familiar with the general safety guidelines of nail gun safety. These include wearing safety gear such as goggles and keeping your finger from the trigger. But there are rules specific to using a roofing nailer that you need to know about: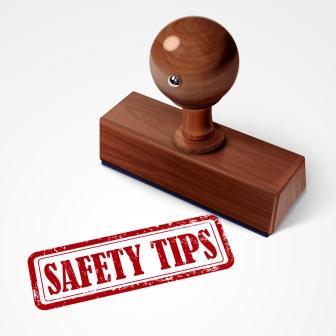 1. Don't Fall Off
This is a risk you don't face when you're using a flooring nailer. So be sure you're aware of the danger of falling. At the very least, wear shoes that have a non-slip sole in addition to your usual safety gear.
2. Make Sure You Have the Proper Compressor
The roofing nailer is like a machine gun, in that it can fire may be up to 10 nails a second for some models. Obviously, this will require a lot of air and you can't get what you need from your standard pancake air compressors.
Instead, what you need is a compressor with enough CFM (cubic feet per minute) that at the very least matches the air consumption specifications of your roofing nailer.
However, you get the best results if the CFM of your compressor is 150% of what the nail gun requires. Also, you need to make sure your compressor has the right PSI as well.
3. Set the Nail Depth Right
This should be right for the length of the nail. Try a test shot first before you fire your nails into your shingles.
4. Use the Adjustable Deflector
Hopefully, your roofing nailer has this feature. You have to turn this so that the air used to drive the nails won't be expelled and blasted at your face.
5. Adjust Your Shingle Guide
This is like the jig for your shingles. You need to adjust it right so that you can make sure the nail you drive in is as far away from the edge of the roof as the previous nail,
6. Be Careful about Your Firing Mode
It's always safer to just use the single action mode. The nail is only driven when the trigger is pulled.
However, the bump/contact mode is faster, and this is when the nailer drives a nail as long as you depress the trigger. It's like it's on full-automatic mode. This is a bit dangerous, and you must be aware of the risk of unintentional firing and of the recoil pushing the gun up as you fire.
If you're determined to go on the bump/contact mode, you may want to test this mode on a scrap piece of lumber first so you have a clear idea of the recoil you'll be dealing with.
7. Find Your Own Pace
Use a rhythm that works for you, when you're sure that you can balance both efficiency and control.
Conclusion
For a professional roofer, there's no question that a roofing nailer is an absolute requirement. But even if you're just a regular homeowner, if you're doing the roofing yourself you need the right tool for the job.
Get the best roofing nailer you can afford, and you get better results, the work goes faster and easier, and it's even safer for you.
Related Articles: