15g vs 16g Finish Nailer: Which One Do You Need?
The finish nailer is the most versatile type of nailer. This nailer is great for woods that are thick in width.
A finish nailer does not work well with delicate or thin trim wood pieces like a brad nailer.
The best thing about this variety of nailer is it has strong holding power. If you are attaching heavy and large wood pieces such as wide crown molding, baseboards or cabinetry, finish nail guns are the best choice for you.
If you do not use a finish nail gun then, the wood pieces will pull away from the wall. This happens because when you install the crown molding or the baseboards, you attach it directly to the drywall.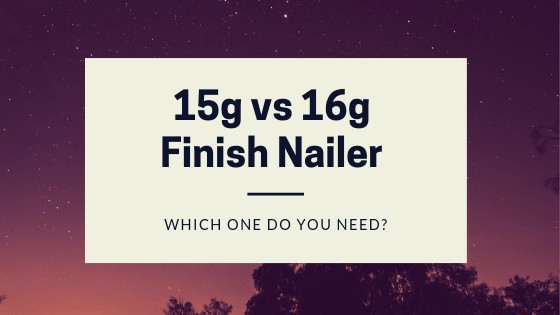 The drywall is not a very sound material to anchor to, using any other nailer except finish will make it detach with time.
This type of nailer gives stronger attachment, and this happens especially when you hit the studs a few times for good measure. The nails used there have a large diameter.
Therefore, it holds the wood piece more strongly than any other types of nailer. So, If you want your wood to stay in the right place then, select the right nailing tool for you.
Once among types of nailers like pin nailer, framing nailer or crown stapler, the finish nailer was rare and expensive, but now the prices have come down and widely used among the DIY carpenters.
15-gauge finish nailer
This is for grabbing nails 3 or 4 inches thick. This is an excellent choice for jobs like nailing stair treads or doorjambs. The 15 gauge's have a large piston, and because of the extra bulk, this has an angled magazine hence, you can reach the narrow spots.
15 Gauge Nail Gun Uses
Mostly used for carpentry jobs
Angle nailing
Overhead moulding works
Slides of plywood using on Desk
Round headed nails give extra power
Hanging large casings
Door trim
16-gauge finish nailer
Like the 15 gauge nailers, most of the 16 gauge nailers shoot nails that are 2 to ½ inches long. This is suitable for thick trim. The carpenters love 16g nailer more than 15 gauge nailer.
16 Gauge Nail Gun Uses
Mostly used for woodworking jobs
Suitable for trimming tasks inside home
Smaller baseboard work
Edge moulding like keyboard tray
Base moulding
Smaller bed moulding
15g vs 16g finish nailer: Comparison
While choosing a finish nailer, one of the significant factors is the gauge or size of the nail it fires. Most of the carpenters carry 15g, 16g, 18g and 23g nailers along with them. However, if you are a homeowner, then you surely want to buy one. One of the toughest decisions is to choose between 15g and 16g. Let's get to know which one is used for what purpose then, you would be able to select the right one for you.
The gauge of the finish nail is the measure of the diameter of the nail. The higher the gauge number, the thinner the nail is and the lower the number, the thicker the nail is.
The 15g and 16g finish nailer are the real anchors of this nailer trim. With the help of these two tools, you can fire nails up to 2 to ½ inches long, and this is the most useful for DIY carpentry. These two also have a bit overlap when it comes to application. These two are mostly used for installing the door, chair rail, baseboard, window casing, door frames, crown molding and lots more. The advantage of the 15g nail is they collate at an angle. This allows the nose of the finish nails to reach into narrow spaces.
But, there is nothing that can beat the 16g nailer. You must be wondering why it is. Well, you can use the 16g nailer for any project whether small or big. The best thing about the 16ga nailer is, it is smaller and lighter. This is because the 16g nails are smaller than 15g in diameter.
Learn More About Crown Stapler vs Brad Nailer
A lot of the DIY carpenters believe that you can find a large variety of straight and angled magazine for 16g. However, many believe 15g gives you more holding power as the nails used in this nailer is larger in size. But, the most popular finish nail gun among the people who purchase one tool for occasional use or DIY is, the 16 gauge nailer.
Points to consider while choosing between 15 vs 16 ga Nailing Tool
1. Types of Nailing
What types of nailing you need is important to decide before you go for any specific nailer. If you want hanging type works like door hanging or trimming, hanging any case or relevant works then it's better to have 15g nailer to support best. It can support more load than 16g nails.
2. Nail's Dimension
Dimension of nails is a bigger fact for choosing nailer as it can affect directly the surface and even the whole product. Bigger nail can support bigger weight. 15g nails are bigger in size so it can support more than 16g while doing heavier works. 15g nails have round shaped head that brings some extra power support to nail on larger boards.
3. Weight
In general, 15ga nailer is heavier than 16g. But, recently few companies are bringing lighter products. Considering nail weight, 15g nails are heavier than 16g nails.
4. Finishing
In case of baseboard works finishing, 15g nailer ensures tightness than 16g. On the other hand, while doing trimming type works 16g nailer ensures more support saving the boards from unwanted cracks.
Let's learn 16g vs 18g nailer comparison.
Final Words
Now, you already have an idea about the uses of finish nailer. In most cases, the occasional carpenters either use the wrong finish nailer or spend their money on two nailers.
This is why it is better to have a clearer idea of the product you are purchasing. In most of the household uses, we need the 16g nailer.
But, if you already have one and planning to buy another one, then 15g is a must for you. No matter which one you buy, make sure you buy the one that suits your needs.