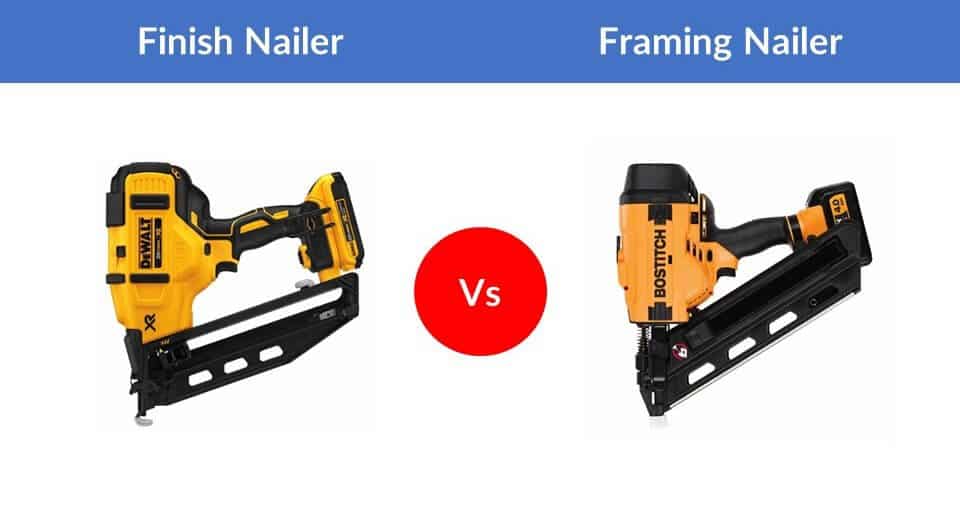 Finish Nailer vs Framing Nailer: Get The Differences Before You Purchase One
Before a nail gun was a replacement of hammer where the housebuilders or construction workers can do their nailing work very fast, perfect and quick.
After the invention of the nailer, many companies are in a competition to manufacture the best nailer as the demand of the market. And as the demand of the market and the consumers, the companies are providing different kinds, shapes and sizes of nailers with many facilities.
Finish and Framing nailers are two most popular versions of nail gun. But you have to decide what do you want by comparing Finish Nailer vs Framing Nailer.
In a Hurry? Check Key Differences between Finish nailer and Framing Nailer
Category of Nails
Framing Nailer
1 ¼ inches to 3 ½ inches
Finish Nailer
1inch to 2 ½ inches
Nail Lengths
11 ½ to 8 Gauge (0.113 to 0.168-inches)
Durability and Strength
Not as much as Framing Nailer
Appropriate Use
Heavy Constructions Like Heavy construction, Fencing, Framing House, Building decks, Wooden siding.
Light Works like installing cabinets, assembling furniture, trim, moulding, cabinetry.
Recommended Products


Framing Nailer
Nail Lengths
11 ½ to 8 Gauge (0.113 to 0.168-inches)
Appropriate Use
Heavy Constructions Like Heavy construction, Fencing, Framing House, Building decks, Wooden siding.
Recommended Products

Finish Nailer
Durability and Strength
Not as much as Framing Nailer
Appropriate Use
Light Works like installing cabinets, assembling furniture, trim, moulding, cabinetry.
Recommended Products

There are basically seven ranges of nailers in the market- finish nailers, framing nailers, brad nailers, roofing nailers, flooring nailers, fencing nailer, siding nailer, palm nailers and pin nailers.
These nailers are used in different purposes. For example- finishing nailers are used for light work such as crowning or installing a cabinet on the other hand framing nailers are used to do any kind of heavy duty as building fence or joining large piece of planks or woods together in the constructions site.
Here, the article is basically focused on framing and finishing nailer as they are the most popular among the people.
Finishing Nailer

The meaning of finishing nailer is based upon its own name. To finish the wooden job, builders use this nailer to put some aestheticism in their work. Making something artsy is really a big deal in the market of construction and DIY.
To module the windows and doors, making a cabinet or furniture, paneling, interior decoration and smaller crown, finishing nailer is the best choice among them all because it works with small projects with a small range.
It's basically accommodated with 14 to 16 gauge.
Top Finish Nailer Currently available
Sale


Makita AF635 15 Gauge, 2-1/2" Angled Finish Nailer, 34⁰,
Powerful motor drives 15 gauge "DA" style angled finish nails from 1-1/4" to 2-1/2"
Magnesium body, aluminum MAGAZINE and cylinder deliver strength and durability
"Tool-less" depth adjustment for more precise flush and Countersink nailing
Nail lock-out mechanism protects tool and work surface from dry-fires
Built-in air duster provides convenient air flow to clear work surface

DEWALT Brad Nailer Kit, 18GA, 5/8-Inch to 2-Inch (DWFP12231)
Long life maintenance-free motor to keep from staining the work surface
Tool-free depth-of-drive adjustment with detents for proper setting of nail heads
Tool-free jam release mechanism for easy nail removal
Rear exhaust to keep contaminates away from work. Operating pressure 70 - 120 psi
Drives 18 gauge nails from 5/8" to 2" length. Power Source: Pneumatic. Power Tool Type: Pneumatic.NOTE: There are no nails included
Sale

Hitachi NT65MA4 1-1/4 Inch to 2-1/2 Inch 15-Gauge Angled Finish Nailer with Air Duster
Hitachi Power Tools has renamed to Metabo HPT. Same great tools, with only a new name.
Integrated air duster can be used to clear away dust and debris from the work surface in preparation for nailing or gluing
Tool less, easy to clear nose for quick nail extraction should a nail jam during use
Selective actuation switch allows for either sequential or contact nailing with a simple flip of the switch no tools or parts required
Tool less depth of drive dial adjusts for flush fastening into varying materials for improved control and a professional finish
Framing Nailer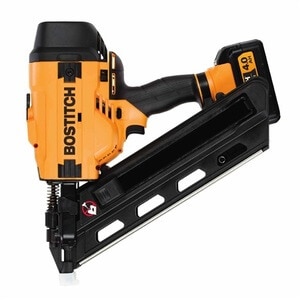 This nailer is known for its heavy-duty, using in a large project such as framing a building or any other construction work. This kind of nailer comes into two different varieties one is clipped head and another one is the round head.
In a heavy duty project, the clipped head nailer must be used. The nails are up to 3½" to join 2×4's. For framing, building fence, or any other major carpentry work which is required heavy duty, framing nail is the best option.
Top Framing Nailer Currently Available
Bestseller No. 1

NuMax SFR2190 Pneumatic 21 Degree 3-1/2" Full Round Head Framing Nailer Ergonomic and Lightweight Nail Gun with Tool-Free Depth Adjust and No Mar Tip
Nailed It: This 21 degree pneumatic framing nailer features a lightweight and durable magnesium body, ergonomic secure handle, and interchangeable trigger for quick fire or single shot function. It's ideal for professional construction contractors and home DIY projects.
Versatile and Powerful: The framing nailer features depth adjustment and a no mar tip, making it adaptable for different working surfaces. It's perfect for framing, and it can also be used to install subfloors, roof decking, wood fencing, and sheathing.
The Right Tool for the Job: We're committed to providing outstanding value, top tier customer service and long lasting, high quality products. We make nailers and staplers for every purpose, from roofing to siding to flooring and everything in between.
Quality and Durability: We manufacture tools with the most durable materials under strict quality control guidelines, suitable for professional contractors and do-it-yourselfers alike. Our tools are sold, distributed, serviced, and warrantied in the USA.
Tough and Dependable: We make an array of durable construction tools and accessories, including staplers and nailers for siding, flooring, framing, finish, and roofing. Compare our products to similar items by Makita, Hitachi, Bostitch, Senco, Paslode, and Dewalt.
Bestseller No. 2

BOSTITCH Framing Nailer, Round Head, 1-1/2-Inch to 3-1/2-Inch (F21PL)
Compressor/Air Tool Features: Fastener Collation,Fastener Depth Control, 1 1/2 inch to 3 1/2 inch framing nailer; 1,050 inch pounds of driving power; sequential and bump trigger
2 nailers in one: includes 2 quick change nose pieces, converts to framing or metal connector applications
Lightweight magnesium housing; integrated rubber skid pads; rubber grip
Includes 1 framing nailer; Power Source: Pneumatic
14 1/4 by 20 1/2 inches; 8.1 pounds.Operating Pressure:80 120 psi
Finish Nailer vs Framing Nailer: 5 Point Differences
Though they both are the member of nailer or nail gun family, they have a huge difference in work, shapes, and capability of work, price and durability. Each nailer is best in their own field. Here are some key differences of these two kinds of nailer which can crystal clear the dilemma of choosing the best.
5. Category of nails
As before it has mentioned that for heavy-duty, framing nailer is the best so that the nail size is bigger and thicker than other categories of nails. It's used up to 3.1/2 inches long and the gauge of the nails will be much higher for framing. Because to join large frame, planks and molding, it needs much higher and longer nails.
On the other hand, finish nailer is used 1 to 2.5 inches long and between 14 to 16 gauges to do any small framing or finishing the job.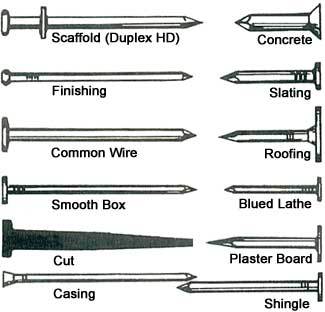 4. Durability and Strength
As for any heavy duty, a framing nailer has to be highly durable to do the job perfectly. To attach the planks and wood frame, one must need a very durable and strong nailer to put the nails into that or otherwise the construction can be turned into a disaster and many lives can be lost for not doing the job without thinking the safety of the people. The durable has to be longer than others to hold the wood together.
To compare with the framing nailer, finishing nailer is not that much of durable and strong. Because this kind of nailer is basically for finishing the work which aren't that much of heavy to do or don't need to hold something heavy, so that its durability and strength is lower than framing nailer.
3. Uses
A framing nailer is basically used in the heavy construction work such as framing any building, joining the beams and boards, attaching planks and making decks.
On the other hand, finishing nailer is used for much lighter work making cabinets or furniture, cradling and molding, doors and windows molding etc.
So, this is basically the main difference between finishing and framing nailers as for light work finishing nailer is the best on the other hand for any heavy duty framing nailer is nailed them all.
2. Working level
Framing nail is basically used in the very first time of the work to framing the whole project with strength and durability.
On the other hand, finishing nailer is used to finish the whole carpentry job with a touch of aesthetics by adding some little features like crowning and all.
1. Value 
The amount of spending money for these two types of nailers are the same. The price ranges are typically same and the manufacture companies are providing different types of nailer with different price ranges.
These are the basic differences between framing nailers and finish nailers. Before buying any product one must have some knowledge about the products and the market or otherwise it's just a waste of time and money.
The Bottom Line
It's not that tough to choose between framing and finish nailer. According to the type of work, one can easily find what nailer they actually need. As these nailers are expensive so decision making is very much important before buying any nailers.
For heavy and dense construction work, framing is the father of all if maintained proper safety rules and for light finishing work and adding a little bit art into the work, finishing nailer is the best.
And their nail size, working types and durability make lots of differences so that it's easy for the consumers to purchase the suitable nailer they want according to their work.
Related Articles: