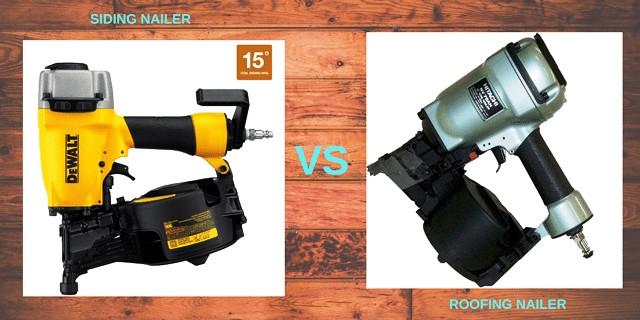 Roofing Nailer vs Siding Nailer : Which One Do You Need?
The main task of a nailer is to put nails into the surface but still, there are so many varieties in nailer by their various purposes. These varieties are actually depending on the features and structure of nailers.
Roofing and siding nailer are two of these varieties where the difference is actually based on where it's uses, features and structures.
The main difference between these nailers is roofing nailer actually uses to do a roofing job such as nailing shingles on the other hand siding nailer is used to do siding job such as woodworking.
In a Hurry? Check Our Top Choosen Products Comparison of Siding vs Roofing Nailer
Products
Top Roofing Nailer

Top Siding Nailer

Name
Metabo HPT NV45AB2 Nailer
Top Roofing Nailer
Products

Name
Metabo HPT NV45AB2 Nailer
What is roofing nailer?
A roofing nailer is a nail gun which is usually used to put asphalt shingles or fiberglasses on the rooftop of the house so that the house can save form any natural disaster and also give protection to the insiders.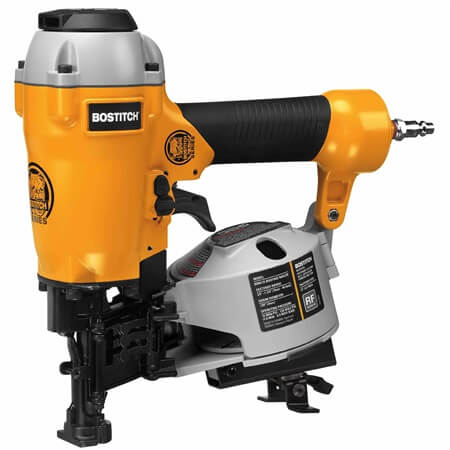 It's actually designed especially for the purpose of roofing because the shingles have to be replaced within 20 years. If any other disaster like storm happens, nail replacement will be occurred to soon so that the nails of this nailer has to be different than other nailers.
These nails have to hold the shingles tight so that they won't going to fall apart and at the same time it has to be easy to pull out.
Top Roofing Nailers
Sale
Bestseller No. 1

Sale
Bestseller No. 2

Freeman PCN450 Pneumatic 15 Degree 1-3/4" Rapid Fire Coil Roofing Nailer
Designed for applications such as asphalt and cedar shingles, roof and wall sheathing, flooring underlayment, siding installation, wood crate assembly, and fences
Compatible with 15 degree wire collated roofing nails from 3/4" to 1-3/4"
Nails load from the side fast and easy
Magnetic nail holder aligns the nails when loading and ensures jam-free firing
Bump fire trigger drives nails with speed and accuracy
What is siding nailer?
Siding nailer is a miniature form of framing nailer. It is used for attaching a wooden piece or sometimes vinyl siding. This nailer is designed to hole the siding for an extended period.
The nails of this nailer is varied from the surface. If the surface is thick, the nails will be longer than the regular nails.
Top Siding Nailers

BOSTITCH Coil Siding Nailer, 1-1-1/4-Inch to 2-1/2-Inch (N66C)
Drives wire weld and plastic inserted coil nails. Magazine Capacity : 300
Adjustable depth guide sets nails to desired depths quickly and conveniently
Lightweight aluminum design for added durability. Fastener Diameter .080 .092 Inch
Soft rubber foot prevents damage to softer woods
Tool free adjustable exhaust conveniently directs exhaust away from the user

Freeman PCN65 Pneumatic 15 Degree 2-1/2" Coil Siding Nailer Ergonomic and Lightweight Nail Gun with Tool-Free Depth Adjust and Side Load Magazine
Nailed It: This pneumatic coil siding fencing nailer features a lightweight and durable magnesium body, ergonomic grip handle, no mar tip, and transparent side load magazine that holds up to 400 wire or plastic coated siding nails for hard-working efficiency.
Many Applications: This nailer is ideal for cement siding, sheathing, fencing, fiber concrete siding, decking installation, plywood, and OSB. It features depth adjustment, allowing you to customize the firing depth for many different types of projects.
The Right Tool for the Job: We're committed to providing outstanding value, top tier customer service and long lasting, high quality products. We make nailers and staplers for every purpose, from roofing to siding to flooring and everything in between.
Quality and Durability: We manufacture tools with the most durable materials under strict quality control guidelines, suitable for professional contractors and do-it-yourselfers alike. Our tools are sold, distributed, serviced, and warrantied in the USA.
Tough and Dependable: We make an array of durable construction tools and accessories, including staplers and nailers for siding, flooring, framing, finish, and roofing. Compare our products to similar items by Makita, Hitachi, Bostitch, Senco, Paslode, and Dewalt.
Roofing Nailer vs Siding Nailer: 5 Points Comparison
We already know the differences between coil and stick nailer and Electrical vs Pneumatic nail guns from the articles below.
Here, are some differences of siding and roofing nailer which is discussed vividly along with some points: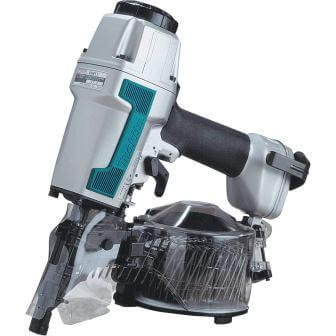 Nails
Roofing nailer has different nails than siding nailer. Usually, roofing nailer is used to put the shingles tight on the surface. The length of nails is varied from the thickness of the surface.
On the other hand, siding nails are only used for fastening siding stuff so that the nail has to be strong enough to hold it.
Learn about 15 vs 16g Finish Nailers
Learn about Straight vs Angled Finish Nailer
Learn about Flooring vs Roofing Nailer
Nail tip
In roofing nails, the tip of the nail is broad so that at any time the nail can be pulled out on the other hand in siding nails there is no wide nail tip because it is not made to hold the surface rather than attaching it with another surface.
Depth adjustment
As in siding nailer, nails have different length so that there is a depth measurement adjustment which helps to get the exact depth of the surface.
Size of the nailer
Usually a roofing nailer is bigger than siding nailer because the area of the work is on the roof and the nailer has to carry an efficient amount of nails n its magazine. On the other hand, siding nailer is used in a small rang of area. It comes into a small in size for the housebuilder so that they can easily use it.
Nail type
The roofing nails have to be galvanized so that it will prevent the nails from being rusting by the touch of water and oxygen.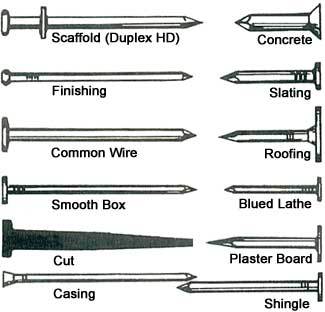 Nail size
Generally, roofing nails are about 1-3/4" long to hold the shingles. On the other hand, according to the thickness of the surface, siding nails are about 2-1/2" long.
As these nailers are working in a different area so there are some using tips should be maintained.
Roofing nailer using tips
Always safety comes first. Using roofing nailer on the rooftop is quite risky. So the builders should use different types of safety gadgets like a rope to protect themselves from falling. Wearing glasses and gloves are mandatory.
Always look after the powerhouse of the nailer. If it's a battery or cordless nailer, builders have to carry the nail gun carefully because a battery nailer is much heavier than pneumatic nailer. In pneumatic nailer, always look after the cord of the nail gun.
If you want to nail solar panel on your roof always look for top quality solar panels at a great price otherwise roofing nailer faces a lot of problem installing that.
Before starting roofing always loaded the magazine first.
Don't rush during the shoot. Always keep an eye on the surface.
And here are some siding nailer using tips
As usually safety is the first choice
Using the right material for siding
First point the gun on the surface and then pull the trigger
Before triggering, be careful about the surface or otherwise there will be occurred any injury.
After using the nailer, put the nail gun out from the powerhouse and save the energy
Conclusion
Both nailers are used in their different purposes but still roofing nailer is the best as it is used for roofing shingles and cannot be replaced by another nailer. On the other hand, siding nailer can be replaced by any framing nailer as it is a miniature form of it.
Related Post: