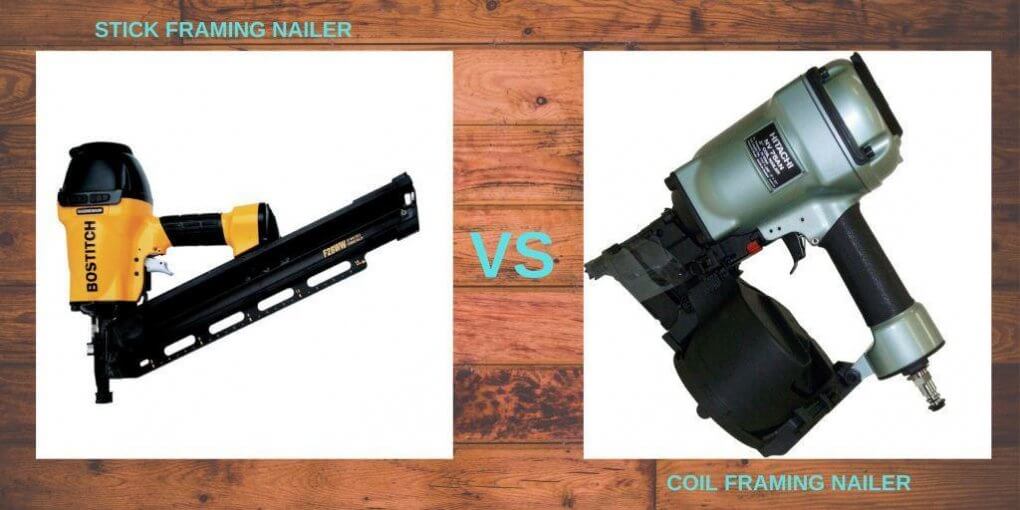 Coil Framing Nailer vs Stick Nailer: Which One to Choose?
A framing nailer is used in large carpentry projects such as framing house, building a deck or constructing a new room, fence building etc.
In these projects, using a heavy-duty framing nailer is useful because it can hold more nails than other nail guns like finishing or brad nailer.
Though it is the main task of a framing nailer according to the design and features, there are some differences in framing nailer.
According to the nails holding capacity, framing nailer has two types.
Coil framing nailgun
Stick framing nailer
In a Hurry? Check Our Top Picks
Products
Top Coil Nailer

Top Stick Nailer

Magazine Capacity
60 plastic collated 21-degree framing nails
Top Coil Nailer
Products

Coil Framing Nailer
It's a good question that what a coil framing nailer is! The definition is right in the name as 'coil'. Coil means something which is arranged in a series of circles.
So, it can be said that 'something' in a framing nailer is arranged in a series of circles. And that 'something' is the 'ails'.
The nails in the framing nailer are gathered into a sequence and twisted like a coil and for this reason, it's called as coil framing nailer.
Best Coil Framing Nailer
Bestseller No. 1

Metabo HPT NV90AGS Pneumatic Coil Framing Nailer, 1-3/4-Inch up to 3-1/2-Inch Wire...
Same tools. New name. Hitachi power tools has renamed to Metabo HPT
New head guard design allows for quicker disassembly during tool maintenance
Lightweight at 7. 7 lbs. and well-balanced for ease of maneuverability and less...
Accepts 1-3/4" Up to 3-1/2" Wire Collated coil framing nails
Convenient side load, tilt bottom MAGAZINE allows for quick and easy fastener...

BOSTITCH N89C-1 Coil Framing Nailer
Pneumatic coil framing nailer with an adjustable exhaust
Patented push-button adjustable depth guide sets nails to desired depths quickly...
Lightweight magnesium design; aggressive wear guards to protect the tool from...
Magazine holds up to 300 nails
12-1/4 inches long, 14 inches high; weighs 8.1 pounds; 7-year limited warranty
Stick Framing Nailgun
A stick framing nailer is a nailing kit where the nails are holding in a stick like a magazine. Usually, in this kind of nailer, nails are loaded as a strip which makes it less heavy than coil framing nailer.
Best Stick Framing Nailgun
Bestseller No. 1

BOSTITCH Framing Nailer, Round Head, 1-1/2-Inch to 3-1/2-Inch (F21PL)
Compressor/Air Tool Features: Fastener Collation,Fastener Depth Control, 1 1/2...
2 nailers in one: includes 2 quick change nose pieces, converts to framing or...
Lightweight magnesium housing; integrated rubber skid pads; rubber grip
Includes 1 framing nailer; Power Source: Pneumatic
14 1/4 by 20 1/2 inches; 8.1 pounds.Operating Pressure:80 120 psi
Sale

Coil vs Stick Framing Nailer: 4 Points Comparison
The functions of the coil and stick framing nailer are same. Both nailers are used to do heavy duty housebuilding works such as framing new house, decks, fence building and framing the structure. But the features and designs are not the same.
Here is a comparison between these two nailers:
Gun loading
The main difference between these two nailers is the loading mechanism. As the coil nailer has a drum like a canister where the nails are loaded into a coil. It's like a machine gun bullet loop.

On the other hand, in stick nailer, the loading mechanism is a bit different than coil framing nailer. In stick nailer, the nails are loaded in a long magazine and they come into a strip.
Learn about Flooring vs Roofing Nailer.
Learn About Siding vs Roofing Nailer Here
Capacity
Another main difference between coil and stick framing nailer is their nail holding capacity and this makes the basic difference between these two nailers. A coil framing nailer holds up to 300 nails in a canister which makes easy for the builders to do the roofing job faster.
On the other hand, a stick framing nailer holds up to 30 nails in one magazine which makes builders reload the magazine again and again.
Area of uses
Both types of nailers are used for framing structure. As coil nailer can hold more nails than other nailers so that it is used for roofing most of the time.
For roofing, because reloading the nailer is pretty time consuming and hectic, a builder has to climb up and down from the roof to reload the nailer so it will be easy if the nailer is loaded more nails at a time.
But for flooring, you need to use a different type of nail gun.
Stick framing nailer holds fewer nails at a time and lightweight so that this nailer can be used in any sector such as building a fence, structuring room or constructing a house frame.

It also has an angle which gives it to work with the corner more efficiently rather than coil framing nailer.
Weight
As there is an addition in the coil nailer to hold the nails so that it is much heavier than stick framing nailer. A coil framing nailer weights up to 17 pounds.
On the other hand, a stick framing nailer weights around 9 pounds which makes builders comfortable to work with a stick framing nailer.
Conclusion
Both coil and stick framing nailer are used in heavy-duty house building tasks but still, their designs, features, and size make a huge difference between them.
As coil framing nailer holds more nails than a stick nailer so that its mainly used in roofing job on the other hand as stick framing nailer has an angle and get the corner so it's mainly used in the fencing and other framing jobs.
Related Posts: