Best Pneumatic Framing Nailer (Guide, Reviews & Usage)
In our day to day life, nail guns have taken an important part when it comes to doing household chores. It may seem complex to some people as using hammers is the most ancient way. But using the best pneumatic framing nailer can ease your woodworking.
But once we get to know the working mechanism of a nail gun, it may be harder to choose other tools over it!
There are many types of nail guns based on their working procedures and structures.
Among all, pneumatic nailer is the most used one. It is also called air-powered nail gun because of its construction. Pneumatic nailers are used to eliminating physical hard work and time that is required while doing it manually.
Managing hammer and framing nails with it is always a troublesome and physical work that you won't like. If you are a tough guy unlike me, you might wonder what the big deal in swinging the hammer and framing nails. Probably you are considering framing a few nails. But what's about framing a lot more than that in carpenter jobs or other woodworks?
You will certainly feel it a physical and more tiring job that may eventually end up with your muscle strain, myalgia, body-ache or headache. You can get rid of all such issues while using framing nailer safely and effectively as you don't even need to exert any force at all! But you certainly need to know all about framing nailer first, right?
What is a pneumatic nail gun?
A nail gun is one of the most useful woodworking tools. Sometimes it's also referred to as framing gun. It's designed to be used in any home building or woodworking sites and for the purpose of driving number of nails into any framing assembly. It is way faster than the ability of a skilled carpenter as it can drive more than one framing nail at a time.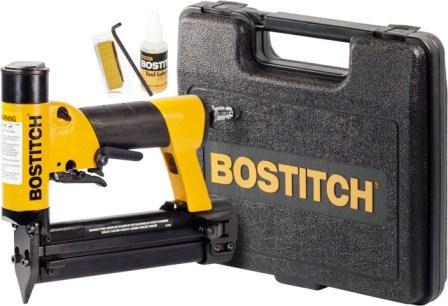 The pneumatic nail gun is a predominant type of framing gun. It requires an air compressor for driving the main mechanism of driving nails. Air comes from the compressor chamber via a hose and this compressed air drives a piston that performs in driving the nails into the wood accordingly. Thus, the main operation is performed in a pneumatic nail gun.
Best Pneumatic Framing Nailer Reviews
NuMax SFR2190 21-Degree Framing Nailer
According to most of the users, the best value framing nailer in the market is NuMax SFR2190 21-Degree Framing Nailer. Despite having a very lightweight due to the tool's magnesium design, SFR2190 is unbelievably strong. It can penetrate a 3-inch nail into any sturdy wood as the knife pushes through butter. It's well fit on your arm and comfortable to use due to its lightweight.
Check the latest Price on Amazon
You can use this tool more conveniently in your home projects, especially during working vertical beams. Another greater feature that comes up with this gun is easily switchable double triggers. The first one is a greater fit for small projects that don't require the extensive level of nailing. Again, if you need to undergo with the greater volume of tasks, you just need to switch to the other fire trigger which aims for multiple firing and a very suitable option for the greater volume of tasks.
You can have shots of 21-degree nails ranging from two to three and a half inches plastic assembled rounding head. Another great benefit of using SFR2190 is its safety features, probably the best among all nail guns.  Anti-dry fire mechanism activates when the cartridge has 5 nails remaining in its magazine. Thus, the user gets a reminder and eventually can reload the cartridge. In short, NuMax SFR2190 is the best value nail gun to go and it is the best pneumatic framing nailer for small projects.
Freeman PFR2190 Full-Head Framing Nailer
If you want to grab a framing nailer that is well sturdy enough, workable with the variety of nails, having minimal chances of any jams or misfires, and obviously a budget-friendly one; then Freeman PFR2190 is a must pick. This tool is made with anodized aluminum along with anti-dry cycle mechanism.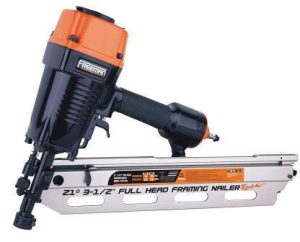 Freeman PFR2190 is specially designed for 21-degree full head nails which has made this tool ideal for multiple tasking like wall sheathing, framing, assembling wooden furniture, building pallet or fence and so on. PFR2190 comes up with the variety of nails ranging from 2 to 3 and a half inches to add more supports. Even you will get ring shanks attached with this gun.
This versatile stick nail gun adds more comfy to your work with finger depth adjustment while doing such many tasks as it works quite well with lesser faults. Moreover, it has two fire triggers. First fire trigger is attached to the main body, whereas the second one (rapid fire trigger) is more applicable for projects of relative higher volume. The magnesium made the housing of this tool ensures its lightweight. So you can use it for long time work purpose without any fatigue and your arm won't get tired.
Hitachi NR90AES1 Plastic Collated Framing Nailer
If you are looking for nail gun which is suitable for both your home projects and heavy duty works, then surely Hitachi NR90AES1 Plastic Collated Framing Nailer will be one of the best ones for the money. Hitachi NR90AES1 is featured in their next generation "industrial design".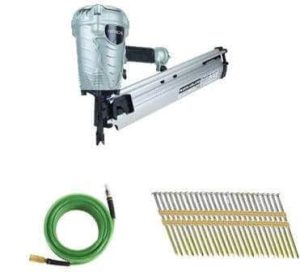 You can accomplish framing, sub-flooring, installation, and other all tasks smoothly with this tool. Though it can complete all your bulkier works, it's unbelievably lightweight of only 7.5 pounds. You won't get any fatigue, and go for all day. Surely, you won't fall on the couch after completing one installation. This tool can generate air pressure of around 70-120 PSI. You can accommodate 64 nails in the magazine. Maintenance of the machine is really easy due to its new head which allows quick disassembly.
Moreover, it will let you switch to your preferable shots with just a flip of switch. You can either go for bump shot or sequential shot, as you wish. You will get the highest order of convenience while using this tool, as it there's no need of any batteries along with the arrangement of 2 step reload system of nails which allows faster replenishment having no much hassle. Moreover, there's an open nose for clearing any jams in case they occur. Enjoy the comfort at its best with Hitachi NR90AES1.
Other Best Pneumatic Nail Gun Reviews
There are some other types of pneumatic nailers available in the market like finish nailer, brad nailer etc. Let's get to know what are the best picks on those categories.
Best Pneumatic Finish Nailer Reviews
Hitachi NT65MA4 15-Gauge Angled Finish Nailer
Durability, ease of use, lightweight, portability, adjustable exhaust, suitable size, capacity, safety, etc. are all the features that have made Hitachi NT65MA4 another reliable finish nailer to the users. The aluminum body of this tool has made it durable and also prevents it from rusting.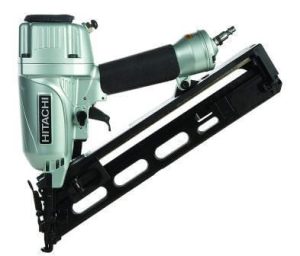 Check the latest Price on Amazon
The machine weighs only 4.2 pounds which has made it a portable one and also very much user-friendly. It is widely used in operations, especially in finishing works like a door or window casing, exterior trimming, base molding, etc. The depth of the driver of this tool can be changed easily by using a dial which just under the grip trigger. Thus, you can use the machine in case of driving through different materials.
Both sequential and bump firing modes are workable with NT65MA4. You can shoot nails ranging from 11/4to 21/2inches. For ensuring efficient firing, the nails must be 15 gauges. The magazine can contain the load of 100 nails at a time and is attached to 34-degree angle to the main body of the gun.
PORTER-CABLE FN250C 16-Gauge Finish Nailer
PORTER-CABLE FN250C 16-Gauge Finish Nailer has a great reputation for performance and one of the most favorite ones to the professionals. A sturdy, but lightweight design of the die-cast aluminum body has made this tool an easy option to operate and work at a stretch without any problem.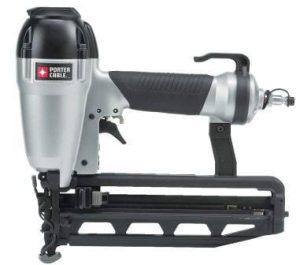 Check the Latest Price on Amazon
The integrated rubber grip makes PORTER-CABLE FN250C very well fit in your hand. Tool-free depth-of-drive adjustment and tool-free jam release mechanism features let the users use the machine more comfortably and efficiently. 70-to-120 PSI pressured is exerted by the internal piston that can make many wooden tasks done to you. The magazine has the capacity of holding 100 nails.
A sequential style trigger ensures continuous nail shooting, thus allows the works to be done in a quicker fashion. There is also a low nail/reload indicator that will help you nail loading at the exact time. Oil-free motor and rear blowing exhaust will also keep your works clean and free from any filth.
Read Detailed Review of Porter Cable FN250C here.
Check Some More Porter-Cable Nailers
12 Best Porter-Cable Nail Gun Reviews
Valu-Air T64C 16 Gauge Finish Nailer
If you are desperately looking for any finish nailer that would have been a perfect one for heavy-duty tasks, then you surely can go for Valu-Air T64C 16 Gauge Finish Nailer. This one is really quite impressive for the higher volume workload and also a capable one to ensure a decorative trim to furniture.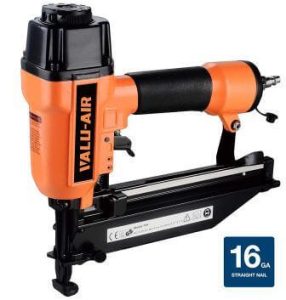 Check the Latest Price on Amazon
The Aluminum made the housing of the gun is well reputed for its heat treatment and durability, which is required for any heavy duty performance. Its lightweight has also made it well capable for long-term stretching performance. There is an adjustable exhaust deflector with the tool which can rotate a complete 360o and can cover a broader area in order to make the surface smoother.
The device also contains pre-lubricated oil to make the nail gun sleeker. This makes the nailing process more smooth and comfortable one, and let you do your job faster.
The nailer range is from 7/8 to 21/2inches. The pressure generation level is 70 to 110 PSI. There are two wrenches attached with this apparatus for making proper adjustments of nail depth. You can dig up to whatever extent you wish for. There are a custom carrying case and two nail strips along with the purchase. You can carry the gun along with all accessories in the given case.
PowRyte 16 Gauge Straight Air Finish Nailer
If you concern only about the money while picking a nailer for your tasks, then you can opt for PowRyte 16 Gauge Straight Air Finish Nailer without any hesitation. This one will surely be the fit for your budget-friendly shopping plan. This is the most affordable one in this list, but despite being the cheapest one, this one doesn't lack any of the features that are to impress you and perform the best for your task.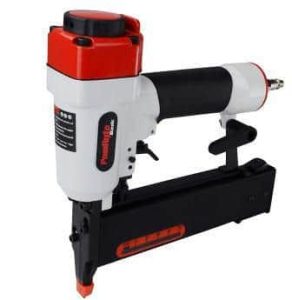 The tool is best designed for operations like molding, installing and finishing furniture like cabinets, chairs, and so on. There is a tool-free depth of drive adjustment that helps the users to precisely complete the action of drilling nails easily. The body of the machine includes a no-mar tip that is to prevent damaging and denting the work surface. The split nose design of the nailer makes the entire operation even faster by completing jam clearing quickly.
This tool-free jam release mechanism is also suitable for easy removal of nails. Lengths of nails that are usable with this nailer are ¾ inches to 2½ inches. Reload indicator being attached to the body of this tool makes the visual display of lack of nails and thus prevents dry firing. Moreover, it comes up with an adjustable exhaust port covering up 360 degree that helps to prevent dust, oil, rubbish, etc. out of the project.
Best Pneumatic Brad Nailer Reviews
Hitachi NT50AE2 18-Gauge Brad Nailer
The main feature of all brad nailer is the usage of thinner nails along with the smaller assembled head. Hitachi NT50AE2 18-Gauge Brad Nailer is one of the most popular choices regarding brad nailer. It is a well-balanced pneumatic nailer with only 2.2 pounds of weight. Still, it's quite powerful.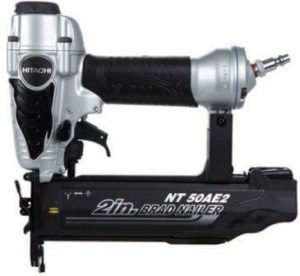 Check the latest price on Amazon
There is an aluminum casing which causes the lightweight and an elastomer grip for ensuring the comfortable grip in this tool. Dual firing modes are available with this model. You can enjoy both sequential and bump fire modes with this device. Thus, you will get maximum comfort while operating.
It accepts nails from 5/8 inches to 2 1/8inches. No-mar tip will protect your work form all the scratching and denting. Operational pressure range is 70 to 120 PSI; magazine capacity is up to 100 nails. Adjustable drive depth is for adding more precisions to the work.
Nail jamming extraction is way easier as it doesn't need any tool. The exhaust port is possible of making a rotation of 360oand makes the machine dust free.
There is a slight disadvantage of using this nail gun as well as the plastic made body of the tool and lack of a belt hook.
SENCO FinishPro 18-Gauge Brad Nailer
As the name suggests, SENCO FinishPro 18-Gauge Brad Nailer has an 18 gauge model and managing nail sized from 5/8 inches to21/2inches. As the body is made of magnesium, the overall weight of this tool is 2.8 pounds. Magnesium not only ensures the lightweight but also provides much strength and robust structure. 360orotatable exhaust port enables the device and also the user to be free from all dust and debris.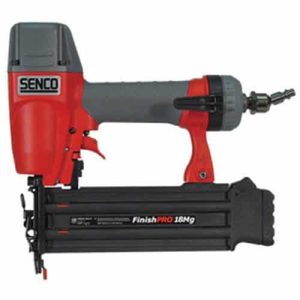 Check the latest price on Amazon
There is also a swiveling belt to make the use of this product more convenient. The tool is mainly suitable for works like trimming furniture, railing chairs or cabinets, repairing wooden crafts, assembling tools, etc. The firing mode can change from sequential to bump as well as vice versa just with a flip of a switch. Low magazine indicator prevents the device from all dry firing incidents.
There are also features like other nail guns like the no mar tip and depth drive adjustment. In short, SENCO FinishPro 18-Gauge has all the features that will tempt you to purchase and use the product for your projects. One thing I can assure you regarding this product is that you won't disappoint as you will get smoother performance more than you wish for.
NuMax S2-118G2 18 Gauge Brad Nailer
Another very reliable tool you can undoubtedly keep your belief on comes from NuMax brand and is NuMax S2-118G2 18 Gauge Brad Nailer. This one is suited for both indoor applications and also for professionals tends to go for many outdoor staffs. The body of NuMax S2-118G2 is Aluminum made. Black oxide aluminum made magazine is used and it is famous for its durability.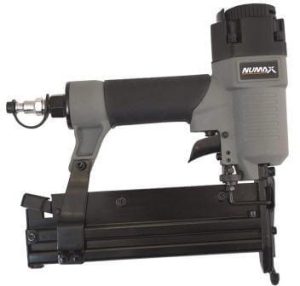 Check the latest price on Amazon
It prevents the outside body from rusting and other damages. You can be able to use the tool for repetitive purposes. Again die-cast aluminum construction and aluminum cylinder of the device allows it for its lightweight features and much easier applications. This gun can shoot 18 gauges nails ranging from 5/8 inches to 2 inches and is suitable for multiple operations like exterior and interior finishing, assembling, trimming, furniture backing, framing crafts, and so on.
360 degree adjustable free exhaust adds more flexibility and has made the product more convenient to the users. Comfortable rubber grip design adds to more comfort and prevents hand figure. Thus, you can use it for a long time purpose. As like others, it has also the reload indicator for added safety issues. The anti-dust cap helps the machine to keep its all internal components free from all grimes.
PowRyte 18 Gauge Air Brad Nailer
If you are picking up the nail gun for more inclined performance rather than the traditional and typical ones, then you surely need to consider the PowRyte 18 Gauge Air Brad Nailer in your list. It's famous for his nailing quality and smoother operation. You will experience nailing experience with 45-degree magazine angle, yet you will be impressed for its impressive performance.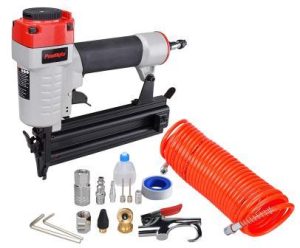 The design of this machine is completely user-friendly as it has come up with a lightweight structure of 3.1 pounds to prevent fatigue during working. Moreover, the handling of this tool is quite comfortable to opt for long time operation. To add more comfort in your operation, this tool has also the jam release mechanism in order to wipe out the jammed and stuck nails from the magazine.
You can release the clogging very quickly and effectively by this mechanism. An overall 360-degree exhaust makes it enabled for a complete rotation and makes a proper adjustment for air hose location.
Thus, this feature ensures further customization of this model to make it more friendly and compatible with the operation. Fastener capacity is up to 100 nails and capable to shoot nails of 5/8 inches to 15/8inches. Operating pressure ranges from 60 to 110 PSI. There is also a visual recognition of the reloading indicator of the magazine when it gets empty. The bottom line is, maximum comfort is the prime target of this nail gun.
Best Pneumatic Coil Nailer Reviews
Hitachi NV45AB2 Coil Roofing Nailer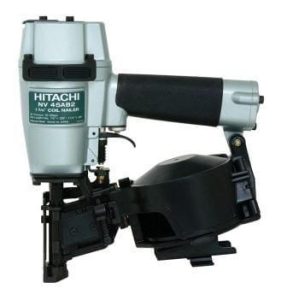 Makita AN611 Coil Siding Nailer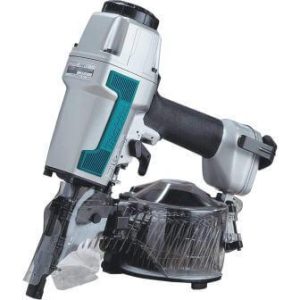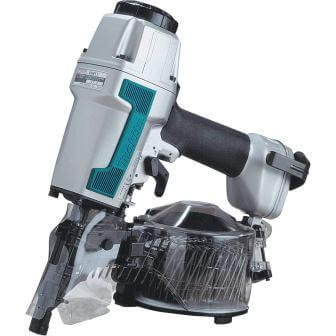 Check the latest price on Amazon
Things to look before buying a Pneumatic Nailer 
There are some basic factors you need to check out before purchasing any pneumatic nailer. If you can figure out and analyze the factors correctly, then you are going to enjoy the services of your newly purchased pneumatic nailer for a longer run, otherwise, you might regret the loss of your money.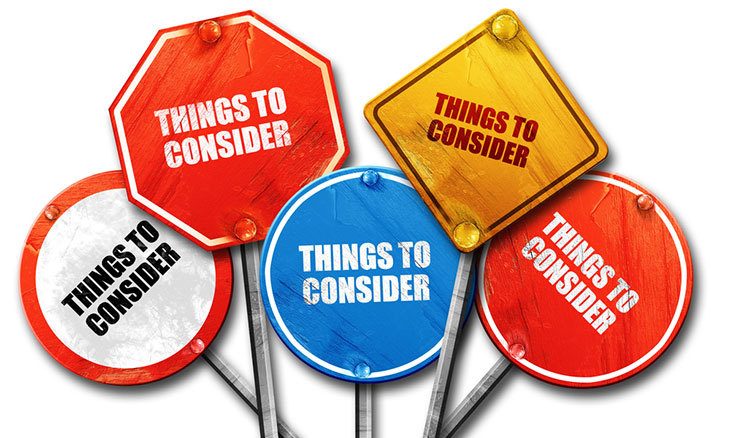 Weight

The very first factor to check out is the weight of the machine. If you have lot of construction works or home renovation task to carry out, then you need to use the nailer for a very long time. Again sometimes you might need to use it for overhead framing jobs. There you need to carry the nailer above your head for a long time. If the machine is overweight, then it certainly bothers you in that case. So you need to go for a lightweight tool. Magnesium housed nailers are a good option considering their light weight.

Size

Another important issue to consider is the size of the nailer. If you want to use the nailer in any tight space or want it along with you while traveling, you will need to have a small-sized nailer.

Magazine types

Nail guns' magazines are of two types- stick and coil-shaped. Stick nail gun has a long and straight magazine containing a strip of nails. On the other hand, coil nail gun has a cylindrical magazine holding rolled up nails. Stick nail guns are lightweight, but coil ones have more nails and suitable for extensive works.

Nail guns' applications

Nail guns are of different types according to their applications. Framing nailers are best suited for heavy works like framing houses, building room additions, or other heavy woodworks. Finishing nailers are lighter than framing ones are mostly used in furniture assembling, installing, trimming and molding. Brad nailers are suitable for precision works and trimming. Roofing nailers are for firing nails to the roofs and flooring nailers for installing wooden floors. You need to choose according to your working requirements.

PSI level

Pneumatic nailer gets the power from air compressor. Powers per square inch (PSI) defines the level of power. You need to choose nailers having the perfect PSI level and adequate as per your work.

Trigger mechanism

There are mainly two types of trigger used in all nailers- contact and sequential trigger. In contact type trigger, the nail will be fired when the tip will come in contact with the wooden surface. It is risky as it may cause any accidents or damages to the users.

On the other hand, the sequential trigger is a much safer option to fire the nails. Here first you need to depress the gun's tip against the target material, and then press your index finger for firing. Nails will be fired as long as you will hold your index fingers down. Though it's much safer, you need to be more skilled to operate it.

Depth Settings

There are some nailers where you can decide at which force you will fire, i.e. the depth can be controlled. Again, there are other guns where you need to use a separate tool in order to adjust depth.
Where you should use Pneumatic Nail Gun
Pneumatic nail guns are of different types, and you can use them in different purposes. For example, roofing nail gun is suited for firing nails in the roofs or ceiling of your apartment. Again, finishing nail guns are suitable for furniture assembling, molding, finishing, trimming, installing, etc.
On the other hand, flooring nailers are mostly used in building and installing the floor. Brad nailers are designed for the purpose of fine tuning, trimming and other finishing work of constructions or furniture. Palm nailers are mini nail guns suitable for tight spots and smaller projects. Framing nailers are the best ones for building wooden decks, fences, rooms, wood sheathing, clamping, and assembling wooden tools.
Electric Nail Gun vs Pneumatic Nail Gun
Electric nail gun and pneumatic nail gun are two of very basic types of nail gun. Apart from their basic working mechanism, there are also other factors to make a proper differentiation among these two types of nail gun.
Before making a decision to purchase any of them, if you are well aware of such contrasts, it will be easier for you to grab the right one. And your entire working performance depends on picking up the right tool. So have a look on them.
Working mechanism

The working mechanism of an electric nail gun depends on the power source of a battery. Different electric nail guns require different types of batteries. On the other hand, in case of pneumatic nail guns, the power source is the air compressor. The thrust of air from air compressor works as the driving force of the pneumatic nailer.

Physical structure

The basic physical structure of both ones is same except few things. An electric gun is a bit weighed than pneumatic ones mainly due to the uses of batteries.

Runtime

Runtime of the electric gun depends on the lifetime of battery being used. If the battery is gone, it needs to be recharged again before further uses. That's why electric guns can't be used uninterruptedly. On the other hand, pneumatic guns depend on air compressor and perform continuously.

Performance

Performance of nail gun means the number of nails being driven within a fixed time. In case of electric guns, it requires some time before firing the next time after each nail being fired. Sometimes, overheating can also interrupt the usual performance of the electric gun. But pneumatic guns don't have any such issues. They don't even need any time before the next shot.
Pneumatic VS Battery Nailer  
Another big dilemma while choosing the nailer is, which one to choose-pneumatic or battery nailer? If you know the differences between these two, it will be easier to make a wise decision, right? So, let's have them here.
Cost

The very first factor to differentiate is the cost. If we consider the nailer alone, then the price of pneumatic one is cheaper than that of battery or cordless one. There are power sources whose price is also to keep in consideration. The inclusion of the battery increases the price of a battery gun, but an air compressor is much costly and almost doubles the price.

Ergonomics

There is no such difference between the two types except their weight. Battery nailer weighs more than pneumatic ones due to the inclusion of a battery. Pneumatic guns are lighter.

Performance

Battery nailers take some moment to spin up before firing again. But, there is no shortcoming like this in pneumatics. They can fire at a stretch and provides better performance.

Runtime

Runtime of battery guns depends on the charge of battery. Once it's gone out, the gun stops. Usually, a gun shoots more than 400 nails at one recharge. On the contrary, there's no such problem in pneumatic. If there's any interruption in operation, it's due to any problem of connection with air compressor.
How to use a pneumatic nail gun         
You aren't done after the nail gun being purchased until you don't know how to use it efficiently. There are some basics to follow while using the pneumatic nail guns that you need to know. Here they are.
Load the magazine with nail strips
The very first thing to do is to load the nail magazine. The magazine may be either coil or stick type and their structure may also vary. But the loading of nail strips is from the bottom or back side in almost all guns. You need to slide the load strips carefully and close the magazine securely.
Ensure proper safety shooting nail gun
Safety first, no matter what you do or what you use. You need to put on a safety glass available in the market before turning on the power button of the gun to shoot the nails. Check out these excellent guide on nail gun safety.
Placing the tip against the targeted surface
Before starting actual shooting, you may practice a few shots for making it perfect. Whenever you are ready, you will place the tip of the gun against the wooden/wall/roof surface.
Keep your body away from the gun, again not as much to lose the stability. Be aware! There might be a ricochet or kick back after firing. Push the tip firmly to the surface, so that adequate pressure can be exerted.
Disconnect the gun before reloading
When your current nail strips are over, disconnect the gun from the power source. If you intend to continue, then load new nail strips, but keep the gun disconnected for safety issues.
How to oil pneumatic nail gun
You need to oil your pneumatic nail guns and their accessories and other assemblies so that they can prevent themselves from unnecessary heat production and frictional losses.
If you don't use oil, your nail gun's tools may wear out in long run, so will your nailer. Daily oiling also prevents your nail machine from regular misfires. Suppose you need to work all day long with the nail gun.
Then you need to add two drops in the morning and two drops in the afternoon. That will be enough to ensure perfect lubrication.
The nail gun oil is different from that of you use in the compressor or your car. There are normal gun oil and winter gun oil.
Viscosities of oil get varied depending on the temperature of your location. If you are a newbie, then you need to know how you can oil your pneumatic nail gun.
Here are your basics-
At first, you need to disconnect your gun from the air hose if it's connected.
Clench the air coupling by one hand while holding the nailer with others.
Then you need to pull back the exterior part of the coupling and then move the gun away until it gets disengaged.
Stand your gun up and add two oil drops in the air tip.
Hook up the air hose which will push the oil into the gun where it will be used throughout the day to keep your cylinder moving easily.
To know why this should be chosen over other tools to fire or remove nails, it is necessary to know how it works.
How A Pneumatic Nail Gun Works
A pneumatic or air-powered nail gun works using compressed air. This tool uses a compressor that is attached to the base of it and is run by electricity or gasoline. The compressor sucks air from the atmosphere through a hose to an air reservoir and compresses it to an optimal pressure (unit: PSI).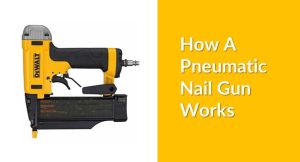 There is a regulator attached that indicates the amount of supplied pressure. Using this regulator, the pressure of compression can easily be controlled as per requirement. There is also a valve that controls the entering and the exiting activities of air.
There is a piston in the air reservoir with a long shaft. Just like other compression-suction mechanisms, this piston moves in linear motion with the pull-in trigger of the nail gun. When the trigger is not pulled, the piston remains at the top of the cylinder as the air pressure below the piston remains greater than that above it.
When the trigger is depressed, the pressure above the piston becomes greater than below, resulting in the opening of the valve attached and entering of air from outside into the cylinder. This pulling and pressing of the trigger make the piston and thus, the pin move.
Finally, when the trigger is released, the air pressure below the piston becomes greater than that above it which results in drilling nails at incredibly high velocity through small holes of the job piece. This compression force also makes the piston go back up to its starting point again.
Tips to Use a Pneumatic Nailer
As the use of the nailer is continued, the pressure level gradually drops. This can increase time consumption and disturbance at work.
To prevent these problems, the mechanism is set up in such a way that when the pressure drops to a certain point, the compressor rebuilds the level of pressure to the optimal point.
This feature enables pneumatic nailers to work without any breakdown and with continuity.
Conclusion
Nailers are one of the most time effective and user-friendly machine tools to make our lives easier.
Though an experienced user of hammers may always opt for using the old ways if he gets to know about the simple working procedure of pneumatic nailers, no matter if it is framing or roofing or siding or whatever, he may surely give it a try.
After all, no one is ready when it comes to compromising safety, accuracy and time! Isn't it?
Related Post