Porter-Cable Nail Gun Reviews To Choose The Right One
There is no doubt that nailer of any type is one of the most useful tools that certainly can make its place in your tool kit. A quality nail gun can help you complete indoor projects like trimming, decorative purposes, framing, finishing, building, woodworking, etc.
There are wide ranges of variations of nailers you will get available in market, but certainly one of the best ones to pick for making your home project easier and more comfortable is Porter Cable Nailers.
But apart from all other tools, Porter Cable is more popular for their production of quality finish framing nailers and nailing combo kits. They have diversified types of nail guns that can help you pick up the perfect one for your purpose as all of them deliver quality performance and smoothest operation.
History of Porter Cable in Nailer Industry
Porter Cable is one of the long lasting power tools manufacturing brands in market. They started manufacturing quality tools more than 100 years ago and have successfully made their name in the business for fresh innovative features and top notch quality services. In 1906, they first started their journey with a simple tool shop and a jobbing machine.
Their line of manufacturing power tools started from 1914 with production of lathes. Over period of time, they expanded their business and from one industry to the very next, they never compromised about quality. Their first finish nailers got introduced in the market at late 80s with pneumatic nail guns.
Later they introduced almost all types of nailing machine including corded or cordless nailers, finish and trimming nailers, framing nailers, roofing nail guns, palm nailers, siding nailer, pin nailers, laminate trimmers, pneumatic or electric powered or battery powered, brad nailers, flooring nailers, staplers, nailing accessories, combo kits, and so on.
No matter what type of nail guns being manufactured, they have consistently set the standard of their excellence, quality, performance, consistency and dependability. For years, they have maintained their reputation on professional level and become one of the top posed nailer companies of this industry.
Top Nailer Reviews by Porter Cable
We review all types including brad, finish, pin, framing nailers by porter cable. Let's continue..
A. Porter Cable Brad Nailer Review
1. PORTER-CABLE BN200C 2-Inch 18GA Brad Nailer Kit
If you are looking for a deliver that can deliver lightweight, but strong and sturdy design, then PORTER-CABLE BN200C 2-Inch 18GA Brad Nailer will be one of the most suited machines for you. This device comes up with maintenance free motor that will help you keep yourself away from staining of work surface and adds longevity.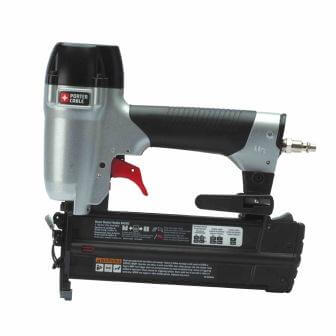 BN200C has tool free mechanism for depth of drive adjustment which enables proper setting of nails along with tool free jam release features for easy removal of magazine. Sequential style of driving can shoot 18 gauge nails ranging from 5/8 to 2 inches of length.
Integrated rubber grip and removable no marring tip ensure better ergonomic and improved comfort. Adjustable belt hook allows the user comfortable holding and contact safety guarantees better visibility. There's a low nail indicator for alerting user in case of reloading requires. This package kit includes nails, user manual, and carrying case.
Click here for more detailed review of BN200C.
2. PORTER-CABLE BN200B 5/8 Inch to 2 Inch 18-Gauge Brad Nailer
A brad nailer that will surely blow you away with its excellent driving consistency and regular performance is PORTER-CABLE BN200B 18-Gauge Brad Nailer. There is an internal piston catch along with this machine that can ensure maximum driving power every time being fired during your DIY project.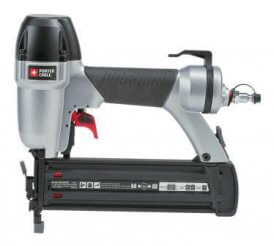 BN200B has capacity of driving 5/8 to 2 inches of strong hardened blade of 18-gauge in a continuous basis. Maintenance free motor ensures long life sustaining while its die cast aluminum casing ensures sturdy and lightweight design for easy operation. Tool free mechanism of depth drive adjustment feature makes proper nails setting a piece of cake. Front removal and quick release technique of jam clearance will save your time.
Its sequential triggering comes up with lock off switch option enabling the machine more secured than ever. Rear exhaust will keep your work away from any contaminations. Contact safety feature will help you with better visibility. Integrated comfort comes up with better integrated rubber covering of grip.
Check here for more detailed review of BN200B.
3. PORTER-CABLE NS150C 1-1/2-Inch 18GA Narrow Crown Stapler Kit
One of the lightest nailing machines you will ever find in the market is PORTER-CABLE NS150C 1-1/2-Inch 18GA Narrow Crown Stapler Kit. It has both stylish and durable magnesium design ensuring lightweight of below 5 pounds along with versatility of using any tough corner of your house. Due to its unbelievable lightweight, you can use it at any condition like standing on a ladder, using for any overhead operation, etc.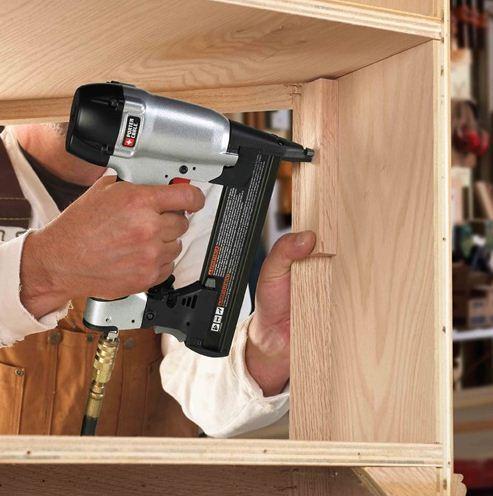 Having a standard operating pressure of 70 to 120 PSI, NS150C has ability of driving staples ranging from ¼ inch to 1½ inches. The magazine has capability of holding 100 staples. You don't need to use any other tool for the drive depth setting of nails. It is one of the industry leading tools that can drive more than a thousand nails without any jamming. If you ever have so, there's an innovative split nose design to clear jamming instantly.
NS150C has excellent ergonomic and confirms superior comfort accompanied by added safety. There's extra soft rubberized grip with removable nose tip for ensuring safeguard in delicate surfaces of the machine. You can work with it all day without any major hand staining.
4. PORTER-CABLE PCC790LA 20V MAX Lithium 18GA Cordless Brad Nailer Kit
One of the least cumbersome tools you will ever experience is PORTER-CABLE PCC792B 20V MAX Cordless Lithium 16GA Straight Finish Nailer. Being a battery driven machine, this tool eliminates the need of using additional pneumatic accessories like compressor, gas cartridges, hose, etc. and cuts down your budget.
The convenient motor design of PCC792B comes up with consistent and powerful countersinking of nails through different materials amidst different climates or conditions. Its 1.5Ah Lithium ion battery ensures maximum charge holding duration and carries out your work without any interruption. In addition to this, there is a multiple tool free mechanism that adds more productivity and increased user safety. Release lever, jam clearing and depth of drive adjustment all come as tool free. Moreover, its lightweight and optimal center of gravity will ensure the maximum user comfort reducing user fatigue.
Better workspace illumination and user visibility are ensured via its multi-functional dual LED lights feature. Another standout feature of this device is its belt clip which makes the tool more handy and easy to operate for any indoor or outdoor DIY project.
B. Porter Cable Finish Nailer Review
1. PORTER-CABLE PCC792B 20V MAX Cordless Lithium 16GA Straight Finish Nailer Bare Tool
Among the cordless nail machines, one of the most prominent and widely accepted finish nailers is PORTER-CABLE PCC792B 20V MAX Cordless Lithium 16GA Straight Finish Nailer that comes up with all standout attributes and offers superior service.
PCC792B is also a battery powered machine eliminating the need of taking hassle of any compressor, costly gas cartridge and hose. It is pretty powerful enough to let the fasteners ranging from 1 to 2½ inches penetrating through different materials like crown moldings, baseboards, cabinet assembling, etc. the magazine can hold 100 nails at a time and you can fire them time after time without any jamming.
PCC792B comes up with typical tool free mechanisms like many other Porter Cable nailers to ease your nailing time and adds efficiency. The lightweight unit with finest center of gravity is easy to hold for long that helps you carry your day long project with minimal exhaustion. Multi-functional dual LED lights also guarantee better illumination and provide error findings.
2. PORTER-CABLE FN250C 1-Inch to 2-1/2-Inch 16-Gauge Finish Nailer for Siding
PORTER-CABLE FN250C 1-Inch to 2-1/2-Inch 16-Gauge Finish Nailer is an outstanding tool that has been engineering with professional fashion. Being a virtual maintenance free machine and using complete oil free motor, this device prevents any staining in work place, keeping the environment healthy and offers a longer life than others.
The internal piston catch is capable of firing 16-gauge 1 to 2½ inches fasteners with consistent power on every shot. Trigger can be fired with sequential style along with a lock off switch. Users can load magazine via both lock style and rear loading method. Tool free depth of drive adjustment also makes the proper setting of nail heads during operation. Tool free operation of adaptable exhaust channels will keep the user away from contaminations whilst tool free jam release mechanism makes faster opearion. Special toughened cutting edge affords penetration through different depth of surfaces.
Die cast aluminum body of FN250C provides a strong, but lightweight design making it usable by females and teenagers as well. Use of integrated rubber makes the gripping soft with improved comfort. There is also adjustable belt hook for easy carrying and making it more convenient to users.
For Detailed Review of FN250C Follow This Link.
3. PORTER-CABLE PCC792LA 20V MAX Cordless Lithium 16GA Straight Finish Nailer Kit
PORTER-CABLE PCC792LA 20V MAX Cordless Lithium 16GA Straight Finish Nailer is the third line finish nailer from Porter Cable that meets up the user requirement of a large fastener. This model has similar length as of other cordless models like Ryobi's Airstrike, but Porter Cabke managed to launch a thinner one than them. Despite the recent change made in the design, PCC792LA weighs around half a pound less than the other ones in market. This thinner and lightweight design helps to make it feasible for overhead operation and working in tougher corners.
Being a battery powered device, it also minimizes the requirements of a pneumatic nailer. The 16 GA fasteners lengthening from 1 inch to 2½ inches can drive through materials of varied depth. You can also set up the depth of drive as well. Magazine has a capacity of holding 100 fasteners and too free setting of jam clearing makes the use of device easier.
Considering ergonomics, PCC792LA is one of the top notched. Its handle is of excellent size and shape that can easily fit in your hand and having a rubberized over molded grip is a plus. There is a lockout switch being available below the trigger for providing user safety. The belt hook makes it easily conveyable.
4. PORTER-CABLE DA250C 1-Inch to 2-1/2-Inch 15-Gauge Angled Finish Nailer
Another amazing finishnailerfrom Porter Cable that performs outstandingly is PORTER-CABLE DA250C 1-Inch to 2½ Inch 15-Gauge Angled Finish Nailer. It has all the attributes those being provided by other Porter Cable finish nailers. Die cast aluminum casing provides the facilities of both lightweight and sturdy design. Moreover, it adds better reliability and longer machine life.
Internal piston can drive consistent and maximum level of power without any jamming on each shot with an operating pressure of 70 to 120 PSI. Magazine has a capacity of carrying 100 15 GA "DA" style 1 to 2½ inches long nails. For adding better visibility during firing, there is a contact safety being located at the behind side. Firing is of single mode with sequential trigger having a lock off switch.
Maintenance free motor can deliver power constantly for driving the machine operation smoothly on regular basis. Tool free mechanism of depth driving adjustment and jam clearing offers better user handiness. Removable non mar tip ensures user protection while improved rubberized grip adds comfort and better ergonomic. No painful staining of heavy work at all.
C. Porter Cable Pin Nailer Review
1. PORTER-CABLE PIN138 23-Gauge 1-3/8-Inch Pin Nailer
One of the smallest nailers in the industry that is best suited for clamping actions or light fastening is PORTER-CABLE PIN138 23-Gauge 1-3/8 Inches Pin Nailer. Unlike the large nailiing guns PIN138 resolves the problem of splitting while fastening materials. This advantage makes PIN138 an ideal tool for projects like trimming, decorative building, cabinet making, installing cabinetries, mantle building, wood joining, crown molding, etc.
This pin nailer is engineered with an interesting and innovative motor design. Its maintenance free motor comes up with a dual stack ring system where the outer ring minimizes internal frictional problems and promotes durability of the machine. More over it is free from the requirement of any oil usage and keeps the surface clean from contamination.
Check Best 23 Gauge Pin Nailer Reviews Now
PIN138 uses 23-gauge headless pin nails ranging from 5/8 to 1-3/8 inches. Automatically adjustable depth of drive enables driving different fastener lengths and helps in easy loading. Dual triggering features add more versatility, where side loading magazine has capacity of holding 130 micro pins nails. Lock out features eliminates risks of dry firing and rubberized grip adds more user comfort.
Check out the review of Grex Pin Nailers.
D. Porter Cable Framing Nailer Review
1. PORTER-CABLE FR350B 3-1/2-Inch Full Round Framing Nailer
A very convenient framing nailer presented by Porter Cable is PORTER-CABLE FR350B 3-1/2-Inch Full Round Framing Nailer as it can be driven by any size of air compressor even like that of a pancake! It has lesser weight than it apparently looks like to be. You can use it for overhead operation and for a longer period without any stress. Furthermore, it completely tools free device that makes the device more user friendly.
FR350B presents a strong spring that can drive quite powerfully and let fasteners penetrate through the targeted surface smoothly. 22 degree angled magazine is slanted in nature has a capacity of 60 nails. Both contact actuation and restrictive triggering modes are available and easily convertible when necessary. There is a lockout attribute in a trigger that reduces the chances of misfiring and dry firing or any other hazardous conditions. Reload alert system is also available for lower nail indication. Another exclusive feature is the availability of a rafter hook for making the device easily adjustable in case of hanging. The adjustable exhaust makes the device easy to new users.
Check Extended Review of FR350B.
You might get confused by another almost similar product and that's PORTER CABLE FR350BR 22-Degree Full Round Head Framing Nailer. Basically both FR350B and FR350BR are same product. FR350B is the new one, while FR350BR is certified refurbished.
E. Porter Cable Combo Kit Review
1. PORTER-CABLE PCFP12234 3-Tool Combo Kit
PORTER-CABLE PCFP12234 3-Tool Combo Kit presents many useful tools in a single packet. The combo package includes FN250SB 16 gauge 2½ inches finish nailer, 16 gauge 2 inches finish nails, BN200SB 18 Gauge 2 inches brad nailer, 18 gauge brad nails ranging 1¼ inches brad nails, 150 PSI 6 gallon oil free pan cake sized air compressor, heavy duty 3/8 inch TS056 crown stapler, 3/8 inch crown staples, 25 feet length of ¼ inch air hose, a coupler and a plug, and a belt hook accessory.
All nailers and staplers being included in the package are durable and feature tool free nature of jam release mechanism and depth of drive adjustments. 150 PSI motor is capable of driving more nails than any other traditional 135 PSI air compressors. 2.6 SCFM at operating pressure of 90 PSI resulting in quicker recovery. The whole combo kit weighs only 30 pounds which makes it easy to carry. The kit draws only 10 Amperes of current and has heavily extension cable of around 50 feet. It all makes the kit a feasible package to pick.
2. PORTER-CABLE PCFP12236 Brad Nailer Combo Kit
Both the features of an excellent brad nailer and a powerful compressor are offered by PORTER-CABLE PCFP12236 Brad Nailer Combo Kit. This combo package has almost everything a user can look for as it includes Porter Cable BN200SB 18 gauge 2 inches Brad Nailer, a 6 gallon-sized air compressor having an operating pressure of 150 PSI, an air hose lengthening 25 feet along with a plug and coupler, 100 brad nails of 1¼ inches in size.
The efficient and durable design makes this combo kit a flawless choice for both commercial and residential projects. The combo weighs 30 pounds only and the innovative shroud ensures better portability and protection. Depth drive adjustment and jam clearance involve the use of no tools that make this combo kit easy picking.
This combo gear is heavily chosen not only for small trimming, decorating, crown molding, baseboard securing, installation; but also a good choice for heavy duty projects as well.
Conclusion
Porter-Cable has made their name in the nailing industry very solidly over the years with their quality products and their top-notch performance.
Porter-Cable is a popular name in the tools industry delivering different machines like hammers, grinders, trimmers, saws, sanders, staplers, planers, etc.
No matter the type of your project gets varied and you need different nail machines at different times; you can pick one from this brand without any single drop of confusion. Trust me; you won't be disappointed at all.
Porter cable will deliver the best of it and meets your expectation. I personally have at least one of their variety items as nailing is my bread and butter. If you are a newbie rather than being a professional, then I will suggest you to grab any of their combo kits as they can meet up your requirements and you will get all in one package.
You can also choose the specific one considering the type of your working requirement and other significant factors. Get rid of your dilemma. Grab one of Porter Cable and have the best fastening time. Happy nailing!
Related Post:
18 Gauge Brad Ridgid Nail Gun Reviews
 Senco Nail Gun Reviews: Fusion and FinishPro to Ensure Safety