Porter Cable FR350B Review (3-1/2 Inch Framing Nailer)
Choosing the right nail gun for your framing job is a tough challenge faced by almost every worker- no matter if he is a professional or DIY-er.
Porter-Cable is a very popular brand among nail machine users as you will get every of your desired model along with almost all possible requirements.
Among different products, FR350B framing nailer from Porter-Cable is a suitable option for both commercial renovation purposes and home decors as well.
Over the years, it has a good reputation for maintaining a lightweight design and powerful machine body. With his round head nails, it offers multiple other attractive features apart from its lightweight and powerful body.
If you either want to frame your house or build furniture like deck, table, or window; Porter Cable FR350B Pneumatic Framing Nail Gun will be your perfect choice to go for.
Here comes the detail of its ins and outs below –
Porter Cable FR350B Specifications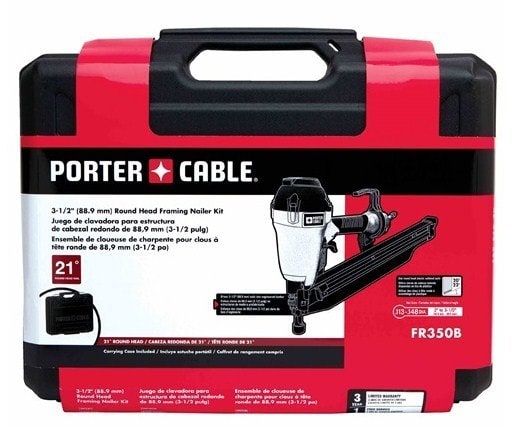 Brand: Porter-Cable
Model:  FR350B
Dimensions: 21 x 5 x 15 inches
Product weight: 7.3 pounds
Type: Pneumatic
Power: Air-powered
Operating pressure: 70 to 120 PSI
Nail type: Round-headed
Nail size: 2 to 3½ inches
Magazine capacity: 60 nails
Loading style: Bottom loading 
Angle: 22 degrees to drive axis
Collation: Plastic
No mar tip: Attached
Fitting type: NPT
Jam clearance: Latch
Lubrication required: Yes
Included: ¼ inch sized male plug, hex wrench, and user manual along with nailer.
Features
Driven by any sized air compressor irrespective of size. You can even drive the machine with a small pancake sized compressor.
Tool-free depth of drive adjustment mechanism makes the tool more user-friendly, and also makes minimal requirements of additional tools. There is a wheel dial located behind the nose for your proper adjustment.
Adjustable exhaust located at the rear position of the casing to ensure tool-free easy handling of the device, even for the new users.
Easily convertible trigger assembly to switch between contact actuation and restrictive trigger mode of triggering operation.
The rubberized grip of the handle makes sure that you can get the maximum comfort while using it. No mar tip on top of the safety release also makes it more secure to use.
Reload alert system is available with this model in case of low nail lockout condition. It is helpful in preventing the user away from dry firing accidents being occurred.
Another exclusive feature that comes up with this tool is rafter hook which makes this machine easily adjustable especially when the customer wants to hang the device. This feature also ensures reversibility that means you can hang either of the left or the right side.
The magazine of FR350B is 22 angled and more to add your comfort, this magazine is slanted in nature. It makes the device easier to view and also ensures more accuracy on the job.
Porter-Cable FR350B is unbelievably less weight than its apparent look. Due to its lightweight you can use it for a long period time and overhead operations. You won't feel any stress for that.
Even over multiple courses of the handle, you won't get any jamming of FR350B. This is really helpful whenever you need to use the nail gun frequently like more than thousands of firing.
Another great safety feature coming up with this powerful device is the trigger lock attribute. It lowers the chances of any dry fire, misfiring, and any other hazards. You won't need to get worried whenever your kids will play with the gun or being around of it.
FR350B is a complete tool-less device; you won't need any additional tools for adjusting anything. Thus you won't lose any momentum due to any adjustment break or interruption caused during your working. Such ease of use makes this device more users friendly.
The spring of the magazine is quite powerful which drives nails faster whenever the gun will be fired and lets them penetrate through targeted wooden surface smoothly.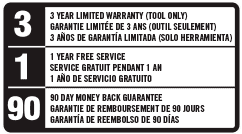 Uses
Framing wooden surfaces
Installing doors/windows
Building furniture
Final Verdict
Porter Cable FR350B is a well-designed, compact and sturdy nail gun, yet lightweight with the ease of use and ultimate comfort. It is rich in almost all your necessary requirements. 
It's much easier to handle and instinctive at any mode you will choose while handling it. One thing might bother you with this device though. It's the use of only round-headed nails as sometimes you might need clipped nails as well. You can solve this issue by keeping both FR350B and FC350 in your tool list.
I have personally used FR350B on different occasions and I have found that using this machine is a pleasure. Every time I have use, it delivered a top notch performance.
I am also happy with its great fashion of ergonomic and over molded grip. Regardless of the compressor tank pressure being applied; this machine is quite reliable in your framing experiences. You are surely going to love this machine for your nailing tasks. 
Related Post: