Senco Nail Gun Reviews: Fusion and FinishPro to Ensure Safety
Just a few days back, I moved to another state which led me to remodel a lot of things. Firstly I have to go for the reconstruction of my new house which is later accompanied by a handful of other woodworks. Had I hired a carpenter for all of these staffs, I would have to pay a good amount of bucks from my pocket and also have to miss the Portland Trail vs. Sacramento Kings anticipated match as well.
I consider myself lucky as I have pretty good expertise on woodworks, and my special gratitude goes to Senco Nail Gun on this endeavor.
Senco has established itself as a strong competitor in this industry as they manufacture excellent finish nailers regardless of brad nailers, pneumatic or cordless nail guns.
You will never stop to be impressed with their products' innovation and creative new features being added to customer comfort and satisfaction.
For all of these, Senco is really dominating the nailer industry right now. You can learn more about that below.
So, scroll!
Senco Finish Pro Series Nail Gun Review
In this category, I will try to review 3 Senco Nailer that blows my mind. These are-
SENCO FinishPro 18MG Brad Nailer
Senco 4G0001N FinishPro 42XP Finish Nailer
Senco FinishPro 23SXP Pin Nailer
SENCO FinishPro 18MG Brad Nailer Review
One of the very popular choices of Senco branded nailers is SENCO FinishPro® 18MG, 2-1/8″ 18-Gauge Brad Nailer for its comfortable operation and professional service providing facilities. The composite magazine and robust design add more durability and longevity for this device. You will get 5 years of warranty with this model.

Specifications
Model Number: 1U0021N
Item dimensions 10.5 x 2.5 x 9.75 inches
Item weight: 2.48 pounds
Fastener size: 5/8 to 2-1/8 inches
Fastener gauge: 18
Air duct size: ¼ inch.
Magazine capacity: 110
Nail types: Brad nails
Operating pressure level: 70 to 120 PSI
Power source: Air powered
Batteries included: Nil
Features
Magnesium housing for ensuring ultra-light feature.
Highly durable product.
Adjustable depth of drive settings.
Adhesive fastener collation.
Dual mode of firing- contact and sequential actuation.
Latch type of jam clearance.
Oil-free device.
Straight angled magazine.
Side loading mechanism of the magazine.
Latch type jam clearing mechanism.
Attached belt hook.
Non mar tip.
No dry lockout mechanism.
Rear exhaust.
Performance
Magnesium body of this nail gun makes it more lightweight. So there won't be any fatigue whiling working with it. Your hands won't pain. You can easily have control over your work due to the adjustable depth drive settings of this device. Moreover, there are two options of firing for easing your work. In contact trip, you can rapidly fire nails as you need to depress both the trip and trigger at the same time. But if you are more conscious about the safety, then you can go for sequential actuation where you need to depress the trip first and then fire. You can use any of them. Belt hook will attach the tool with your body and no mar tip will add more comfort for your operation.
Use
Installing cabinets.
Mounting chair nail.
Furniture trimming.
Setting up baseboard.
Fitting case backs.
Senco 4G0001N FinishPro 42XP Finish Nailer Review
My personal favorite choice from wider ranges of Senco nailer series is Senco 4G0001N FinishPro 42XP 15-Gauge 1-1/4-Inch to 2-1/2-Inch Finish Nailer. Even the last time I remodeled my house, I used this tool. I love this compact design with longtime resilient lightweight body along with all the impressive features.

Specifications
Item model: 4G0001N
Product dimension: 13 x 3 ½ x 11 inches
Product weight: 4.7 pounds
Fastener length: 1 ¼ to 2 ½ inches
Fastener type: Angled finish nailer
Fastener angle: 34 degrees
Fastener gauge: 15
Fastener capacity: 100 nails
Fastener collation type: Adhesive
Optimum pressure level: 70 to 120 PSI
Air inlet size: ¼ inch
Air consumption rate: 3.87 scfm (standard cubic feet per minute)
Warranty period: 5 years
Depth control: Yes
Jam Clearance: Yes
No Mar tip: Yes
Included: Wrenches, no mar pad, case, plug, tool oil
Features
Depth of drive adjustment ssetting via thumb wheel.
Lightweight magnesium housing.
Stretch comfort gripping along with no mar pad.
No lubricant required due to neverlube design.
EZ-Clear latch for jam releasing the mechanism.
Complete 360 degree adjustable exhaust.
Rugged and compact internal engine design.
Attached belt hook with the main body.
Dual action mode of fire or restrictive triggering.
Performance
The ultra lightweight design makes this device capable for improved performance. Elimination of downtime caused by any fire jam will be done by its latest EZ Clear Latch Technology. Attached belt hook will keep dust and oil away from the working surface. Neverlube feature reduces the requirement of any lubricant and makes the product more maintenance friendly. In order to protect the work materials there are two no mar pads with onboard storage. Reversed safety element ensures users improved line of sight. Moreover, enhanced durability and improved performance is ensured by features like an upgraded piston and driver design, high strengthen driver, metal cylinder, etc.
Use
Finishing and woodworking
Furniture trim
Building cabinets
Casing
Paneling
Framing
Precision works
Senco 23 Gauge Pin Nailer: Senco FinishPro 23SXP Review
If you want a tool that won't bother much to your budget and are currently looking for a cheap price tag on nailer, then Senco Fastening Systems 8F0001N 1-3/8″ Headless Pinner is a must try option for you.

Specifications
Item number: 8F0001N
Length: 7.87 inches
Weight: 2.5 pounds
Width: 1.85 inches
Height: 7.56 inches
Magazine capacity: 100 nails
Magazine angle: 0 (straight attached)
Magazine loading option: Side
Fitting type: NPT
Fastener gauge: 23
Fastener collation type: Adhesive
Fastener category: Headless pin nails
Nail sizes: ½ to 1-3/8 inches
Firing mode: Contact or sequential actuation (dual mode fire)
Operational pressure level: 70 to 120 PSI
Features
Automatic adjustable features of the magazine for a different length of fasteners.
Ultra-narrow tipping style.
Dual safety triggering method.
Reversible and attached belt hook.
Rear exhaust along with embedded muffler.
Ergonomic handle to ensure long last comfort for a day.
Lockout features to prevent dry firing.
Strong constructions for ensuring complete driving even through any hard substrates.
Extra no mar pad.
Jam clearing wrench.
Performance
The greater the gauge values, the narrower the finish nails are. As this nailer has 23 sized gauge, it is capable of more intricate trimming and furnishing. Features of ultra narrower tips allow the device for easy penetration. Headless pins will also make your driving splitless. So maximum safety is ensured along with improved performances as well with Senco 8F0001N.
Use
Decorative trimming
Molding furniture
Finishing works
Precision tasks
Glazing strips
Building cabinets
Other woodworking
Senco Fusion Review
Senco has improved their nailers with a new and innovative technology that is called fusion technology. According to Senco "Fusion Technology has the power and utility of a pneumatic tool combined with the convenience of a cordless tool."
In this section, I will try to discuss two more nailers. These are-
SENCO 6E0001N Fusion F-18 Brad Nailer
Senco 5N0001N Fusion Finish Nailer
SENCO 6E0001N Fusion F-18 Brad Nailer Review
If you want a product that comes up SENCO's latest fusion technology, combining the cordless features along with pneumatic nailer's functions; then SENCO 6E0001N Fusion Brad Nailer is the tool that you are actually looking for.

Specifications
Item model: 6E0001N
Product dimension: 11 x 3 x 13 inches
Item weight: 6 pounds
Magazine capacity: 110 nails
Magazine angle: 0 (straight attached)
Magazine loading option: Side Loading
Fastener gauge: 18
Fastener collation type: Adhesive
Fastener category: Brad nails
Nail sizes: 5/8 to 2-1/8 inches
Firing mode: Contact or sequential actuation (dual mode fire)
Battery required: 1
Battery type: Lithium Ion battery
Voltage level: 18 V
Cordless feature: Yes
Dry fire lock out: No
No mar tip: Yes
Lubrication required: Oil free machine
Adjustable depth of drive mechanism: Yes
Operational pressure level: 70 to 120 PSI
Features
Reflex shot design helps in instant triggering operation.
Cordless and pneumatic gun.
18 V Lithium Ion battery as eco friendly power source.
Sealed and robust piston driver.
Multiple shots at single second.
Adjustable driving switch.
Attached LED light to give proper illumination.
Adjustable belt hook for better rotation.
Included: battery, charger, carrying bag.
Performance
This tool can fire 600 nails on a single charge within very short span due to its reflex firing mechanism. Thumb wheel adjustment switch for actual depth of drive settings. EZ clearing mechanism also prevents the gun from any jamming. All these ensure the exact performance you wish for.
Along with this another good brad nailer is Ridgid 18 Gauge Brad Nailer.
Use
Molding
Scribe molding
Trimming
Framing
Window beading
Installing
SENCO 5N0001N Fusion Finish Nailer Review
Another next-generation product comes from Senco with fusion technology is SENCO 5N0001N Fusion Finish Nailer. Once it was tough to even think of a nail gun that can combine both the cordless gun's features and pneumatic nailer's attributes. But now you will get both of them in nailers like SENCO F15 5N0001N.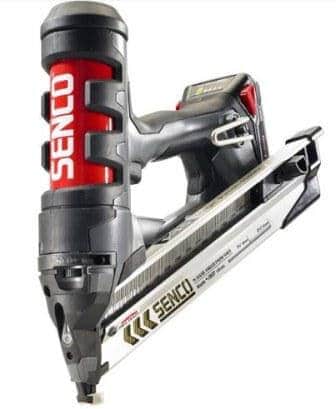 Specifications
Item number: 5N0001N
Length: 13 inches
Width: 3 inches
Height: 13.5 inches
Weight: 6.2 pounds
Capacity: 110 nails
Magazine angle: 34 degree
Magazine loading option: Bottom
Fastener gauge: 15
Fastener category: Finish nails
Nail sizes: 1 ¼ to 2 ½  inches
Firing mode: Contact or sequential actuation (dual mode fire)
Operational pressure level: 70 to 120 PSI
Battery type: Lithium Ion
Battery required: 1
Voltage level: 18V
Tip style: Non-mar
Lubrication: Oil-free
Cordless gun: Yes
Dry fire lockout: No
Specifications
Magazine release mechanism ensures fast gun jam releasing.
Powerful and eco-friendly 18V Lithium-Ion battery.
Contact and sequential actuation firing modes.
Cordless and pneumatic features.
Comfortable ergonomic for better comfort.
No mar tipping adds more coziness.
Thumbwheel adjustable drive switching method.
Nose mounted LED for better illumination.
Performance
SENCO 5N0001N is suitable for remodeling and renovation works. It is more workable for both left and right handers due to its adjustable belt hook being attached to the gun. This device ensures faster operation with maximum ease and safety.
Use
Trimming
Finishing
Building furniture-cabinets, chair rails, window, door, baseboard, caskets, etc.
Installation
Paneling
Decoration
Renovation
Final Verdict
No matter if you are a pro-carpenter or a newbie framer, all you need is a perfect framing nailer to finish your task more efficiently. You will get your desired tool from Senco. They have put their reputations way higher by bringing the finest tools in the market. If you need a user-friendly nail gun, but not by hampering much your pocket; then Senco's products should be on top of your choice least at any day. Grab one and enjoy the best nailing experience ever.
Related Post :