Hardie Board vs Vinyl Siding: Which One to Choose?
Protecting your building exterior from some common threats like pests, heat, temperature, debris, or any other harsh environmental condition is even more important rather than building it. Using exterior siding can help you achieve what you want in this context. Two very popular siding materials being used frequently are HardiePlank Fiber Cement Board and Vinyl Siding. Again, a very common dilemma running in many minds while doing their siding project is which material to pick among these two. Here in this article, hopefully, your confusion will come to an end.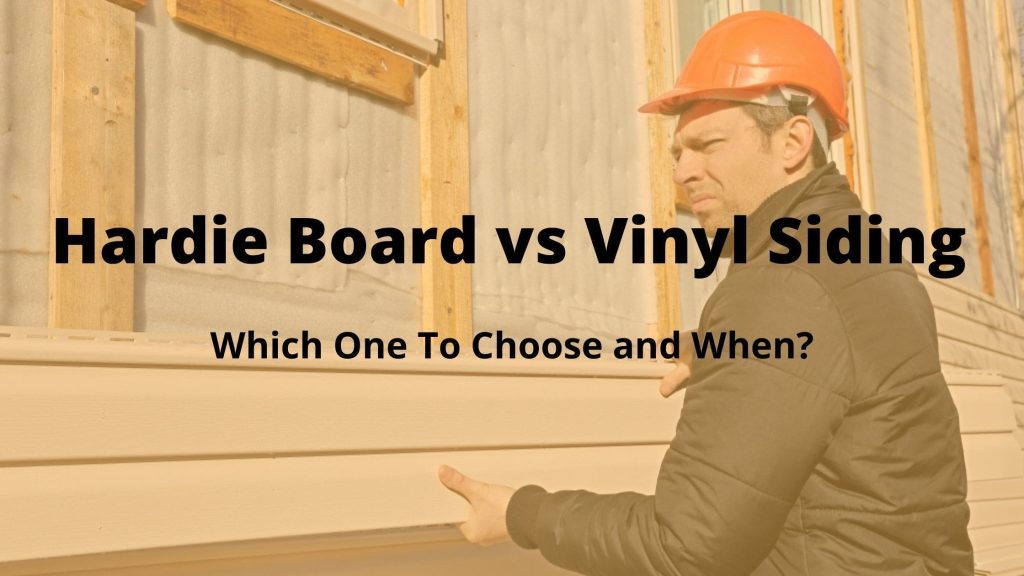 Comparing Hardie vs. Vinyl Siding
Let's evaluate the different factors one by one of the two siding materials. Then, you'll get a complete picture of their ultimate comparative analysis.
Material Thickness
Hardie board is more like real wood. It's around 0.2 inch-thick, whereas vinyl siding is only 0.040 inches in dimension. So, Hardie is clearly 2½ to 3 times thicker. Heavy-gauge vinyl siding can be 0.05-inches thick. Again, you can provide foam sheathing or insulation to add even greater thickness to the back. But still, the Hardie board ensures better curb appeal.
Read: Best Nail Guns For Hardie Siding
Durability
Both the Hardie Board and Vinyl Siding give extended durability. They don't need regular painting like wood lap siding or regular maintenance like cedar shake. Moreover, both of the sidings can resist harmful pests or rot. Vinyl siding gives 25 years long warranty facility. But it gets brittle with time and due to excess exposure to heat or cold for ages. The siding then also gets fragile. In comparison, Hardie Board is a real winner, durable enough to serve 30 to 50 years.
Texture
Hardie Board requires some extra embossing due to its extra thickness, which gives a real wood-like exterior texture. On the other hand, Vinyl siding has less thickness and thus misses deep texture than Hardie.
Fire Resistance
Unlike any wood siding, Vinyl siding can slow down the fire flames. It's not entirely fireproofed, though. At around a 700-degree fire, it gets ignited. But beforehand, at 165-degree, it starts getting melted. Hardie Boards are made of sand and cement, which are impressively fire-resistant. They don't feed flames.
Energy Efficiency Comparison
Vinyl Siding doesn't offer much insulation, but you can purchase the siding with some built-in insulation. This factor helps your siding achieve more energy efficiency. Thus, your room remains cooler on warm days and hotter in chilly conditions. But usually, Hardie Board doesn't offer any such convenience. One point for Vinyl Siding!
Maintenance
While working with real wood siding or shingles, you've to give more of your time, money, and effort for their upkeep. They need regular treatment and painting. Unlike real wood, both vinyl siding and Hardie board are almost maintenance-free. Vinyl siding never needs repainting, whereas the Hardie board might require a change after 5 years or a decade. Cleaning vinyl siding is no task. You'd only need a garden hose to clean it off, just like Hardie Board. To get rid of any disgusting pest over their surface, you may use a non-abrasive brush.
Repairing
If a vinyl siding gets damaged or faded in color, you can use an unlocking tool to remove the damaged panel from the existing ones. Be careful with the nail strip while removing the panels. Hardie Boards need a lot to take to damage them. Again, when they get cracked, they're also tough to repair. Use a pry bar to remove the broken or damaged plank. You need to be extra cautious, so it doesn't cause any further damage to other planks.
Installation Process
Hardie Boards are bulkier and heavier in weight than vinyl sidings. Thus, installing Hardie Cement Board requires some special skills and also much labor time. Vinyl planks are lightweight and less dense. That's why they are easier to install.
Read: Best Way to Cut Hardie Siding: Step by Step Guide
Eco-friendliness
Vinyl siding is made of plastic and polymer materials. They don't get decomposed easily and require landfills of several decades. Thus, Vinyl has an adverse impact on the living environment. On the contrary, Hardie Boards are actually a mixture of sand and cement. They are totally eco-friendly.
Versatility
When it comes to the versatility of both siding materials, vinyl siding is a hands-down winner. It comes with 360 different colors! You can increase your home curb appeal in a greater way using vinyl siding than Hardie Boards.
Cost Comparison
Considering every aspect like the product itself, installation cost, labor expense, repairing, Hardie Board is far more expensive than vinyl siding. For your easy assumption, the maximum expense of vinyl siding is the minimum that of HardiePlank Board. All the advantages of Hardie Boards come with a greater price, aren't they?
Final Thoughts
Both siding materials have their own pros and cons. If you put your priority on versatility or energy efficiency within your tight budget, then Vinyl Siding is your thing. But, if you focus on durability, service for ages, resistance from almost everything, and most importantly, if you look for an environment-friendly option, just go for Hardie Boards.