How to Make Wooden Drawer Slides Using a Nailer
Woodworking is all about wonders and creations. Turning a piece of understated furniture into a masterpiece really needs some serious passion that can make people have a double sight of that particular thing.
Woods are probably the most popular material that these passionate folks work with.
Wooden drawer or the slides are also buildable with creativity and today I would like to talk about that. Yes, I am disclosing how to make wooden drawer slides.
How to Make Wooden Drawer Slides:  DIY Using Nailer, Considerations on Wood, Guide, Installation & More…
You will need a few tools to get a grip over the tutorial. But before that let me tell you, there are plenty of market options to try for slides if you're doubting whether the DIY version will work best. One great pick is the soft close drawer slides that are latest in technology as well as absolutely noise-free every time.
This DIY includes using a nail gun instead of a hammer. I find this tool very useful to provide me the right kind of accuracy, speed, and final result. So, I made my mind to write about the process of creating drawer simply using a nail gun.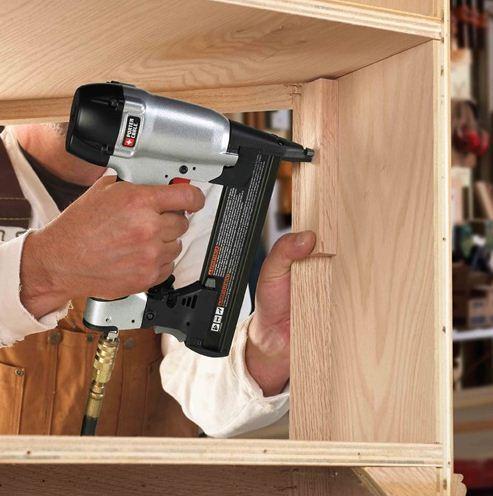 Here are a few uses of nailer:
The job becomes two times faster when using the right nailer.
It helps to keep the worker's finger safe.
There's no trouble with carrying and keeping nails in one place.
Accuracy is mind-blowing when you work with a nailer.
And of course, the fantastic power output just slays, especially when working with huge projects.
The Slide's Depth, Wood's Weight & Preventing Chips.
You need to consider drawer slide depth before jumping into the process. It should be the right length for smoothly fitting inside the drawer's actual dimension.
Make sure the wood you chose has grains that support smooth sliding and avoids chipping or cracking. You can use table saw or router for making cuts and eliminate any splitting issues.
Also, you need to consider the weight of the material you're using. A hardwood will probably add a few extra pounds while oak will do the opposite since it's not that heavy.
Also, you can apply wax or grease into the base so that there's no chipping or cracking with wood grain. It also helps the roller mechanism of the slider while keeping longevity to stay along.
Making the Wooden Slides.
Here's the entire process of building wooden slides.
Preparation.
Start with arranging the tools necessary for making wooden drawer slides. The wood material, protection gears, fence, chisel, saw, sandpaper, square, nail gun, pencil and similar types of tools.
Next, you need to wear ear and eye protection. Get something sturdy and also don't forget gloves.
Creating Blanks
Now bring the wood you've chosen already. It's time to use an existing rail width as the guide. So that you can set the fence from this. You need to make three passes in total with the wood. As a result, there should be a total of three blanks. Let the rail turn in L-shape or 90 degrees. It's for resetting the fence this time.
Shaping Blank & Measuring Stem
You need to rotate every blank into 90 degrees and then use a saw through it once again. Keep attention on the fact that original rail and external dimension needs to be same here.
The blanks need to turn into shape of letter T. Next, go for measuring the stem part. You will utilize the stem width to cut a channel on either side of it. Now moving the fence in 1.8 inches you need to pass through blank one more time. This is to make sure all of the material is removed.
Evening Out
It's time to cut off and clean any remaining wood using appropriate sandpaper and chisel. Make it even and finely finished for better results.
Marking & Blade Position
There should be a fixed spot on the dresser frame where rail needs to be placed. You need to make a placement here accurately. Using a pencil, markdown the area where the frame ends.
Set the height to 1.8 inches using the blade. The rail should make a perpendicular position with the fence. This will help in adjusting the blade with the lines. Don't forget to consider the blade's width as well.
Attaching
Keep on moving the fence at 1/8 increments. Do this until rail reaches the end. Using a square, place the rail on the frame. It needs to fit appropriately in this step. Now bring the nailer and attach rail with frame. You need to use it for the other end as well.
Fixing the DIY Slides into Drawer.
To start with installing your newly made slide, you have to position it over the drawer correctly. The bottom edge of the first slide needs to align with the above line. Now move to the front edge of the slide. You need to place it behind the mark.
Let the slide stay in that position in a steadfast manner. Both screw holes should be seen in this phase. You need to push the extension this time. Using nailer simply install screws on back and front near the slide. This way you'll be placing all slides inside the cabinet for every drawer.
Verdict
There could be many reasons to try this tutorial on how to make wooden drawer slides.
It might be because you don't want to spend more money on expensive metal slides. Or probably, the idea of creating a rusty and charming look makes you want to try it out.
No matter what you are thinking, I'll just say go for it. Building wooden drawer slides are actually pretty simple when you have the right kind of information.
So, make sure you do enough research and try it when there's no confusion about the DIY. Good luck!
Related Article:
How to Install Crown Moulding With a Nail Gun
9 Best Staple Guns for Picture Framing