A Complete Guide to Nail Sizes for Framing
Over the years, framing has been an essential element of the construction of any building.
Framing involves handling large wood projects, including building decks, constructing a room, or framing exterior walls.
The process uses a specialized nail gun, a framing nailer, to fasten 2x4s for the walls and 2x8s or 2x6s for building roofs and floors.
Just like a flooring nailer, a framing nailer is a heavy-duty nail gun, and it requires more power than other types of nail guns to fire nails quickly and precisely.
Best Nails for Framing Work
Framing nails vary in types and sizes, and determining the best nail length for framing is one of the most important considerations. Along with the length, you should also determine where you are going to use these nails.
For example, in fastening sheathing, the nails should be long and strong enough to withstand shear forces.
However, the nails should not be too long or fat, as they can be difficult to drive and can sometimes split wood.
Nail Sizes for Framing: Framing Nail Guns Nail Sizes Explained
Most wooden construction requires framing, and it is almost impossible to have a rigid structure without framing.


Choosing the correct framing nail size not only ensures that you have a sturdy construction, but it will also ensure that the frame and the wood are not damaged.
As such, you must have knowledge of various nail sizes for framing for different loads.
The common nail sizes for framing are 16d, 10d, 8d, and 6d. The letter 'd' here represents a 'penny', which is used in designate nail size.
The rule of thumb requires that the nail length for framing should be three times larger than its thickness.
Let's know the different nail sizes for framing along with their best uses and applications.
16d nail size
16d is the most common nail size for framing. Also known as 16-penny nails, these nails are always 3 ½ inches long, but the diameter differs depending on the type of nail.
Basically, there are two types of 16d nails, i.e., sinkers and commons. The major difference between the two types is that the sinkers have a textured head and a diameter of 0.148 inches while the commons have a flat head with a diameter of 0.162 inches.
Applications
Both types of 16d nails are used to perform framing-related projects such as fastening wall plates. Sinkers feature a vinyl cement coating, which makes them best suited for framing than their common counterparts as they slide easily into wood, especially when you have to drive a large number of nails.
The textured head, on the other hand, helps to prevent the nail gun from slipping. It is also important to note that commons are not coated. As such, they should not be used in areas with high moisture or in areas that they can easily rust.
When framing interior walls, you will require a nail size that is not too long or fat so that you don't have difficulty while driving it in. Also, it should not be too short or thin. This makes 16d sinkers the best option for framing interior walls.
For exterior framing, you'll need to use galvanized nails to prevent rust. The 16d is also the best nail size for 2×4 framing and installing joist hangers.
10d nail size
10d galvanized nails are 3 inches long and about 0.148 inches in their diameter. This nail size is perfect for joining two board faces that are flat as the nails do not penetrate deeper into the boards.
When using 10d nails, the area should always be three times more than the diameter of the nail. Also, these nails cannot be replaced with nails with a lesser diameter.
Applications
If you are looking for the appropriate nail size for framing roof truss, then 10d nails are the best.
They are also used in framing studs like when you are doubling wall studs or floor joists that overlap.
8d nail size
8d nail size is used when you don't need larger nails. These nails are usually 2 ½ inches long.  Their shank and head diameter is about 0.134 inches and 9/32 inches, respectively.
Just like 16d nails, we have 8d vinyl-coated sinkers and 8d commons. The sinkers are slightly narrow and are often the best choice.
Applications
8d nails are ideal for all kinds of siding materials. These nails are used to attach subfloors, sheathing, furring strips, and other materials that do not require bigger nails.
However, the nails should be spaced out in a way that they will penetrate the stud. They are also used for toenailing as well as attaching wall plates.
6d nail size
6d nails are shorter and have a smaller diameter than other framing nails, making them perfect for small interior projects.
These nails are just 2 inches long with a 0.12 inches shank diameter and 17/64 inches head diameter.
Applications
The nails are mainly used in joining flat woods and nailing the finish floor and the subfloor.
Their small size and diameter make them less likely to damage the surface they are nailed into.
Framing nail size chart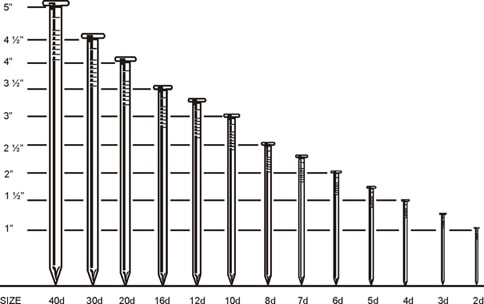 | | | |
| --- | --- | --- |
| Nail Size | Nail Length | Nail Diameter |
| 16d | 3 ½ inches | Sinkers; 0.148 Commons; 0.162 inches |
| 10d | 3 ½ inches | 0.148 inches |
| 8d | 2 ½ inches | 0.134 inches |
| 6d | 2 inches | 0.12 inches |
Choosing the Right Framing Nails for a Framing Nailer
Framing nails are typically aligned in a row to fit into the magazine of a particular nail gun, usually identified by the length of the nails.
As such, it is always important to ensure that the nail gun is compatible with the nail size and shape, usually the same brand so that they can fit well into the magazine.
However, most types of nailers support all the above nail sizes, but you should always check the manufacturer's specifications.
Framing nailer comes in two different varieties, i.e., clipped head and round head to suit different project needs.
Also, some magazines will have a steep angle towards the striking tip to enable it to fit in tight places depending on framing and structural applications.
FAQs:
Q#1 What size nails for framing?
Ans: 16d or 16 penny nails of length 3 1/2 inches are the best size nails for framing due to their additional sleekness.
Q#2 What size nails are used for trusses?
Ans: The best nail sizes for roof trusses are 16d or 10d that are 3 1/2 inches and 3 inches long respectively.
Q#3 What are the best nails for framing?
Ans: The best nails for framing are 16d nails with a length of 3 1/2 inches as in most framing works you can use it with ease.
Q#4 What size of nails should you use for joist hangers?
Ans: 16d nails of length 3 1/2 inches should be used for joist hangers.
Q#5 What size nails for 2×4 framing?
Ans: The best size of nails for 2×4 framing is 16d nails.
Q#6 What length nails are for framing with a nail gun?
Ans: 3 1/2 inches is the ideal length of nails for framing with a nail gun.
Read:
Take-home
Remember, nail sizes for framing must go hand in hand with the materials you are going to use on your project.
Typically, the nail should penetrate the board and connect to the other board, and as such, you should consider the thickness of your materials.
Often, you'll have to buy more than one size so that you are always prepared for your framing projects.